El Clasico could be postponed with Spanish clubs threatening to go on on a strike
4.70K //
28 Feb 2015, 15:28 IST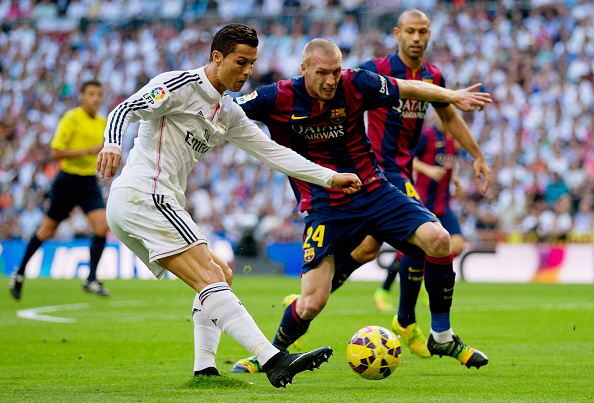 The much awaited El Clasico, first scheduled to be played on 28th of March, could now be postponed as Spanish clubs intend to go on a strike against the league's television rights deal, reports Mirror.
The disparity in the distribution of money in the prevailing deal has been a big obstruction for several Spanish clubs, with Real Madrid and Barcelona taking home major cuts out of the cake that has many mouths to feed.
To put things into perspective, with the current deal in place, Real Madrid and Barcelona gain around 140 million euros a year from the television deals with the league making a total of 755 million.
The vast difference between the allocation of cash among the clubs is apparent when you find out that Champions Atletico Madrid are entitled to just 42 million a year, 6 million less than Valencia who currently are the third highest earners from scheme. The situation is further worse for clubs like Elche, Almeria, Vallecano and Valladolid who receive a insignificant sum of 18 million euros per year.
Comparing that to that of England's, it gets hilarious.
Cardiff City, who are currently playing the second division of England, earned almost double of what Champions League finalists and La Liga champions Atletico Madrid took home last season. Now, yes, I do acknowledge that the number of subscribers who pay to watch the Premier League is almost 4-times of that of La Liga's, but as it continues to be a burning issue in the country, questions will be asked.
Tired and frustrated with the growing disparity between the finances of the top two clubs and the rest of the clubs in Spain, 40 out of 41 clubs, including Real Madrid and Barcelona had voted in favour of a petition to pressure Spain's Secretary of State, Miguel Cardenal to implement the new legislation as soon as possible.
The new legislation will bring more equity in the distribution of the money, in a manner which is very similar to the one that exists in England or Germany. But, the government's reluctance towards the proposed legislation has now forced the clubs to go on a strike in March.