English FA may introduce stricter punishments if teams surround referees
2.35K //
18 Mar 2015, 13:37 IST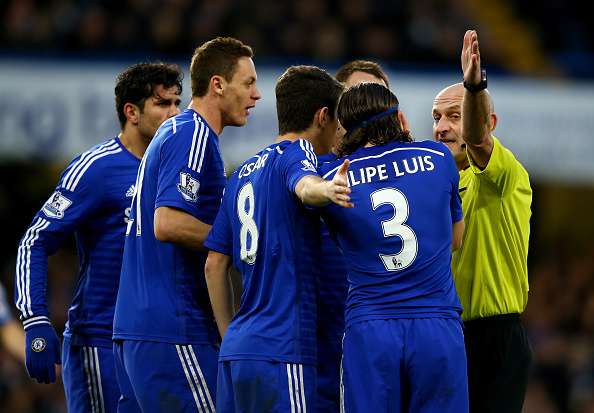 The Football Association may decide to come down hard on the incidents involving players surrounding the referee. The FA's bid to clamp down on the issue comes after Chelsea players were severely criticised for surrounding referee Bjorn Kuipers during their Champions League match against Paris St-Germain.
The number of confrontations by players with the match officials has almost trebled since last season. At this stage last season, only six clubs were charged for not being able to control their players compared to 16 this year.
The number of warnings issued have gone up to 29 from last year's 14 at this point of the campaign. The FA even wrote to the clubs from England's top five divisions in December to remind them of their responsibilities.
Football Association chairman Greg Dyke has termed the frequency of such incidents 'scary'. He said, "The whole game needs to ensure it is addressing this issue.
"We have seen a pretty scary increase this season in the number of clubs charged with their players surrounding referees. I believe it is particularly important for professional clubs to set an example so that this kind of conduct is not replicated at grassroots and youth level."
The FA is reported to be open to increasing fines for clubs whose players are found guilty of harassing officials.
UEFA to walk the same path?
Chelsea's much-publicized actions during the PSG match will most probably go unpunished as the incident occurred during a UEFA Champions League match. Unlike the FA, UEFA doesn't have any provisions against surrounding the referee. However, UEFA president Michel Platini is expected to consider similar rules to the FA in the near future.
According to the FA rules, an act is considered to be an 'offence if three or more players of one club approach an official in a confrontational manner'. The FA introduced a 'charge of surrounding match officials' as part of its 'Respect' campaign seven years ago.
Chelsea, Queens Park Rangers and West Ham United have already been fined this season for similar incidents during Premier League matches.