EPL: 6 bold predictions for the 2012/13 season run-in
2.99K //
28 Mar 2013, 21:49 IST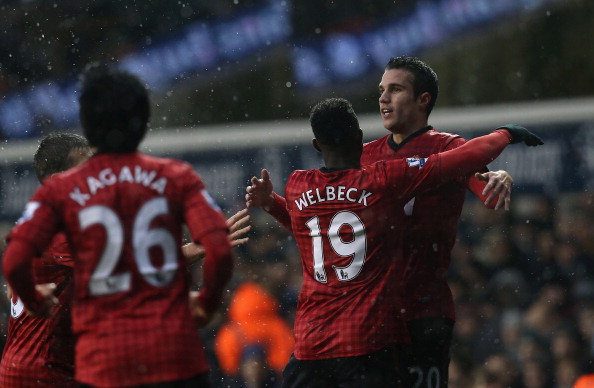 The league is long and a better pointer of a team's overall capability than any cup format. Luck, injuries, unfavourable decisions and the likes tend to cancel out to a greater extent than any cup format can provide for. When I say cup format, I include the Champions League as well, for the best team doesn't always win there either. That said, the team that wins the league deserves to win the league. No two ways about it. I must clarify that 'deserving' to win the league does not coincide with playing the 'best' football (futebol d'arte and futebol de resultados). That, however, is a completely different discussion. (One that I'd love to take up later).
I'll make some bold predictions that I think will hold true this season. One must understand that not all of these will happen, but who doesn't like defying the odds! So, here goes.
1. Man Utd will surpass Chelsea's record 95 points in  a season
With the title almost in the bag, the question that seems to be bothering United fans and rival fans alike is whether or not they will be able to surpass Mourinho's record of 95 points in a season in the Premier League. United sit nicely at the top of the table with 74 points from 29 games, 21 away from the magic figure with 9 games to go. With their extraordinary league form, I don't see them dropping more than 8 points. If all goes well, 96 is where I think they will finish. I am not discounting the fact that Fergie will probably give the youngsters a run in once his team is mathematically assured of the title. I just think that Fergie is capable enough of churning out results even with a younger side.
2. QPR will win the relegation dogfight
Redknapp's side have 6 points from the last three games. Even though they lost their last game to fellow relegation contenders Aston Villa and are a good 7 points south of the safe zone, one cannot rule out their chances. They have the players to do it and they certainly have the manager to do it. I say they can survive to see another season in the top tier. 5 wins and a couple of draws will see them through. The probability is not very high, and they need teams above them to blow up.
3. Sunderland to go down
2 points from their last 6 games sees Martin O' Neil under more pressure than he would have liked. They have United and Chelsea next, followed by matches against Newcastle and Everton. If QPR survive, it has to be at the expense of one of the teams above them and Sunderland seem to be a good bet. I see them losing atleast 3 games from the 8 fixtures. Out of the remaining 15 points, they have to garner atleast 9. Anything can happen.
4. Arsenal will finish above Spurs yet again
It's that time of the season again. Spurs will press that self destruct button and lose out to Arsenal. They have the Europa league to contend with while for Arsenal it's finishing in the top 4 and nothing else. History provides a good case for Arsenal. I see a top 4 finish for the Gunners. Also, Spurs have considerably 'tougher' fixtures remaining compared to their North London rivals and that doesn't really work in AVB's favour either.
5. Van Persie will finish as the highest goal scorer again
It may be Suarez for the time being, but I see RVP surpassing him to finish as the top goal getter in the league. Van Persie may not be 'scoring when he wants' in the fashion that Gunners  were so used to seeing last season, but he still has 19 goals in the league, just three behind Liverpool's main man.
6. A minimum of 3 of the above predictions will hold true
The boldest of the lot! 3 out of 5 does not make a bad percentage.