EPL Preview: Hull City vs Arsenal - Gunners need width to beat the Tigers
1.58K //
03 May 2015, 16:26 IST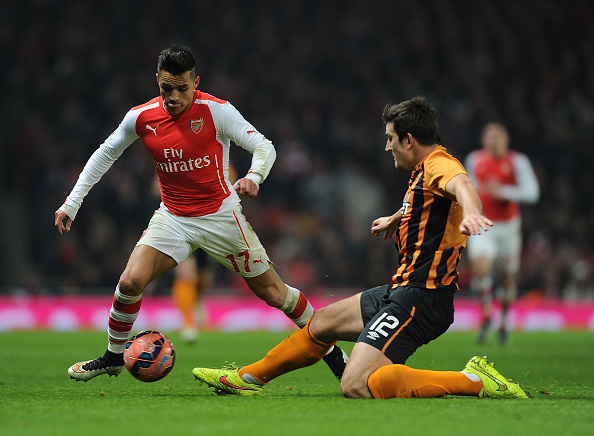 Hull and Arsenal may be occupying different ends of the Premier League table but there is plenty to play for when these sides kick off at the KC stadium tomorrow night.
Arsenal are looking to secure their first top two finish in a decade and Hull are desperately trying to stave off the threat of relegation. Hull remain just one point above the drop zone despite back to back wins over Crystal Palace and Liverpool. A loss to Arsenal could put them in 17th place on goal difference.
The worry for Hull is that in spite of their recent form a loss to Arsenal could see Sunderland utilise their game in hand to force Hull into the bottom three and take survival out of their hands. A small comfort to Hull fans, should Arsenal prevail, may be that Sunderland's game in hand is against Arsenal.
The title is long gone for Arsenal, we all knew that going into the Chelsea match, but we had hoped a long overdue win against Chelsea would make things uncomfortable for them but alas, it was not to be.
Chelsea set up to strangle the life out of the game and they came away with the point that has all but secured them the Premier League title. The best thing to come out of that game is how touchy they got at being labelled boring. Much like Floyd Mayweather bored his way to winning what should have been the biggest boxing spectacle of the century, Chelsea decided to bore their way to a safe draw against Arsenal.
At times this season Chelsea have played attractive football and it is a fallacy that successful football and attractive football are mutually exclusive but for whatever reason Mourinho seems unwilling to try for both. This is why most Mourinho teams will fade into obscurity as the years pass.
Chelsea have had the title wrapped up for weeks, possibly even months. Even if they had lost to Arsenal the odds are they still would have won the title. They could have rocked up to the Emirates with nothing but attack on their minds and made a real go of it.
What better way to win the title than to come to the home of your closest rival – who are widely recognised as the most attractive team in the league – and out play them? Chelsea owed it to the fans of the game, and especially their own, to put on a show. If they had lost it wouldn't have mattered. They would still have won the league but if they had won, they would have been remembered.
Instead, Chelsea came to Arsenal with nothing but defence on their minds and proceeded to suck the colour out of the world. Much like Mayweather they didn't have to attack to win but it would have been nice for them to try.
3rd place should be the goal for Arsenal
Automatic Champions League qualification is now the objective for Arsenal and United losing to West Brom has certainly helped our cause. A win against Hull and Arsenal are guaranteed a place in the top four and seven more points guarantees Arsenal an automatic qualification spot.
I'm not sure what is more exciting now, the race for 2nd or the relegation battle. I have a vested interest in the former so I find that more relevant but as we face a few relegation threatened sides we cannot take our eyes off it.
Arsenal have had the beating of Hull in their last few matches but this is a completely different prospect so I expect another Chelsea-esque game.
As a side note I want to express my annoyance with the Premier League and TV companies who have once again, in their infinite fatuity, rearranged a game for a time that makes it almost impossible for the majority of travelling supporters to get home in a straightforward manner.
What possesses these people to schedule the games like this? What goes through their minds? Why couldn't Chelsea and Crystal Palace play on Monday night? Getting home for those fans wouldn't mean missing work.
The Arsenal away fans have 180 miles to travel and with the match starting at 8pm and finishing at just before 10pm those driving will need to finish work early and possibly start work late the next day – or even miss it altogether. Those travelling by train have no method of return transport.
It astounds me that the inconveniencing of fans isn't taken into consideration when matches are moved for TV scheduling. Twice in the last two months Arsenal have seen late Monday night travel with no return trains when a Sunday match between two relatively local teams has been shown on TV.
Simply unacceptable - something that has to stop.
Something else that has to stop is Ramsey on the wing. He can do a job there and in certain games it is necessary but at the moment it feels like Ramsey, Cazorla and Özil are being crowbarred into the team together. We need some width as we are painfully narrow and against a team like Hull – who will flood the midfield – we need to get the ball out into the channels.
If Wenger doesn't want to put one of Özil or Cazorla wide he has to drop one of them or Ramsey. This game is crying out for a Walcott or even a Welbeck to stretch the pitch and get balls into Giroud.
Arsenal from; Ospina, Szczesny, Debuchy, Bellerin, Gibbs, Monreal, Mertesacker, Gabriel, Koscielny, Chambers, Rosicky, Wilshere, Flamini, Coquelin, Özil, Ramsey, Alexis, Cazorla, Welbeck, Walcott, Giroud.
Predicted Line-up
Ospina, Bellerin, Mertesacker, Koscielny, Monreal, Coquelin, Özil, Ramsey, Alexis, Cazorla, Giroud
I expect to see substitute appearances from Welbeck, Gibbs and Walcott.
Match Quote
"That's our challenge, to finish well and take that strength into the next season" – Arsène Wenger
Last 3 Meetings
Arsenal 2-0 Hull (04.01.2015—FA Cup)
Arsenal 2-2 Hull (18.10.2014)
Arsenal 3-2 Hull (17.05.2014—FA Cup Final)

Form Guide

Arsenal Last 5
DWWWW

Hull Last 5
WWLLL

Opposition watch

Hull manager Steve Bruce has been one of Arsène Wenger's staunchest supporters in the media and you get the impression that even if an Arsenal win condemned his side to relegation he would not feel an ounce of bitterness towards a manager he clearly admires.

Bruce is no stranger to attacking football but he is arguably a much more pragmatic tactician than Wenger is and will look to stifle Arsenal in the centre of the park. The Hull man is unlikely to make any changes to the side that defeated Liverpool so Brady and Elmohamady will continue as wing-backs in a 3-5-2 formation.

Despite the return of Jelavic I expect Aluko to keep his place alongside N'Doye as Aluko was one of Hull's best players against Liverpool.

Hull were defensively excellent against Liverpool but Rodgers' team helped them along the way with a lack of width in their attacks. Arsenal need to incorporate a more expansive approach to this game as well as continue their intricate play through the middle.

With a midfield as choked as this one I expect the match to be won or lost on the wings.

Factfile

Hull City haven't beaten Arsenal home or away in 6 matches

Olivier Giroud has scored six goals in his last seven Premier League away matches

Arsenal have won their last four Premier League away games

Hull haven't won three PL games in a row since October 2008

Arsenal haven't conceded a first half goal in their last 13 Premier League matches

Danny Welbeck has scored more international goals since August than he has Premier League goals

Prediction

This has terse written all over it but if Arsenal can knock the wind out of Hull with an early goal it could be a comfortable match. The longer Hull think they have a chance of nicking something the harder the match will become.