EPL Preview: Chelsea vs West Ham
On Wednesday night, Chelsea host their local rivals West Ham in what promises to be a fascinating London derby. The blues are soaring high and will be looking to make it eight wins on the trot in all competitions. On the other hand, the Hammers are eighteenth in the league table, level on points with the teams at nineteenth and twentieth. Could it get any worse for them? It just might.
Arsenal dropped points at Southampton last night and Manchester City travel to White Hart Lane tonight. Also, Chelsea's next league game is a trip to the Etihad stadium, so they must secure a win against West Ham to keep up the pressure on their rivals.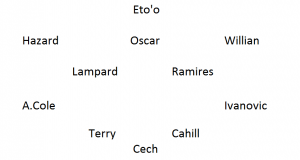 With Torres out injured for another couple of weeks, you can expect Samuel Eto'o to lead the Chelsea attack. Although he hasn't scored too many goals this season, Mourinho has backed his Cameroon striker by talking about the quality that he brings to the Chelsea front line. He also highlighted how Eto'o is able to combine with the attacking midfielders playing behind him. "'Eto'o is very comfortable and we have a very trusting relationship. He feels good, feels happy. He is enjoying it."
The attacking midfielders are the key for Chelsea. Hazard is in the form of his life and has been ripping teams apart all season. He is capable of scoring goals out of nothing and has become the player that the team looks for to make something happen. Oscar, Chelsea's baby faced assassin and summer signing Willian can be equally lethal. These three players will be the major threat to West Ham's defense.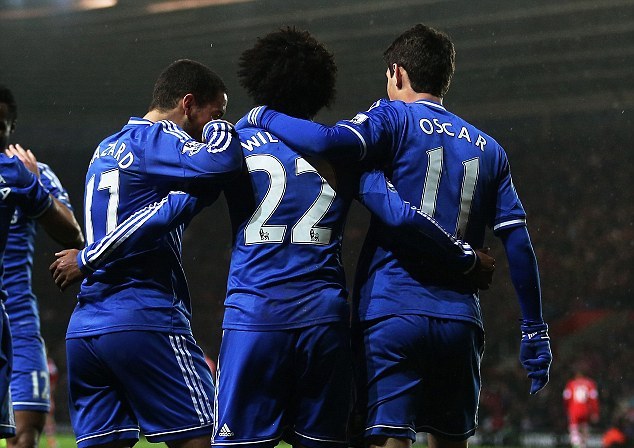 In his press conference, Mourinho kept emphasizing on the evolution of the team and said, "'The evolution of the players and of the team is compulsory. Positive results normally come as a consequence of that."
He remained skeptical about his side's title chances, but that is probably just something to do with his mind games. Mourinho had shared a bottle of champagne to the reporters and when asked about the possibility of Premier League champagne in May, he said, "I don't think so, we have to drink champagne because we are improving a lot, the team and the players, so the prospects of champagne in the future are good. We are going in a good direction."
It has been a tough season for an injury hit West Ham side who have struggled to score goals. The goals might have dried up, but defensively West Ham have looked solid.
Andy Carroll has handed Sam Allardyce a huge boost by returning to action after a long spell on the sidelines with a foot injury. He, along with the experienced players like Kevin Nolan will have a major role to play for the remainder of the campaign to guide the Hammers to safety.
The idea that West Ham will be the club to end Mourinho's perfect record in the league at Stamford Bridge is far-fetched. However, Big Sam hasn't given up hope on causing an upset. "In a one-off game, if you play to your best and Chelsea aren't functioning at their best, then you can get to the end result like West Brom did. It can be achieved at any one time in any one game and we've got to believe that it can be achieved."
One side fighting for the title, the other for survival. The stakes are high.