EPL's surprise package: West Bromwich Albion
685 //
28 Nov 2012, 10:30 IST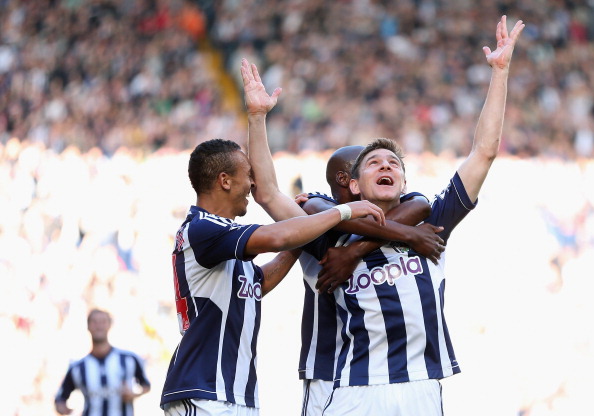 If the newly appointed West Bromwich Albion manager, Steve Clarke, was told that his team would be rubbing shoulders for the EPL title, he would have taken it with both hands. But, after the West Brom manager having achieved this, which many would not have believed before the start of the season, he has a bigger task in hand of holding on to the top half of the table. It is easier to reach the top, but holding on to that spot is a mighty task, especially with teams such as Chelsea, Arsenal, Everton and Tottenham below them.
West Brom has played 13 games in the current season winning eight of them, which has only been bettered by Manchester United, who have won 10 games. Manchester City have also won the same number as that of West Brom's men. They are just four points away from the top of the table, which is led by Manchester United with 30 points, and City with 29 points are in second place. Chelsea is one point behind West Brom with 30 points.
It is their players who have made all the difference in the season with their play in the centre of the park. Clarke has brought the best out of some of their big names, such as Shane Long, Gera and Lukaku. These offensive players have created some big upsets in the season already, which includes the first game of their EPL campaign, where they defeated Liverpool. Since then, West Brom has never looked back and are only climbing upward. One also needs to hand over the credit to Clarke as well, who has handled the team very well with an impressive rotational policy. How Liverpool fans must be ruing the fact, as Steve Clarke was Kenny Dalglish's assistant for Liverpool last season.
Come January transfer window, Clarke might be on the lookout for a player, who might help him improve upon his squad. If Clarke feels the need to do so, he will; else he might not be interested in breaking a winning combination.
They have tricky fixtures for the remainder of the year with Swansea, Stoke City, Arsenal, Manchester United, etc to play. If West Brom finishes the year on a high before the January transfer window, then there seems to be no reason as to why West Brom cannot challenge for the 2012-2013 EPL title. So, December holds a very important place as far as their standings are concerned. Imagine West Brom leading the EPL standing at the end of the year. It could be a perfect New Year gift to the new manager, Stuart Clarke and West Brom fans.