Explaining Real Madrid, Atletico Madrid and Barcelona's struggles against each other
8.42K //
02 Feb 2015, 18:50 IST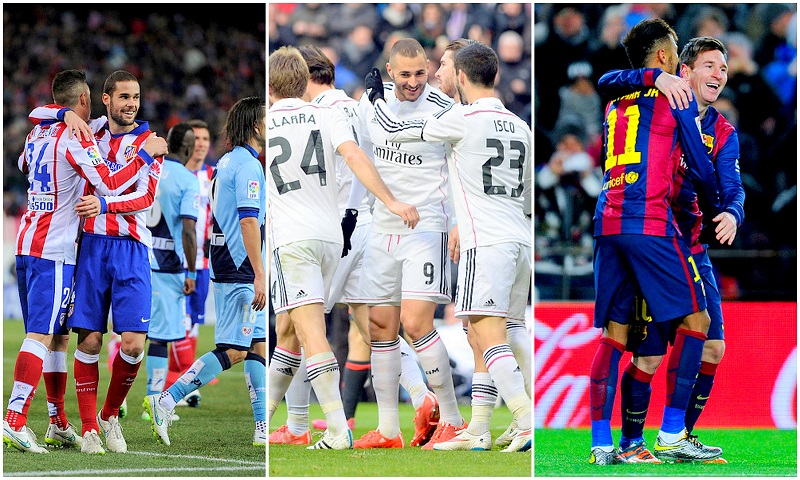 The thing about sports in general and football in particular here is that almost never is there an absolute best team that can beat every other team in the world. Even the best teams almost certainly face problems against a certain style of football and a certain set of players.
As an example, consider this: By pressing high up the pitch, teams leave themselves wider open at the back which exposes them to various vulnerabilities. By sitting back in their own half, they risk being outrun and sacrifice their attacking threat.
These tradeoffs that one team makes in order to maximize its own threats and minimize the threat to it are tradeoffs that are applied for a general assortment of teams it will face. Even if a particular tactical setup works for the majority of occasions, there will be teams that come out of the left field and expose their Achilles heel.
The Copa del Rey quarterfinal second leg culminated 2-3 on the night and 2-4 on aggregate to Barcelona. This was the third time in two weeks that Atletico Madrid got beaten by Barcelona, finally breaking Barcelona's 6-victoryless streak over the previous season when they failed to beat Atletico over the entire season over meetings in the League, Super Cup and the Champions League.
Atletico Madrid themselves beat Real Madrid in the Copa del Rey round of 16 with a 2-4 aggregate score and five encounters into the season with Real, Atleti are still unbeaten this season. This, after failing to beat Real Madrid in four consecutive matches last season, losing 3 and drawing 1 over the league, Copa del Rey and the Champions League final.
Real Madrid have, for the last three seasons, dominated Barcelona in the El Clasico themselves. Their last meeting at the Santiago Bernabeu ended 3-1 in favour of the Merengues in a contest in which they were in full control of the game.
Real, Atleti and Barca are a special case of a top-notch trio of teams that play very well in their own identity against one of the two teams, but stutter against the other. Breaking down case-by-case, we take a look at why it is so.
Why Real Madrid falter against Atletico
There's a one-word answer that would explain it all: defence. But that's way too simplistic a view, so a more accurate description would look into how Atletico's defence has stood up to Real Madrid's barrage of attacks.
When Atletico are defending on a typical Real Madrid counter-attack (a rare occurrence, as Real enjoy the lion's share of possession), all four defenders are quick enough to get back in position before too long. They give away a few fouls, perhaps garnering a card or two in the process, but they make sure they don't get overrun by a counter-attack.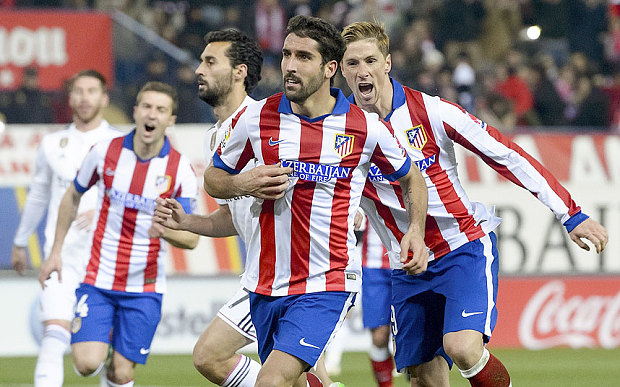 In the ordinary situation, when Atletico are defending deep, two banks of four are sitting 5-10 yards from the penalty area while one of their midfielders or strikers is causing problems to the man on the ball. Because Real lay significant emphasis on isolation offense (one man initiating moves), it becomes a tough proposition to play a ball through the crowded area.
Thus, even in the second leg of the Copa del Rey which ended 2-2 on the night, when Real had stepped on the gas in their pursuit of goals, Atleti were able to keep them at bay, although they did have their lucky stars to thank on a number of occasions. It was quite difficult for Real as a barrage of crosses into the box were successfully dealt with, barring a single one off which Cristiano Ronaldo headed in the equalizer. With little space to manoeuver the ball through or take a pot shot at goal, it was tough for Madrid to get the goals they were after.
Among the notable developments happened on the other end of the pitch was the way Atletico managed to unsettle Real with their high pressing, forcing and capitalizing on turnovers and score goals. Torres' brace was as much a result of calculated high pressing as his own finishing prowess.
Antoine Griezmann, with his pace, dribbling and ability to play quality balls into the final third is an invaluable component of Atletico's teams this season, and he possesses the ability to stretch the game and make the difference in the final third. This came in handy in the Cup games.
Atletico's well-documented ability to score from set pieces this season also shone through in the first leg, as Gimenez powered an unstoppable header off a corner past the hapless Keylor Navas in goal. By and large, Atletico have looked in total control for most part against Real this season, barring a few stretches in the league game in September and a spell in the first half of the second leg of the Copa del Rey when Real really had a go at them.
---
How Barcelona have made inroads against Atletico
Real Madrid's front three are all very compatible players who can switch position at any point in the match while on attack. But what Barcelona's front three of Messi, Neymar and Suarez are good at, along with their unpredictable movement, is their ability and willingness to take on and beat defenders while on the run.
This creates mismatches when they successfully get past a player or two. Atletico's defenders are caught in two minds, whether to press the man on the ball or to keep tracking their original man and risk yielding space for a shot. It's an example of a damned-if-you-do-it-and-damned-if-you-don't situation which came about on a number of occasions in their encounters this January.
Messi and Suarez especially have the great ability to play in the other guys having once gone past their primary defenders. Suarez is quite inventive and is slippery as an eel. When the ball is being played to him, he is always looking to take it away from the defender and stretch the defensive line. This fluidity and the dynamic nature of the MSN combo has yielded most of Barcelona's 7 goals in 3 matches.
While Atletico stuck to their guns and defended deep in their first 2 matches without much luck, they took the bull by the horns in the second leg at home. Torres scored right in the first minute of the game and they had Barca pinned to the wall. But a brilliant counterattack from Barca led to Neymar scoring off a stupendous assist from Suarez after initial good work by Messi.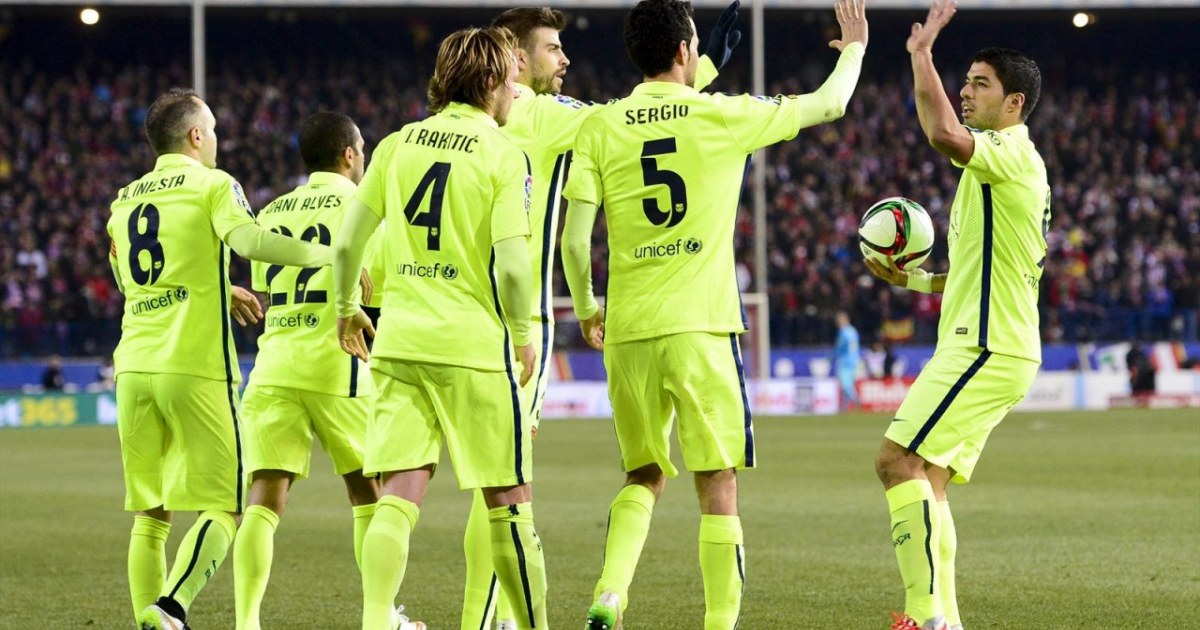 Atletico continued on the front foot and got their noses in front again off a Raul Garcia penalty that wasn't, but shot themselves in the foot from a corner as Miranda's miskicked clearance beat Oblak in goal. All their attacking work in the first half then came to nought after legitimate appeals for a penalty were turned down by the referee before Neymar scored his second of the game following some more good work by Messi and another great assist, this time by Jordi Alba. With Gabi's red during the interval, the game was effectively dead after the 45th minute.
Barcelona managed to successfully exploit the gaps in the Atleti defense on the counter in this match and turned in 2 goals off the same scenario. By pinning Atleti's backline on to their back foot, Barca placed the onus back on Los Colchoneros to score.
Although Atleti did hurt the Barca backline on a number of occasions in their home game, their conservative approach in the first two fixtures restricted them to half-chances off setpiece situations and on the counter. Only rarely did they threaten the Barcelona goal with their own buildup play.
---
How Real Madrid effectively tackle Barcelona
Where Atletico fail to exploit Barcelona's weak link, which is their backline, Real Madrid are able to effectively do so and make it count on the scoreline. Real lead their head-to-head record from the last 10 matches 5-3, two matches having been drawn.
In the 2012-13 season, fresh from a victorious, record-breaking La Liga campaign, Real won the Supercopa de Espana on away goals, losing the first leg 3-2 but winning their home game 2-1. They remained unbeaten for five encounters till the two met in the league at the Nou Camp, when Barcelona came away with a 2-1 victory. Having lost their home league game 4-3 too, however, Real came back to win the Copa del Rey final 2-1 before soundly beating Barca 3-1 in the league this season at the Bernabeu.
Although their styles of play have been different during Mourinho's and now Ancelotti's tenures at the helm, what Real Madrid have effectively done under both managers is hit Barca hard on the counter-attack, committing good numbers on the break.
Barcelona have always tended to play a high defensive line, coupled with pushing their fullbacks wide up the pitch to support their attacks. By successfully dominating possession in almost all games, chances to score against them come at a premium for most teams.
Not Real Madrid, however. Under Mourinho, Madrid would sit deep and invite Barcelona to come higher up the pitch, leaving Ronaldo on the left and Benzema/Higuain in the centre to provide outlets to the out-ball when they broke up Barca's approach play.
A strong centre comprising of Khedira and Alonso ensured that Barcelona turned the ball over on a number of occasions, while the backline consisting of Arbeloa, Ramos, Coentrao and Pepe/Varane were strong enough to block attempts out wide. With the centre of the park packed up, Ozil and Di Maria always in position to help the defense and the lack of a target man in the centre, Barca found it pretty difficult to break down Real Madrid.
Under Carlo Ancelotti, the defensive emphasis from Real Madrid changed from passive to active, wherein now Madrid's defenders actively press Barca's forwards and midfielders to win the ball back. This style of play is higher-energy and places a lot of emphasis on defensive timing. Initially, Madrid took time to adapt to this, but have eventually now become adept at forcing turnovers and intercepting plays.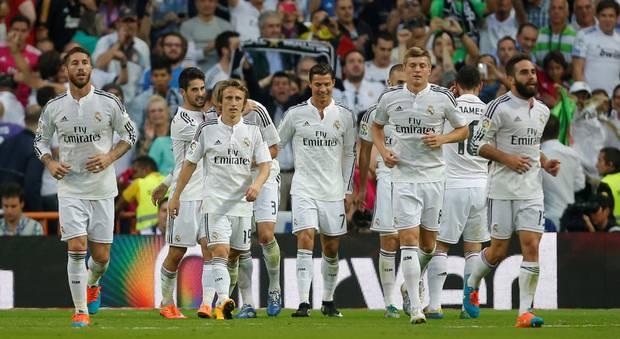 On the other end of the pitch, predictably, Cristiano Ronaldo has provided a perennial threat, while the likes of Ozil and Di Maria earlier and now Isco, Kroos, James and Modric are able to open up Barca's defense and force them to commit last-ditch challenges as a significant form of defense.
The absence of a commanding centre-half means that Barcelona are vulnerable off set-pieces as well, and Madrid have successfully exploited this weakness of theirs on a number of occasions.