Factors other than Messi-Suarez-Neymar that have contributed to Barcelona's success
12.14K //
14 May 2015, 14:01 IST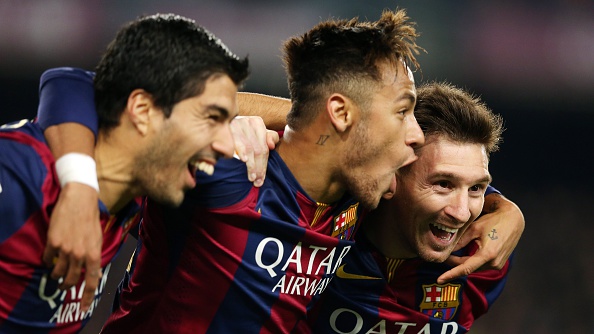 Barcelona are enjoying a vintage season under the stewardship of former captain Luis Enrique. At this point of the season, they are somewhere approaching the best form that they showed under Pep Guardiola, something the Bayern Munich manager admitted in his press conference at the conclusion of the second leg of the semi-final which saw the Catalans progress.
Unsurprisingly, Guardiola also paid tribute to Lionel Messi. Per The Guardian, Pep noted: "He is the best player of all time. I compare him with Pelé. I am so happy to see this football."
Throughout this season Messi, Suarez and Neymar have taken the headlines. With 114 goals between them to this point, a record for the Blaugrana and only four off of the all-time Spanish record set by Cristiano Ronaldo, Karim Benzema and Gonzalo Higuain in 2012, that is to be expected. But it conveniently glosses over the other factors that are in place that have made this such a wonderful campaign.
For example, if we think back to precisely this point last season, Jose Manuel Pinto was in goal for the Catalans after a season-ending injury to VIctor Valdes. Supporters of the club were beside themselves at Valdes' decision to follow through his promise to experience football in another country, worried that if Pinto was the best there was to offer, with the greatest of respect, then Barca would be in trouble from the get-go.
Not one, but two goalkeepers step up for Barcelona
Former sporting director Andoni Zubizarreta, a goalkeeper himself and much maligned in his new position, came up trumps. Not one, but two world class goalkeepers arrived in the form of Chilean captain Claudio Bravo and Borussia Monchengladbach's Marc-Andre ter Stegen.
The youngster would be the no. 1 with Bravo as his understudy. At least that was the initial plan. Ter Stegen's pre-season injury allowed Bravo to step in and he hasn't looked back. Only 19 La Liga goals conceded is up there with the best-ever performances of any goalkeeper in the Spanish top flight.
The Zamora award is given to those goalkeepers that have conceded the least and Bravo will win it by a distance this season. To put his achievements into perspective, in a 38-game season only Deportivo La Coruna's Francisco Liano can compare with 18 conceded during the 1993/94 season. Valdes and others have conceded less but have played significantly less games in the corresponding season.
Ter Stegen might have felt aggrieved at losing his spot, but he has still performed brilliantly when called upon in the Champions League campaign. People will be talking about his save from Robert Lewandowski just this past week for years, but what about the full-length injury time intervention in the first group game in this season's competition?
APOEL were the visitors to the Camp Nou and Barca were labouring to an unconvincing 1-0 win. Ter Stegen had been quiet throughout the 90 minutes and could quite easily have allowed his concentration to slip. A break from the visitors gave them the opportunity to provide a stunning upset and it was only the young German's intervention that meant Barca took all three points.
Over the course of the campaign, supporters have now seen enough to know that ter Stegen will, eventually, be a worthy successor to Valdes and in the meantime they have a fabulous experienced head in Bravo.