FC Barcelona 4-0 AC Milan: Mesmerizing Messi marks a memorable night
1.42K //
13 Mar 2013, 06:36 IST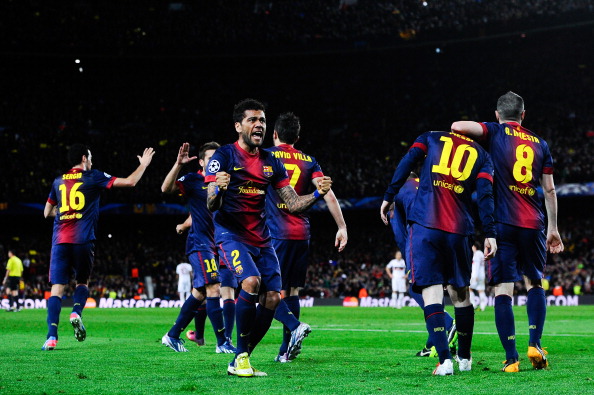 No team had ever overcome a two-goal first-leg deficit without scoring an away goal in the Champions League. That was the enormity of the task that lay before Barcelona as they lined up against AC Milan, who had put in an excellent performance at the San Siro to gain a two-goal advantage, in their attempts to pull off a great upset and eliminate Barca at this stage of the competition for the first time since 2007. To put things into perspective, Xavi said before the match: "This is our moment. The current squad has yet to mount an epic fightback."
And fightback they did, and did it with style. Barcelona's 4 goals in an electric atmosphere laced with anticipation at the Camp Nou served as the perfect response to those who were labelling the recent dip in form as the beginning of the end of their era of domination. However, Milan have only themselves to blame as they could not cash in on the few goal-scoring chances that came their way, something that they did very well in the first leg. Lionel Messi played like a man possessed, scoring after just five minutes with a perfectly curled shot, boosting the belief of his team while sowing seeds of doubt and apprehension in the Milan contingent. He went on to score a powerful second, while David Villa scored the all-important third which put Barca ahead in the tie. Jordi Alba finished the game off with a cool finish in the final minutes of the game to end a truly inspiring comeback.
Barcelona managed 14 shots on goal with 7 on target, while Milan managed 10 shots on goal with 2 on target in the match.
Starting Line-ups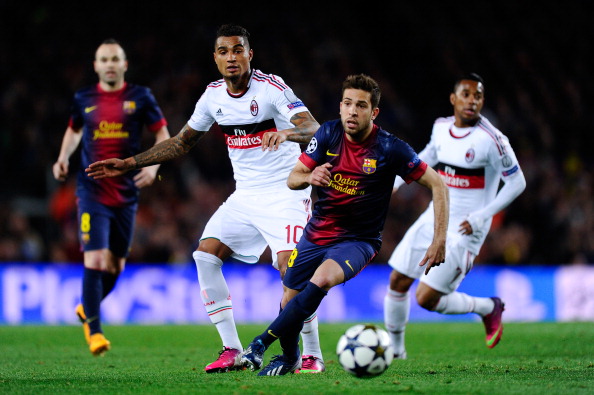 Barcelona (4-3-3): Valdes – Alves, Mascherano, Pique, Alba – Busquets, Xavi, Iniesta – Pedro, Messi, Villa
Xavi recovered from his injury, a minor muscle tear, in time to face Milan and took his usual place in the midfield. Mascherano started instead of Puyol, probably to add pace to the center of the defence. The surprise inclusion was Villa, who got the nod ahead of Fabregas. This meant that Iniesta could revert back to his favourite midfield position and also reduce congestion in the midfield, which would normally be present if Fabregas started.
AC Milan (4-3-3): Abbiati – Abate, Mexes, Zapata, Constant – Flamini, Montolivo, Ambrosini – Boateng, Niang, El Shaarawy
Niang replaced the injured Pazzini as the striker, denying Bojan Krkic a chance to play right from the start against his former club. Also, Muntari was replaced by Flamini.
Tactics & Analysis
AC Milan came out to defend their lead and try and score on the counter-attack. No surprises there. However, Milan's plans were deflated when Barca scored as early as the 5th minute of the game, through a classic Barcelona move and a classic Messi finish. A quick one-two with Xavi, a simple sidestep to setup the shot on his left foot and a curled finish into the top corner with 5 players surrounding him. A fairytale in itself. Abbiati did not move an inch for this one. The only way to stop Barca is to frustrate them by disrupting their passing rhythm, but a goal after just 5 minutes hardly helps you while trying to frustrate your opponent.
From then on, Barca's patented passing triangles came into play, with a ball to Alves on the right serving as an end-product to all such passing moves. Although Alves did not always provide incisive crosses, what he successfully managed to do was to disturb Milan's formation. He constantly troubled the full-back Constant, and whenever another player came out to help him, the ball was quickly passed back to midfield to exploit the space that was left by that player. Milan rarely saw the ball at their feet and the few times that they did, the plan was to release the speedy El Shaarawy with long balls and get to the penalty area. But this seldom resulted in any serious goal-scoring opportunities.
Messi should have doubled Barca's lead by heading in the rebound from Iniesta's deflected shot in the 13th minute. A decent penalty claim was turned down by the referee when Pedro was bundled over by Abate. And when Xavi's long-range effort was forced wide by Abbiati's fingertips, it was simply a matter of time before the second goal came.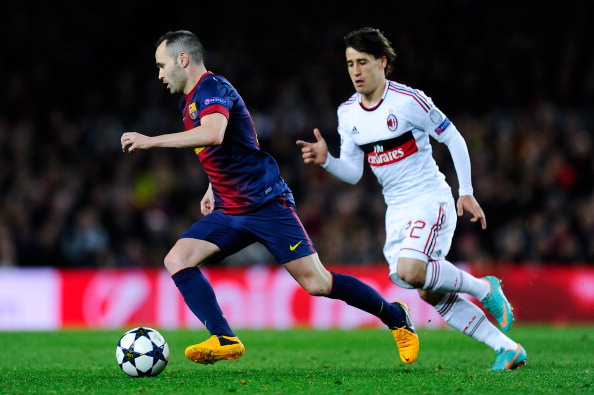 But then, the tempo of the game cooled down a little bit with Barca patiently attacking the Milan defence, when suddenly the essence of football was captured in a few minutes of frenzied action – that you need to capitalise on your chances. Somehow, Niang found himself through on goal and as he raced towards goal, it looked like the face of the match was about to change. Unluckily for Milan and very fortunately for Barca, Niang's shot hit the post and while the ball could have been handled in the play that followed, Milan would have been cursing their luck when after just a few seconds, Messi unleashed a powerful shot from the edge of the box to double the lead.
By halftime, Barca had 74% of the possession, which summarizes the story. Then, in the 55th minute, David Villa placed the ball in the far corner after being perfectly set up by Xavi to put Barca ahead in the tie. Post this goal, Milan started mounting attacks, some of which managed to penetrate the Barca defence. Abate's pace really came into play in the second half as most of the Milan attacks came from the right side of the pitch. There were some nervous clearances and the fans in the stadium could breathe easy only after Jordi Alba coolly finished after a horrible short free kick taken by Robinho gifted the ball to Barca at the halfway line.
The decisive difference between the first leg and the second leg was Iniesta. Don Andres ran riot in midfield along with Xavi, with his quick feet and sharp passing. He and Xavi provided assists to 3 out of the 4 goals scored. This allowed Messi to stay forward without having to pick the ball up in midfield, as Iniesta is more than capable of leaving defenders for dead in his wake. Alba also put in an immense performance, and cleverly used his pace only in the latter stages of the match, concentrating more on his defensive duties, as teams have recently exploited his attacking nature by lobbing long balls over him. His tackle on Robinho in the final stages of the match as Robinho looked to score from a cutback from Bojan probably saved the match for his team.
El Shaarawy, who was supposed to be the main attacking threat, could not do much while on his rare outings into Valdes' territory. Although Milan lined up as 4-3-3, it was always going to be a defensive formation with 2 lines of 4 players. However, they could not really settle down at any point of time as Barcelona stretched them in every which way.
Verdict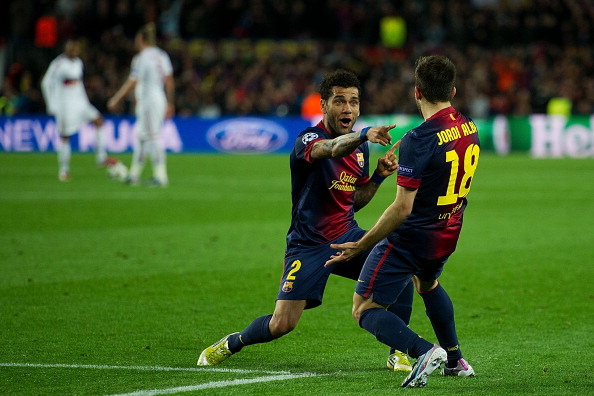 Barcelona: Barca showed that they are made of much sterner stuff than what people have been giving them credit for. One thing is for sure: they will not go down easily, and after such an inspiring comeback, few teams would like the prospect of facing them. And as long as Lionel Messi is fit and playing, why would they?
AC Milan: Milan will be really disappointed, especially after Niang missed that wonderful chance. Even in the second half, on any other day, if they had the rub of the green, one of those scuffles in the penalty box would have resulted in a goal for them. They managed to give Barcelona a real run for their money after the first-leg performance and gave them a wake-up call, so they can take a lot of positives from that match and learn a few lessons from this one.