Football: A beautiful game with ugliness personified
9.48K //
12 Mar 2012, 08:39 IST
Football, at times can be extremely eye- catchy (Barcelona's gameplay and equally brilliant theatrics). Sorry to say, not all the players are blessed with the charm that the game possesses, especially in the looks department. With even the most average looking superstar footballers blasted all over billboards, adverts and lunchboxes, you start to wonder, how good a player or how hideous one really needs to be to grab the multi- million dollar deals up for offer. This list is a celebration of sheer ugliness and to prove the point that not everybody has to be a 'Beckham' to make it in the cut-throat world of professional football. It gives ugly people everywhere hope and belief but most of all , it's because ugly people need heroes too!
P.S.- This post echoes the personal thoughts and views of the author who doesn't intend to offend the players involved,their families, friends, teammates, countrymen, or anybody else in the world. (Kidding, let's kill those repulsive b*stards!)
Disclaimer- If any kids, senior citizens or pregnant women happen to come across this piece, they should immediately close the page and seek medical help before the dreadfulness goes viral.
As I happen to be in a very attack- minded mode, I will unleash them in a 4-3-3 formation.
Goalkeeper- Oliver Kahn- The light- haired mountain gorilla
A shock of blonde hair, a face that looks like a constipated duck, the personality of a cauliflower and resonating as much warmth a Genghis Khan on one of his marauding rampages. Kahn is a truly deserving first choice keeper. Quintessential quote:
If I play, I try to concentrate on producing my best. (So do I Ollie, that's why you're going down!)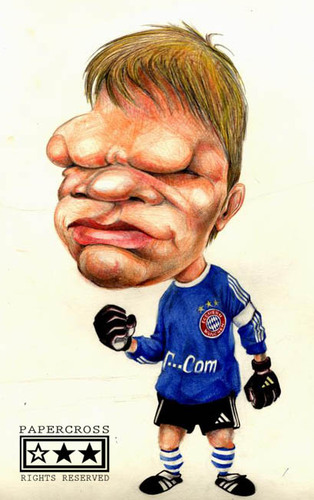 Right Back- Bacary Sagna- The pasta- headed  predator
With the departure of Martin Keown, we Arsenal fans thought that the ugly streak was over. Sadly, Mr. Sagna has inherited the torch and it seems, he's in for the long haul I must say.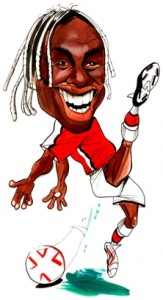 Centre Back 1- Joleon Lescott- Alien-head
What can I say, the man is so ugly that you start wondering if he really does have a receding hairline, or it's just hair running away from his face.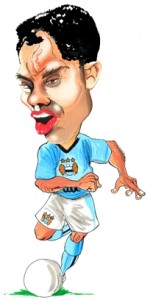 Centre Back 2- Ivan Campo- Andre The Giant
Following an accident at a young age in which Campo's face fell onto an industrial strength vacuum cleaner, his severe dis-figurement didn't stop him  from pursuing a career as a professional footballer.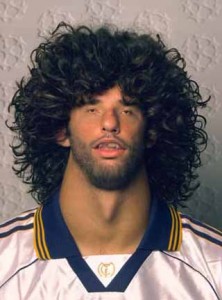 Left Back- Gareth Bale- The diving Chipmunk
Gareth Bale is a great player. A ridiculously hideous and wierd- looking one at that but a good player, nonetheless. Just looking at him, one starts to wonder if man really evolved from Apes or was it the other way round?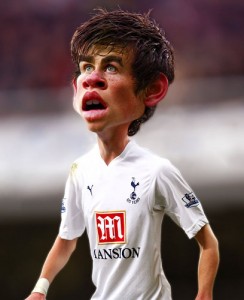 Right Midfielder- Franck Ribery- The scarred wonder
On moral grounds, it is not the best of things to poke fun at a victim of a horrendous accident. But as you might have guessed yet, the author has no moral grounds at all. Consequently, the next most shared page on facebook will be:
Who' that ugly c***, b*tch please that's Franck Ribery (as I already mentioned, no moral principles)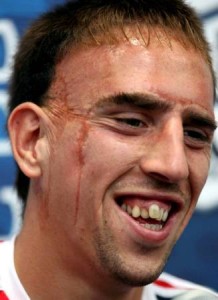 Central Midfielder- Javier Mascherano- The man with ample teeth
Mascherano is the ugly duckling of this current crop of Blaugranas (maybe second to Carlos Puyol, maybe not)  with just the right amount of aggression and an attitude that says "I am going to get that ball. That ball is mine and by the time I'm done, you'll be a kitten for the rest of the game" and moreover, that exquisite timing when it comes to tackling is something everybody has to witness. He also likes to speak his mind, below  a quotable quote when City refused to feed Tevez (a dashing dude himself) after he himself refused to come on as a substitute (read this part slowly and you'll understand, dyslexic asses):
"Carlitos has done so much for Man City that I think it is so ugly what they are doing to him now. "Everyone attacks him even when he can't defend himself. It is so unfair. But England is a complicated place because when something like this happens everyone attacks you." (notice the usage of words like 'ugly' and 'attack')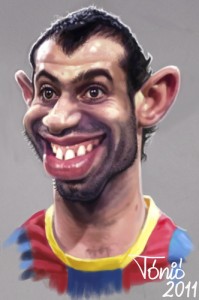 Left Midfielder- Ronaldinho- The smiling assassin
Looks like a horse, but one heck of a footballer. His buck teeth, constant smile and superlative talent enabled the goofy playmaker to take Beckham's crown of the world's most marketable footballer in 2006. Moreover, it qualified him to feature on my list.
Right Winger- Dirk Kuyt- Sloth
One of the most hazardous exports from the land of the Oranje people ( with close competition from Van Nistlerooy ). Trick question: Is Dirk Kuyt a freak result of nature or simply ugly or both?
Consider these facts:
1. His name means dirt or dirty in other languages.
2. His parents thought he is cute and tried to give him his current surname but disastrously misspelt it.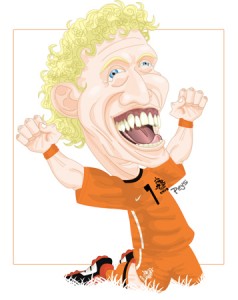 Left Winger- Wayne Rooney- Shrek
Where do I start with this Ginger. Is England's best player and was one of the worst players at the WC. Has a hot wife. She married him because of his charming personality, he went on to sleep with a prostitute. Now, he has a kid with her (his wife, not the prostitute). I hope he inherits footballing skills from his father, neither his looks nor his commitment.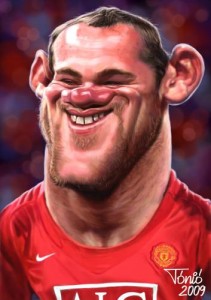 Centre Forward- Carlos Tevez- So ugly, it's called a disability
His ugliness can't be fixed, he just has to quit smiling like that,get a haircut, oh and fix that unibrow thingy-ma-jiggy he's got going on there. Apparently, the guy is so obnoxious, even a T.V. show called him one and got sued too.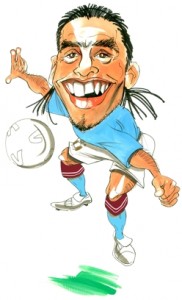 Substitutes- Not ugly enough to be on the first team, ugly enough to be on the bench.
G.K.- David James
D.F.- Taye Taiwo
M.F.- Sulley Muntari
F.W.- Ronaldo- not that Ronaldo
F.W.- Zlatan Ibrahimovic
Quotable arrogance quotes:
"Why drive a Fiat when you own a Ferrari?"(on being asked why Guardiola should play him more often, for the record, he calls Messi a Fiat)

"No way, Zlatan doesn't do auditions."(when Wenger asked him to go for an Arsenal trial)

No need to audition here, your repulsiveness automatically qualified you.
A Special Mention- No game of football or footballing team is ever complete without a manager and a referee. I think you know what's about to follow. Brace yourselves everyone, it ain't gonna be pretty.
Ugly Referee- Pierluigi Collina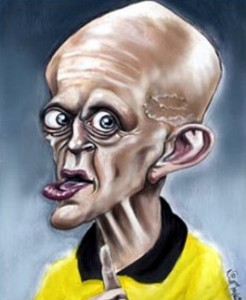 Ugly Manager- Harry Redknapp