Football in 2012: A Review Of The Year Gone By - Part II
1.10K //
21 Dec 2012, 14:08 IST
Read Part  1 here: Football in 2012: a review of the year gone by – Part I
John Terry found not guilty by Court of Westminster, but found guilty by FA, Rio-Ashley tweet saga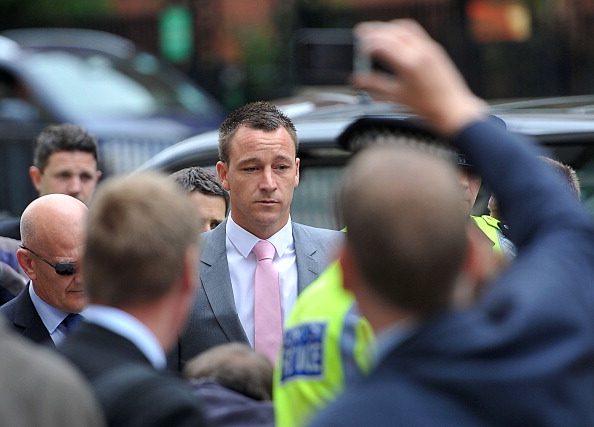 The Westminster Magistrates Court announced John Terry as not guilty of racial abuse after QPR's Anton Ferdinand had alleged that Terry had racially abused him in the match between QPR and Chelsea at Loftus Road. This saga had seen John Terry stripped of England captaincy and Fabio Capello sacked for backing Terry. A few months later, the FA ran its own investigation, and found Terry guilty, banning him for 4 matches. It also saw a bust-up between Rio Ferdinand and Ashley Cole, who was a witness, after Rio tweeted, calling Cole 'choc ice', a colloquial abusive term used to describe a black man who behaves like a white man. Later, in response to the FA alleging that Cole's testimony was false, the England and Chelsea #3 tweeted, calling the FA a 'bunch of t**ts'. All in all, a few months to forget for the FA.
Robin van Persie makes controversial move to United
After his best-ever season in an Arsenal shirt in 8 years, Robin van Persie announced that he would not be staying with the Gunners for the forthcoming season. The names immediately put up were United and last year's winners City, Scudetto winners Juventus and a distant possibility of Chelsea. RvP, on advice from friend and former Dutch teammate Edwin van der Sar (and the little boy inside of him), made the move to the Red Devils, drawing the angst and incurring the wrath of Arsenal fans; though van Persie denied that there were any hard feelings. With last season's two top scorers in Rooney and van Persie, United seemed like an invincible force now.
Justice For The 96, Hillsborough incident report released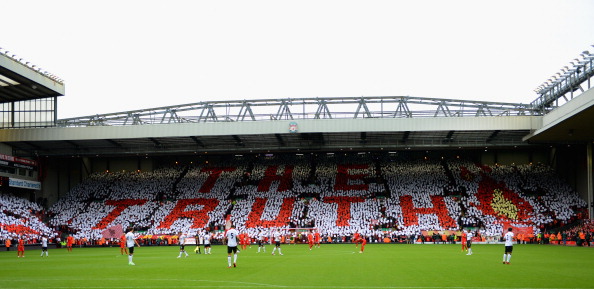 The official report of the tragic 1989 Hillsborough incident by the Hillsborough Independent Panel was released, revealing many previously untold truths about the deaths of the 96, including one of Liverpool captain Steven Gerrard's cousin. This version of the happenings on that fateful day was more accurate, with documents and testimonies being made available to the HIP, which had not been available to Lord Taylor, who drew up the initial report in 1990. The report revealed that around 165 statements from the police were doctored and altered. The report also claimed that around 41 of the 96 could have been saved if they'd received immediate medical attention. It was a breakthrough, as the families of the victims finally got the truth they deserved, though it was little consolation for their huge losses. The support from fellow football clubs, including arch-rivals Everton and Man United for Liverpool was a commendable act of humanity.
Chelsea 2 Man United 3, Refereeing decisions gone AWOL
In a game that would easily contend for the most controversial match of the year, United took the lead as the Blues put up a XI with neither Frank Lampard (injury) nor John Terry (suspension) for the first time in nearly a decade, after van Persie's shot deflected off David Luiz and past Cech. The Dutchman soon made it 2-0 as he fired Valencia's driven cross into the net. Juan Mata pulled one back on the stroke of half time from a free kick on the edge of the area. The 2nd half, if it was a film, was scripted by a washed up melodramatic-turned horror storywriter. Ramires equalised for the Blues, but soon after that Branislav Ivanovic was sent off for a last-man lunge on Ashley Young and just minutes later, Fernando Torres given the red after a second yellow for simulation, though replays showed that he had clearly been caught by Jonny Evans.  Javier Hernandez came on and scored what appeared to be an offside winner, though it was given. The controversy did not end there, with allegations from John Obi Mikel and Ramires that already-disdained ref Mark Clattenburg had used racial abuses against the Nigerian and a few other Chelsea players. This claim was investigated by the FA and Clattenburg was announced innocent, with John Obi Mikel getting himself a suspension.
Celtic produce magical night in Europe; beat Barcelona 
The Scottish team, who were initally unsure of a last 16 place, beat the former European champions 2-1 at Celtic Park. Victor Wanyama scored in the first half and Tony Watt doubled the lead in the 83rd minute. Although Lionel Messi pulled one back for the Catalans, the Hoops held on to complete one of the most famous victories in their club's history and to send Rod Stewart bursting into tears.
Ibrahimovic Scores a Stunner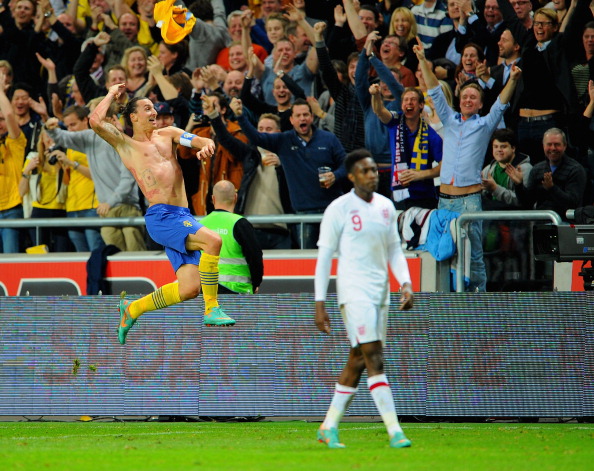 Zlatan Ibrahimovic produced a wonder goal as Sweden thrashed England 4-2, with Zlatan himself scoring all 4. The last goal was a delight for the eyes. Joe Hart headed clear from the edge of his area but the ball fell neatly to Ibra, who unnervingly struck one of the best bicycle kicks we'll ever see, from 30 yards out with unerring accuracy as it went over the City goalkeeper and into the net. A resounding reply to the critics who believe that Zlatan cannot perform on the big stage.
Roman wields the axe again; di Matteo sacked, Benitez appointed
Roman Abramovich showed again why he is the most ruthless owner in club football – even the Champions League and FA Cup from nowhere doesn't satisfy him, as he proved by sacking double-winning manager and club legend Robbie di Matteo on the back of a 0-3 drubbing away at Juventus in the Champions League. He also proved that he doesn't give a single darn what the fans think, appointing the very-much-loved-at-Stamford-Bridge Rafa Benitez as the new 'interim' Chelsea coach, though any coach at Chelsea would be interim. His tenure so far has not even seen a fraction of the turnaround in the team as it did under di Matteo. Wonder how long he's going to last.
A Tale Of Two Derbies
9th December saw two red-hot derbies being played a few million miles apart from each other. The first, the Kolkata derby between East Bengal and Mohun Bagan was literally red-hot. After Odafa was red-carded within two minutes and later he reappeared on the scene to argue with the referee over Nirmal Chhetri's red too. The tension moved to the stands who started hurling bottles and stones, one of which hit Syed Rahim Nabi on the face, fracturing him and he was stretchered off. Mohun Bagan refused to come out and play the second half, bringing a premature end to the Derby for the first time ever. A few million miles away, similar scenes erupted at the Etihad Stadium, though this match lasted 90 minutes. Rooney would score twice in the first half to send United on its way to 3 points though after the break Yaya Toure and Pablo Zabalete pulled the goals back for City. It was an all ex-Arsenal goal that would decide the  tie though, with van Persie's free kick taking a big deflection off Samir Nasri's outstretched leg and sailing past Joe Hart. Rio Ferdinand, being the nice guy he's always been celebrated in front of the City fans, enraging one supporter who threw a 2 p coin at the United centreback, hitting his eye brow, narrowly missing his eye and splattering his face with blood.
Messi breaks Gerd Mueller's Record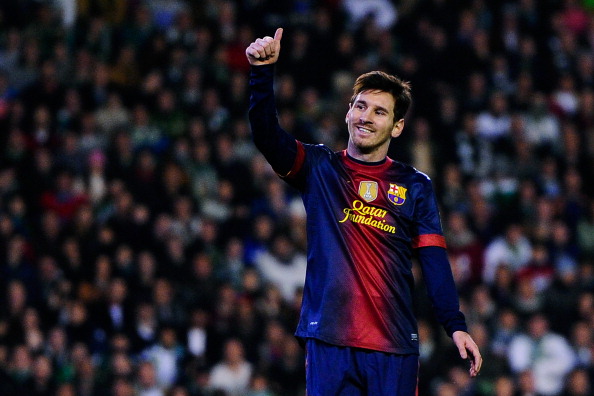 Lionel Messi etched him name onto the history books with a never-fading permanent marker after scoring a whopping 90 goals and counting in the calendar year of 2012, beating Gerd Mueller's previous record of 84. It has still not been confirmed by FIFA on whether this is the highest number of goals in a calendar year after the Zambian FA came out saying Godfrey Chitalu once scored 102 goals in a calendar year, following which Flamengo claimed that Zico had scored 90+ goals in a calendar year too. This remains clear though: Lionel Messi is one hell of a talented footballer!
Chelsea lose Club World Cup Final to Corinthians
Chelsea lost the final of the Club World Cup 0-1 to Brazilian side Corinthians after being touted as the favourites to become World Champions. The English side seemed jaded in the first 45 and conceded on the 69th minute, following which they had quite a few shots on goal themselves, the most blatant falling to Fernando Torres who could not convert. Manchester United remain the only English club to have been World Champions as Chelsea players were left in tears and ruing missed chances.
All in all, it's been an almost perfect footballing year of 2012 with ups and downs – records broken, underdogs winning, racism re-emerging, justice being served and of course some beautiful football being played. After the footballing miracles we've witnessed this year, I think it'd be safe to say if the world does end on the 21st, that we shall all die fully satisfied football fans. Here's to a magnificent 2012 gone by and an even better 2013 in the horizon!