Football memories: Frank de Boer
1.16K //
26 Mar 2013, 22:03 IST
If you said, 'describe a defender who could play for Holland, Ajax and Barcelona', what qualities would you expect? Style and elegance on the ball, a wide range of passing, an ability to step into midfield, tactical intelligence, positioning and intercepting. In other words, Frank de Boer. The very epitome of the ball-playing centre-half, he used his brains rather than his brawn to shut down the opposition. De Boer won 112 caps for Holland, many of those as captain, and scored an impressive 13 goals. From his Ajax debut in 1988 through to leaving Barcelona in 2003, De Boer was one of the best defenders in the world. He was metronomically consistent and led with a quiet authority.
In his glittering career, he won 1 Champions League, 1 UEFA Cup, 5 Eredivisie titles & 1 La Liga, and came a penalty shootout away from playing in the final of the 1998 World Cup. He was a key part of the last great Ajax team which was a serious force in Europe and was made up predominantly of home-grown youngsters.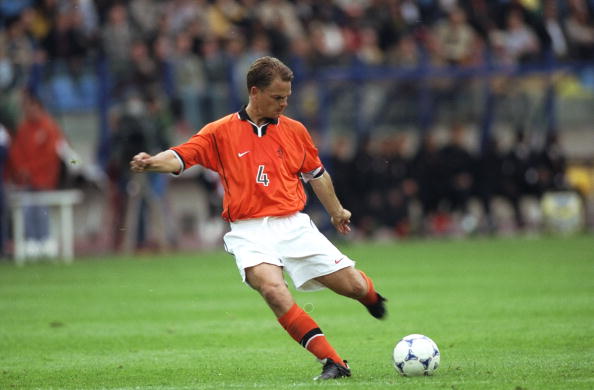 De Boer surged into the Ajax team as an 18-year old left back opposite his twin, Ronald. However, after initially playing out at the side of the defence, he was gradually phased inside to make better use of his positioning and distribution skills. To show his versatility, he also took over from Danny Blind as the sweeper and spent time there at Barcelona when the sweeper was still in vogue. He was a player very much of the Dutch tradition of Total Football. There was plenty of Koeman and Rijkaard to his game.
Strangely, for a player who spent his career at the top of the game, he was, and still is a little under-rated. He wasn't the most famous name in the Ajax team that included Kluivert, Seedorf and Van der Sar, or the Barcelona team that boasted of Rivaldo and Figo. He just let his game do the talking, not fussed about seeking out the limelight. As part of a teutonic generation of Dutch players who had infamous difficulty in getting on, De Boer was the captain because of his leadership. Although an occasionally spiky personality, he knitted the squad together. His leadership impact is most obvious in the difference between the Dutch showings at Euro '96 and France '98.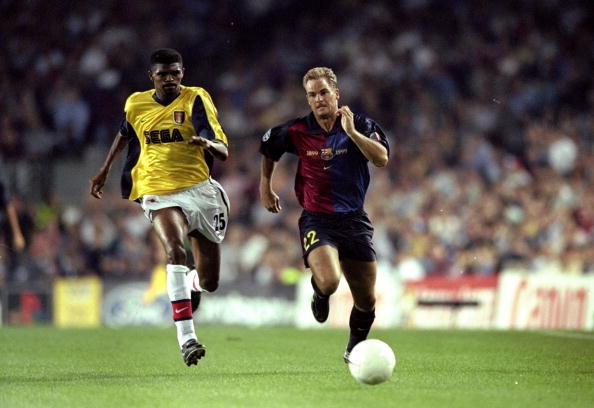 De Boer missed Euro '96 through injury and a disunited, fractured squad fell out with each other before crashing to an inevitable exit. Two years later, De Boer was wearing the captain's armband. He led an incredibly talented Dutch team to the semifinals, where they lost a memorable match against Brazil on penalties. What made this all the more remarkable was that the team that did so well in France was basically the same personnel as had failed in England. The quiet and steely leadership of De Boer made a massive and measurable difference in that tournament. The Dutch national side was his team and it gave him extra motivation which he passed through to his players.
It was at France '98 that de Boer delivered the masterpiece for which he and fellow artist Dennis Bergkamp will never be forgotten. In the quarter final against Argentina, with the game poised at 1-1 and drifting in to extra time, de Boer received the ball deep in his own half, loped forwards, looked up, and did this:
The finish from Bergkamp is otherworldly, but the pass from de Boer is just as spectacular. How many midfielders, never mind centre-backs, could ping a pass 60 yards straight into the narrowest corridor where only Bergkamp could control it? A goal of sublime art. The best I have ever seen.
Frank de Boer was an elegantly sophisticated defender who won every major club trophy during his career and very nearly added a World Cup. He played for one of the best teams of all time when he won the Champions League at Ajax, and played in front of 100,000 fans every game at the Nou Camp for Barcelona. But despite all of this, his name rarely surfaces in discussions of the best players of the last 20 years, and yet he fully deserves to be up there. To be the all-time cap record holder for outfield players for a country with the pedigree of the Netherlands is extraordinary, and with the exception of Paolo Maldini, there were no better defenders. He had one of the best football brains ever seen, and participated in the most gorgeous goal ever scored in a World Cup. Footballing class personified.