Football moments: Facebook reacts!
3.49K //
16 Nov 2012, 17:41 IST
It's a big sorry to some of my readers. If you aren't keeping up with the modern trends and following Facebook trolls, I'll have to show you the virtual equivalent of a door right now, as this article won't make any sense to you. The ones, who know the 'other' troll, famous for living below bridges, snatching kids ("he's climbing yo bridges, he's snatchin' yo children"), and immortalized by Tolkien –  you are just as guilty, and should be shown the aforementioned door too. The rest of my modern friends, welcome to a list of goalscoring celebrations and famous poses that have now become immortalized in Facebook trolls!
1. Peek-a-boo! I'm hurt, help me! (Sergio Busquets vs Inter Milan, Champions League semi-finals, 2010)
They say Busquets rejected the Oscars so that small time actors such as Nicholas Cage and Heath Ledger could win them. Of course, his splendid acting wasn't caught by the permanently Barcelona biased referee, but fortunately for trollers, the cameraman did! This pose has now been immortalized in numerous trolls now, ranging from the bear and dead man story to the posters of movies such as 'The Graduate'.
2. The Postman has delivered! Time to take my shirt off! (Mario Balotelli vs Germany, Euro 2012 semi-finals)
The situation was big, one really can't blame him for his excitement, but it was a #YOLO (You Only Live Once) moment alright! Mario Balotelli had told his loyal fans that he didn't celebrate a goal as it was his duty to score, just like it was a postman's to deliver letters. A week later, Balotelli had a Taylor Lautner moment when he took his shirt off following a brilliant goal against the mighty German team. That must've been one heck of a letter the postman delivered, was the delivery address in Mordor? (but one doesn't simply walk into Mordor.. right?)
3. Cannon free kick with his cannon celebration for Arsenal! (Lukas Podolski vs Southampton, Barclays Premier League, 2012-13)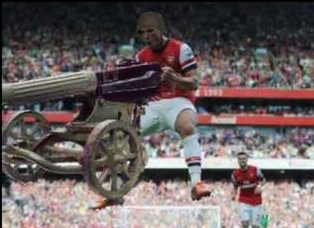 Lukas Podolski had his first club outing outside Germany this year, after Arsene Wenger brought him in from the German club FC Koln to replace their talismanic striker Robin Van Persie. After a fantastic free kick goal against Southampton in a 6-1 drubbing, he decided to REALLY blast 'em off with his cannon (perhaps getting in the 'true' gunner spirit?), or perhaps go Super Saiyan!
 4. This is SPA…, uh, I mean, SWEDEN! (Zlatan Ibrahamovic vs England, International Friendly, 2012) 
One doesn't really slate Sweden as one of the world's best teams, so when Zlatan single-handedly took his beloved country to a 4-2 victory over the mighty 'Three Lions', you really couldn't blame him for being excited, and after scoring THAT goal, a celebration involving champagne wouldn't have been uncalled for, but till that could be arranged, Zlatan settled for taking his shirt off and slaying a demon or two!
Thats all for now folks, hope you enjoyed it, if I have missed a few moments, please feel free to remind me in the comments section. Thanks!