Former Chelsea and AC Milan Player Andriy Shevchenko Has No Plans To Retire
818 //
08 Jul 2011, 09:13 IST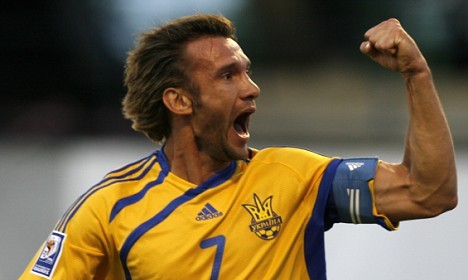 Former Chelsea and AC Milan striker, Ukraine's Andriy Shevchenko has no plans to retire anytime soon.
"I never said I'm going to stop playing after 2012. I feel good, still young, the motivation is still there and I think I'll carry on. Of course, the day will come when I have to hang up my boots, but for now I don't know when I'll retire. I scored quite a few goals again last season. My short-term objective is the upcoming EURO."
The Euro 2012, to be jointly hosted by his native country and Poland, will be an emotional affair for the Ukraine captain. Speaking of his team's chances in the competition, the prolific goal scorer said,
"I think we have the potential to trouble the favourites for the title. Ukrainian football is on the up at international level and club level, as Shakhtar Donetsk proved with their run in the Champions League. That's been one of the direct consequences of the decision in April 2007 to award EURO 2012 to Poland and Ukraine. Since then, clubs have been investing in infrastructure and training. In Ukraine's case, it's given us the chance to undergo real development, not just in football terms but for the whole country and its inhabitants. I'm sure we'll be ready when the time comes – it's a question of national pride. And with a bit of luck, we can hope to win the title too. The task of the older players like Tymoshchuk, Andriy Voronin, Oleksandr Shovkovskyi and myself will be to support the younger talents and help them quickly raise the level of their play."
A man who has been in the game for nearly two decades, Shevchenko accepts that the game has changed a lot in recent times.
"It's true that the sport is changing. What matters the most now is how quickly you can move the ball around and read the game, both of which need to be done with an increasingly refined technique. A team like Barcelona has players with great technique and their smaller size is compensated by their ability to speed the game up. Pep Guardiola has done a fantastic job."
Shevchenko admitted his fondness for Manchester United's Wayne Rooney.
"Right now there are lots of top-level strikers, each with different characteristics. Personally, I've never tried to resemble anyone else. The forward I like the most is undoubtedly Wayne Rooney. He never stops moving, he works hard for the team and scores important goals."