Gabriel offers Wenger the exciting attacking options offered by a 3-man defence
2.44K //
06 Mar 2015, 10:57 IST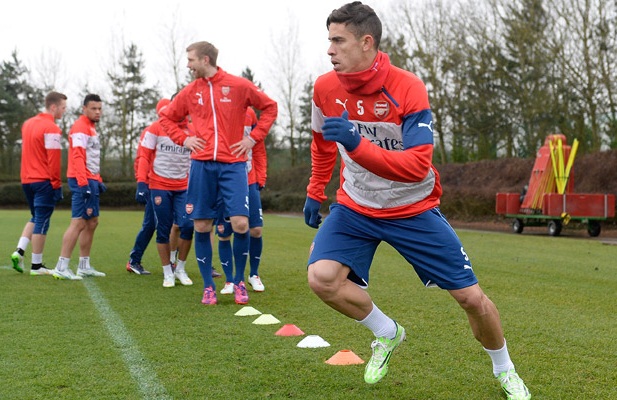 Yesterday I began to write about my early admiration for Gabriel (pre-injury) and his attributes and I suggested my pondering on what he might mean for the team would continue. Whilst it is very early days for our new Brazilian, it is hard not to feel excited about the new flexibility his confident introduction to the first team set up will give Wenger.
So what do I mean? Is not just a pleasant decision of which 2 from 3?
Let's put cards on the table from the off and say that this blog is based on nothing but personal thoughts, a hunch and a sprinkling of blue sky thinking! Having said that, after years of frustration at Wenger for insisting on playing the same 4-2-3-1 religiously since last April, Le Boss has suddenly shown a greater degree of flexibility in team set up.
He has done this in play, twice last season at Wembley switching to 4-4-2 to save and win the semi and the FA Cup Final. This term he has tinkered game to game flitting from his favoured 4-2-3-1 to a more solid 4-1-4-1, most dramatically at the Etihad and often a variant of either a 4-3-3. So when I suggest Wenger may see the emergence of Gabriel as giving him an option of looking at another system I may not be totally off piste.
Football undoubtedly evolves and adapts and many topsides switched from 4-4-2 to 4-2-3-1 over the past decade, including, of course, the Arsenal. For Wenger, what began as a more defensive 4-5-1 away in Europe became a 4-2-3-1 to harness the prodigious creative talent of Cesc Fabregas at CAM.
If we accept that there are trends and styles that come and go in popularity and effectiveness we would be foolish to ignore the fact that many sides in the Premier League have dabbled with or stuck with, in some cases, variations on the 3-man defensive set up. Something Arsenal themselves enjoyed success with in 1989 and played again under Rioch. In both cases, it could be argued that Graham and Rioch used the system because they had to or more defensively rather than by design pr as an attacking platform; but what of such systems today.
Man City have used a 3-man defence under Mancini and Pellegrini and United have experimented with a back three this season with Van Gaal, both with arguable success. What is certainly not arguable is that Brendan Rodgers has constructed or fallen upon, depending on who you believe, a system using 3 centre backs that works very well for Liverpool. Liverpool's variation is more a 343 or 3421 which is a modernization of the 352 which was used largely in Serie A and indeed by England's national team at Italia 90.
Both systems have huge merit and seeing Gabriel slot so seamlessly into the Arsenal side got me thinking about whether the Brazilian might give Wenger cause to consider a 3 man defence, particularly give the attacking prowess of our current ill-disciplined full backs. What was merely a thought initially took shape more concretely in my mind when I learned more about Gabriel's background – Namely that in his breakthrough season and 2nd season as a professional he played almost exclusively for Vittoria.
Now given that we have a very accomplished left-footed defender who has proved himself centrally this season in Monreal and in my opinion the best deep lying centre back in the Premier League in Koscielny surely the thought must have crossed Wenger's mind??
This will sound incredibly disloyal to our acting skipper Mertesacker but he is not a player with who you would consider straight off in a three as all three would need to be athletic and be able to cover the ground swiftly. A back three of Gabriel Right CB, Koscielny, central and slightly deeper and Monreal left CB. Even as I write I am visualising the endless possibilities within our current squad to best utilise such a fabulous and potentially solid base.
This could become a thesis however so let's just consider the more traditional 332 with wing backs first and then address the system flourishing at Anfield since the autumn. I should add first that both systems could be used from game to game and I think would be and this is based solely on my observation and no deeper tactical knowledge.
So the 1980/90s style 3-5-2 or 5-3-2 depending on whether the team if attacking or not.
This formation firmly utilises one of the centre backs as a sweeper and has the full backs as out and out wing backs encouraged to get forward and act as wingers as soon as the team has the ball and is on the offensive. Give the traditional nature of this formation it evolved at least in England to still allow the conventional 2 striker system. The wing backs provided the width formerly offered by the right and left midfielder or wingers. Thus leaving 3 players in the central area, one notionally more central and slightly deeper than the other 2.
Ahead of the 3 or 5 would be the traditional 2 strikers. Usually a target man, good in the air to take advantage of the wing backs getting forward and crossing in combination with a more mobile and swifter second forward.
This variation would best serve am Arsenal side with Giroud and Sanchez as the front two in my opinion – If you will playing the Alan Smith and Paul Merson roles. Give the far lessened defensive duties required front the front 2 Walcott could also find a new lease of live.
It gives full licence two players ready-made for the wing back roles in Debuchy and Bellerin on the right and Kieran Gibbs on the left. Gibbs began life as a winger and somewhere in there, well hidden at present is a very good crosser of a football.
We gave an embarrassment of riches when it comes to the central 3 taking you pick from Wilshere or Coquelin deeper CM with 2 of Ozil, Santi, Ramsey and Ox. The team of the future playing the system conventionally would look rather beautifully something like this:
The modern day LFC 3-4-3 is the one for me?
The alternative which I am sure most Gunners would pretend to hate but secretly admire is that employed currently by Liverpool. They have not got this right over night though as many will remember us battering them so much in the first half at the Emirates last season that Rodgers was forced to re-think his 3 and changed to a 4 at the back at half-time.
A year on however the system he has ended up with very much suits his playing staff. Whether by design or by luck I cannot say but given he bought Balotelli and Lambert I think the latter would be closer to the truth. Most pundits describe the system as a 3-4-3 which in its simplest form it is but in reality it shapes up more as a 3-4-2-1, although the front 3 are exceptionally fluid. This has been because in Sturridge who would be the 1 and will be now has been absent so the 3 of Coutinho, Sterling and Lallana has been very flexible with Sterling nominally on point, so to speak.
If Rodgers fell upon the system as I suspect he did he is doing is best to make out it was planned. This was his quote after their League Cup win at Bournemouth where he first played the front 3 without a recognised centre-forward:
"When you have got the players to play in the way we want to work you can see the issues and the problems we can cause opponents. We had that ability to break forward with speed and on the counterattack for probably the first time [this season]. That was clear. That tactical element is critical to how we work."
The new way of playing relies on quick transition from the defence to attack and relies heavily on the 2 ball playing central defenders, primarily Can and Sahko and their swift distribution accurate distribution to the wing backs or centre midfielders. The wing backs in this system are crucial and require superb engines needing to get forwards and support all attacks and equally be able to get back and support the defence.
For Liverpool the superior technical ability of Can and Sahko over Louvren and Skrtel has helped and I think when all fit the first 2 would play in this system. Their main outlets have been Markovic, Moreno and recently Ibe. Of course Moreno would have been used to the wing back mentality at Sevilla I assume.
The 2 central berths have been shared between Henderson, Allen, Lucas and Gerrard but of course the key has been the front 3 and the undoubted main beneficiary at Liverpool has been Couthino. The Brazilian often stuck out on the wing earlier the season was peripheral and in and out of the team but now he is the main man though which most of the creativity flows.
Once fully fit I assume Sturridge as the mobile fast centre forward would fit into the central of the 3 or at the tip of it and the others positions would go to Sterling and Couthino with Lallana as first change and I cannot help but see this system as simply breath taking with the current Arsenal squad now we have seen the talent and crucially distribution and mobility of Gabriel.
At Arsenal this version of the 3 at the back unlike the earlier one who be unpopular with Olivier Giroud of course but would bring the absolute best from Alexis and Ozil as it has with Sterling and Couthino. I think also whilst I am keen on Debuchy and Bellerin the formation the right hand wing back/midfield role could be tailor made for Alex Oxlade-Chamberlain as it has proved for young Jordan Ibe. One question might be whether Walcott or Welbeck could step up and take on the Sturridge role as I would rather see Alexis as one of the 2 just off and around the centre but the options at Arsenal would be endless.
Again I would favour from a fully fit squad Nacho Monreal as the left centre back but as with Liverpool the demands of the system would see us needing 4 personnel at least. A further advantage would be that the system does not require and out and out DM.
The system is so exciting you could have fun for hours where to put members of our squad but it could look as spectacular as the graphic below.My first choices is all fit and on form at those shown first but I am sure you can all have some fun with who you might fit into the fluid 3421…………………….
In conclusion this may never happen but given we have no teams in the EPL playing 3 at the back 3 years ago and now it is increasingly popular it is at least a possibility. More of a possibility now we have invested in Gabriel in the medium term and the thought of Alexis and Ozil just behind a mobile striker is simply sensational – Jackson Martinez anyone?
Until next time.