Goalkeepers - The unsung heroes
2.06K //
10 Mar 2013, 19:00 IST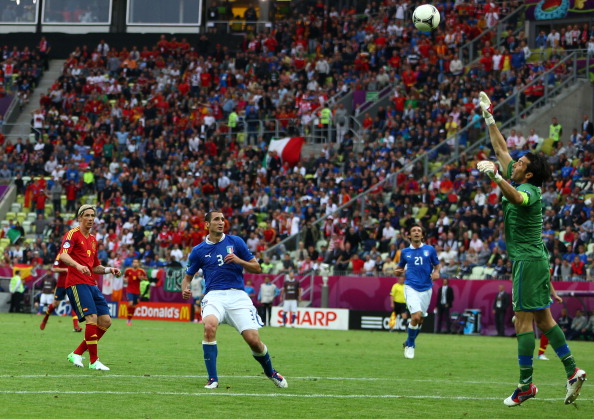 Somewhere in there the grace of a ballet dancer joins with the strength of an SAS squaddie, the dignity of an ancient kind, the nerve of a bomb disposal officer. - Eamonn Dunphy talks about goalkeepers.
Man oh man, heavy words right? The beauty of it all is that not one word there is an overstatement – if anything one could say that one is not giving enough credit to the number '1' men of a football team. A goalkeeper is the most important player of any team. It does not matter if you are a defender like Nesta, a midfieder like Keane or Zidane, a winger like Ronaldo or Messi or a striker like Henry or Eto'o. If your team does not have a decent goalie, you might be the best squad in the world but you are doomed to fail.
Indeed, it is a sad fact of the game that the most important men are the most under-rated. Unless you are Buffon, Casillas, Kahn, De Gea or Cech, no one remembers what you did in the game. But heaven forbid if a keeper makes a mistake. Everything else is forgotten, all that one remembers is the mistake.
We saw a perfect example of this a few weeks ago. Joe Hart, the best keeper in England last year, let an elementary save slip through his legs. Agreed, it was a blunder, agreed he should have done better. But is he not human? What about his team that underperformed throughout the match? No one points a finger at them. It all becomes the fault of the goalie. Media and fans alike forget how many matches the same goalie saved for his team. But that is his job, they say.
Having experienced life as a goalkeeper, I can easily say that for any goalkeeper to make a mark at any level, he must have the ability to gobble up criticism and smile inspite of it all.
"Massive, massive mentality. The mental strength, you've just got to have that because you get a lot of stick, as a goalkeeper you're the last line of defence. When a goal goes in everyone looks at you, you've got to be able to deal with that. If you make a mistake, it could be a bad mistake, how are you going to recover? Are you going to react positively or are you just going to cave in?" - David Seaman.
A lot of keepers have been put into oblivion because of a single bad moment. Roy Carroll at United, Mucha at Everton, Green for England have are now in oblivion due to one bad moment, due to a lapse in concentration for a single second. It requires extraordinary agility to be a keeper of any standard. From the time the ball starts flying at you, to the time you get to stop it – it seems like a lifetime to you but in reality is a couple of seconds at the most. In that time, a keeper has to judge the ball, adjust his body, and jump towards it. I do not think any other sport demands that quick a reaction time from any player.
Some of the best performances I have seen have been by goalies – be it Cech against Barca, Van Der Sar against Chelsea, De Gea against Madrid or even Casillas in the 2003-04 season at Old Trafford. Those were majestic performances that redefined history. The best save I have seen is that of De Gea against Chelsea when he saved the last kick of the game, a Mata free-kick Stretching impressively, almost impossibly, to cover the whole breadth of the goal and yet having enough strength to keep it out.
As a wise man once said, 'They (the strikers) score goals, because they are peaceful in the knowledge that the goalkeepers won't concede.' A striker may win you a game, but a goalkeeper lets you win it.