Harry Redknapp – Wizard of Id
1.07K //
07 Mar 2012, 11:25 IST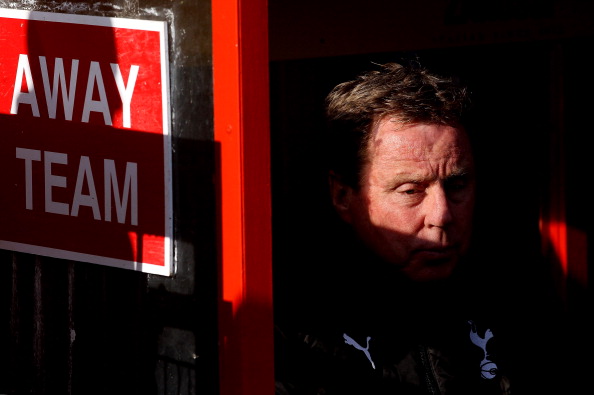 Harry Redknapp is the people's choice for England manager. That is, if by people, you mean Fleet Street journalists and callers to evening radio shows. The man's appeal is easy to see, even amongst those of us who don't view him as the best choice – his teams tend to play attractive football and he seems to have the right personality to deal with all the media nonsense attached to England's top job. But, given all of Fleet Street seem in agreement over Redknapp's God-like genius, a man who can motivate any pub player to world-beating greatness, I think it's important to present the counter-argument.
When discussing Redknapp's fabled man-management skills, the incident that comes to mind is the time he compared the finishing skills of Darren Bent to his wife's, saying after a particularly bad miss against Portsmouth that "my missus could have scored it". Bent's a player with a bit of an ego on him so it could be interpretted as an attempt to knock him down a peg or two, but – and this isn't the most thorough of reasoning – I remember it seeming more like a frustrated man unleashing a rant.
In fact, Bent later claimed that he never felt wanted by Redknapp in the year their stays at Tottenham overlapped.
If he is the great man manager he's claimed to be – not just competent or half decent, but a full blown great – surely he'd have made sure all his players felt wanted and understood their role in his plans? This would particularly apply to a striker who'd been third and sixth top scorer in the league in his two seasons with Charlton, before being transferred for £16m at the age of 23.
In the above Darren Bent interview, Redknapp openly stated that he had no faith in the then reserve goalkeeper Cesar Sanchez, selecting an injured Heurelho Gomes ahead of him:
"We need another good goalkeeper and if I'd had confidence in the Spanish keeper then I would've played him."
Even those of us who aren't managerial geniuses can see that it may be a good idea to soften that statement – maybe say that he's not ready for first team football yet, or say that he's talented but a bit raw – even if you do consider him useless. Also, referring to him as 'the Spanish keeper' is a really nice touch – hinting that, three months after his own arrival, Redknapp had so little time for him he hadn't even bothered to memorise his name. I think that will definitely have helped his self-esteem.
In recent years, Jermain Defoe has probably been underachieving against his raw potential, which surely is perfect for a man-management genius like Redknapp. So what was his solution? Sign Louis Saha. Obviously Pavlychenko went out as Saha came in, but Saha is more similar in style to Defoe than the Russian, so it's a little telling that Saha leapfrogged Defoe into the first team. Redknapp must have thought that Defoe could fit into the tactical system, but he just couldn't get the performances he needed out of him.
I don't mean to oversimplify what's made Redknapp successful, but often he seems to have signed players who have got into a rut, took them out of one environment they associate with failure and frustration, put them in another they associate with opportunity, and let them do their stuff.  I'm honestly not sure if this should be classed as a criticism or understated praise, but much of his man-management 'genius' seems to fit into this mould. Paolo di Canio was probably feeling unloved at Sheffield Wednesday – after his push on Alcock he was immediately suspended by the club, for example.
Under the traditional British management model, the manager is the most powerful member of the football side of the club, and as a result sets the tone for the rest of the club, in terms of aspirations, style, and so on. Redknapp publically talked about how upbeat he felt about a title challenge a year and a half ago:
"I feel we could contend for the title; we have got the players here. We have to aim for it. We could win the championship. Last year, we went in saying we wanted to finish in the top four and if you don't aim for things, you have no chance."
The following February he'd changed his mind, saying:
"I think people get carried away thinking Tottenham should be in the Champions League. Why should we be in the Champions League? It would be a miracle if we did that. We'd never been in the Champions League before. Suddenly we do it and it's, 'Oh well, we should do it again'."
One of the tasks of management should be building a sense of positivity while keeping pressure off the players. But if that was his aim, and both quotes were part of a cohesive plan, surely he could have been more subtle. Maybe he could talk about the title intent in private, while talking down their chances in public, rather than waiting for things to get tough, and then playing down the chances of success when confidence will have been relatively low.
On paper, winning the FA Cup with Portsmouth is an outstanding achievement. But the signings of Crouch, Defoe, Muntari and Diarra amongst others will have contributed to their ongoing financial troubles and given him a stronger team to play with than a club like Portsmouth would normally have. If he's to take the praise for their success, he should take the responsibility as well? Crouch and Defoe were big name, obvious signings, and Diarra left both Chelsea and Arsenal against Mourinho and Wenger's wishes.
Surely managers have the responsibilty, as the highest ranking football representative at the club, to ask some basic questions about whether the money is sustainable? And the scale of Portsmouth's achievements in winning the FA Cup has been overstated. Yes, Portsmouth beat Manchester United on their way to the 2008 FA Cup victory, but it was a 1-0 victory from a penalty, with Rio Ferdinand in goal for the decisive kick. The other teams Pompey played in the cup that year were Ipswich, Plymouth, Preston, West Brom and Cardiff. None of thse teams were in the top flight that year.Of course, Portsmouth avoided upsets which a number of the other Premier League teams didn't (they were the only Premiership team to reach the Semi-finals) and they beat the only major obstacle that was set in front of them.But Barnsley beat Liverpool and Chelsea in that year's FA Cup before losing narrowly to Cardiff – above them in the Championship. Winning the 2008 FA Cup forms the backbone of Redknapp's reputation – should we be talking about Simon Davey as an outside candidate for the England job?
During his time in charge at Upton Park, the West Ham academy produced a number of talented players – Lampard and Ferdinand came through in the 96-97 season, Joe Cole in 98-99, Michael Carrick in 99-00. In addition, they had the experience of Paolo di Canio, Slaven Bilic and Frederic Kanoute. His record there was decent, mostly finishing in mid-table, but with a squad of players who would go on to win league titles, in England or in Spain.
With the exception of the 98-99 season when West Ham finished fifth, Redknapp's Hammers never broke the top seven places. In fact, in Redknapp's last season at West Ham, 2000-01, they ended in fifteenth place with 42 points, an identical total to that which two seasons later would see them relegated. Surely a 'miracle worker' presented with players of this quality, would break the top seven more than once? Looked at dispassionately, Redknapp's record at West Ham is good, but not outstanding.
Redknapp has a habit of going out of his way to big up the players he wants to sign – either in press conferences, on the way out of the training ground, or on a phone call to Sky Sports News. This will probably make players feel wanted, but obviously at times by calling attention to the fact he really wants a player, he pushes the price up. Redknapp has taken offence a few times to the idea that he's a wheeler dealer and he's right, he isn't. Or at least, not a very good one, given that he doesn't seem to realise that letting everyone know you want something pushes the price up.
Redknapp has a history of rewriting history to paint himself in a good light – such as the Sun column where he claimed he knew his days at Portsmouth were numbered when Alexandre Gaydamak took over in July 2006, with the new owner even having a replacement manager lined up. He offers this as an excuse for walking out 27 months later – saying he knew he was on the verge of the sack following Gaydamak's not so recent arrival, but doesn't explain why he signed a new contract 15 months into Gaydamak's time in charge.
And yes, Tottenham had only picked up two points from eight games when he took over, they were never in any real danger of going down. This was one of the most talented squads in the division – okay, top quarter of the Premier League at least. Most teams, during the course of a random season, go through a run of bad form. Tottenham's run was both extremely bad and extremely lengthy, but those first eight games in no way represents what would have happened over the course of a season under another manager. They could have appointed the tea lady as manager, and would still probably have finished in the top half.
During Eriksson's spell as England manager, the common criticism was that he had no Plan B. That seems to be the case with Redknapp's Spurs – if they have Bale and Lennon on the wings, Modric to play the clever passes out to them and Parker to win the ball back when it goes a little wrong, they are difficult to stop. But he seems to struggle when forced to change things around – a team of talented individuals couldn't break down Stevenage, and he didn't know how to change things around to make it happen. During the Arsenal match, after his Spurs side lost their two goal lead, he made a strange double swap at half time. He took Modric out of the centre where he's most dangerous, took off Saha, whose pace had been useful on the counter-attack and had scored the opening goal. Rather than look at the fact they'd lost their lead, he could have looked at the fact that they'd gotten that lead in the first place. The momentum may have been against Spurs, but the balance of play was roughly level, and half-time may have been enough to break the momentum up.
From one point of view, Harry Redknapp is England's saviour, the brilliant, straightforward, trustworthy man-manager whose common sense, no nonsense approach has gotten the best out of average players, and allowed talents like di Canio, Ferdinand, Modric and Bale to blossom.
From another he's a manager who undermines his player's self-confidence, puts unnecessary and unhelpful pressure on his team, throws in the towel early, can't get the most talented group of youngsters seen at club level since the Beckham and Giggs group into Europe consistently, pushes up the price on his own transfer targets, offers nonsensical explanations for his selfish behaviour, and can't think on his feet.
Having said all that… there are things about Redknapp I like.
Tottenham's play these past three seasons has been really impressive – they've kept their attacking flair, while adding a steel that for example, could have seen Martin Jol's team dealing with Lasagnagate better. It's the first time in my football following life when I've personally seen Tottenham as a genuine force, rather than a club living on long past glories while being only decent in the present. And he does come across as a dynamic personality, the kind of person to create a sense of momentum, shake people out of their preconceived notions and comfort zones. Milan Mandaric had been pouring money into Portsmouth for three years before Redknapp first joined as Director of Football, for example, without success. He took over as manager six months later, and won the title in his first full season in charge.
I feel a bit dirty saying it, but, all things considered, I'd probably consider myself a fan of Redknapp.
Over the years I've really enjoyed watching his teams – his method of not bothering with tactics but just telling his players to go out and play has been overstated in my opinion. He has a decent understanding of which players will fit with, and compensate for others, and for instance, has had Gareth Bale playing from the right wing and cutting inside at times. These might not be the most complicated of tactics, but they are tactics. Whereas the spirit of the age is increasingly analytical – this is the age of Prozone when managers seem to care more about how much ground their players cover, and how well they close down the opposition rather than how creative they are. Under Redknapp there seems to be more of a focus on flair and creativity, and that's worth suffering through a bumbling press conference filled with sycophantic reporters telling him how great he is.
But his management method is a simple one – build up one style of play that the team feel comfortable with, and suits their strengths. He's not good when things start going wrong, and his method relies on being able to bring in new players at a fairly steady rate. I don't see those skills making a successful transition to international management.