Has Sir Alex Ferguson rediscovered the formula of the '99 Season?
1.10K //
18 Nov 2012, 18:28 IST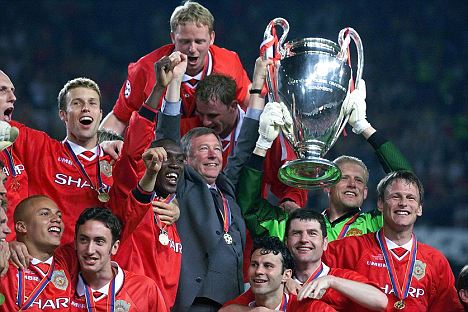 The 1998-99 season is undoubtedly the most successful campaign for Manchester United in their 110 years of existence under the name.  On 26th May 1999, Manchester United overturned a one-goal deficit in three minutes of additional time against Bayern Munich to win only their second European Cup (back then) as a misty-eyed Sir Bobby Charlton watched on wistfully from the stands at the Nou Camp. The European triumph completed a European treble –United had already completed the Domestic double of the League and the FA Cup in that season, United were near-unplayable. That season, United were an amalgam of all the qualities required to become the champions of Country and Continent. That season – United were perfect.
The team of the '99 season has since provided as a benchmark, a point of reference to the teams that Ferguson has built after the turn of the century. But no team since built by Ferguson has come close to attaining the levels of perfection of the treble winning team. Sure, there was the third European Cup in 2008, but that can be mostly attributed to a couple of outstanding players rather than saying it was a perfect team effort. But for some reason, ever since Robin Van Persie scored that hat-trick at Southampton, I feel that this team comes the closest to that treble winning one of a decade and a half ago.
It's not so much the resemblance of the individuals of the team as the actual spirit in which they play together. Sure there are a few cases in which some of the players of '13 look and play like photocopies of their '99 counterparts, Javier 'Chicharito' Hernandez being the perfect illustration of that (referring to his uncanny resemblance to Ole Gunnar Solskjaer), but otherwise, some of the players hardly look anything like their '99 peers. Take David De Gea, he's probably half the size of Peter Schmeichel.
Yet, just like Schmeichel, De Gea has made some really crucial saves to ensure that United haven't dropped points. All the controversy at Stamford Bridge completely overshadowed a fine goalkeeping display by the young Spaniard at Chelsea. Even with all the unnecessary refereeing mistakes, we still could have managed to lose that game, if not for some inspired shot-stopping from De Gea. If not for Schmeichel's penalty save against Arsenal in that extremely entertaining FA Cup semi final, United would never have got the treble and Giggs would never have made that mind-boggling run to score the winner. Who knows? Maybe fate has assigned such a moment for De Gea too.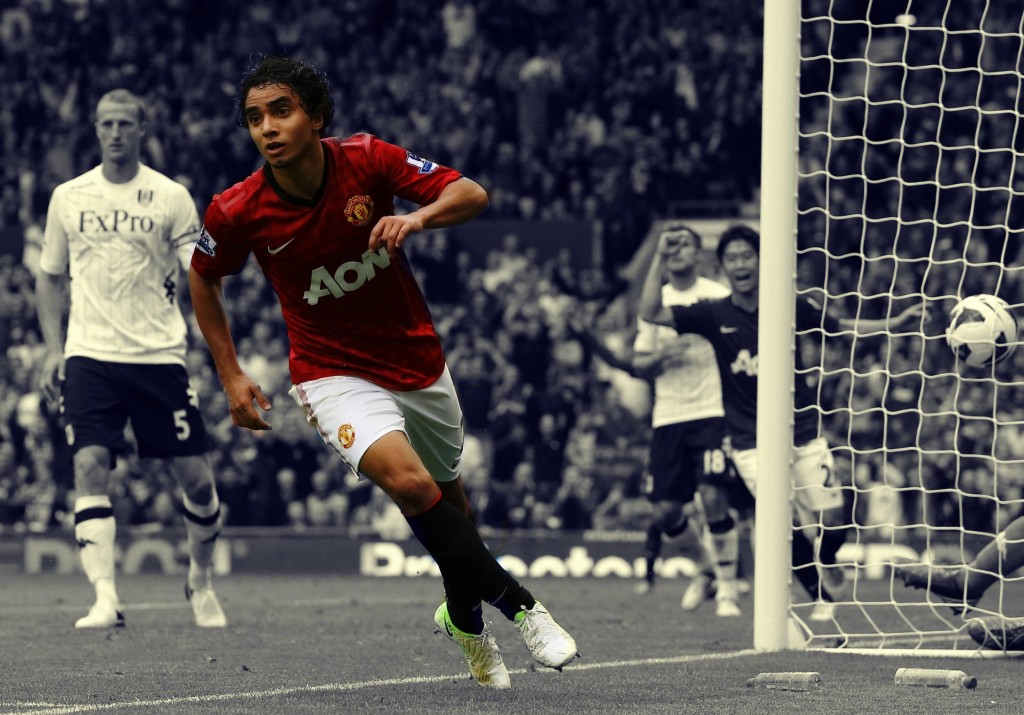 The defence though, is where United still don't match upto the back four of '99. Even thirteen years later, the whole back four pleasurably rolls off the tongue: Gary Neville, Irwin, Johnsen and Jaap Stam. Wes Brown, Gary's younger brother Phil Neville and even Henning Berg, all made valuable contributions throughout the season. On the other hand, we have Rafael, Ferdinand, Evans and Evra. Although Rafael is a much more attack-minded full back than Gary Neville was, Neville always contributed a lot of assists and put a lot of pressure on the opposition with his crosses along with defending stubbornly when required, whereas Rafael is yet to reach such levels of maturity and spends more time looting the opposition's left flank with Antonio Valencia and gets caught hopelessly on the break too many times.
To make matters worse, Ferdinand has almost completely lost his pace, his back problems have come to haunt him at all the wrong times, and Evra too spends a lot of time probing around the opposition box and gets caught on the counter attack. This leaves only Evans and a really slow Ferdinand to fend for themselves when the opposition counter, and this is precisely where we lost two crucial league games against Tottenham and Norwich yesterday. Once Phil Jones gets back, the defence will probably be given a shake-up, since Chris Smalling already is back, playing the whole game last night. Alex Buttner is another quantity who needs to be given more opportunities.
In Valencia, Young and Nani we have three good wingers who can strive to get us goals or win us spot kicks when required. Paul Scholes, Michael Carrick and Tom Cleverley are excellent passers of the ball, and with one of them in a holding role, we can hope onto hold the ball for long periods of time and frustrate the opposition, with Valencia and Rafael then teaming upto launch one of their blitzkrieg attacks from the right flank. Ferguson seems to have lost all his faith in youngsters as Nick Powell is barely getting any game-time at all. Anderson is finally looking like he's coming good at Old Trafford – finally looking a better and more assertive midfielder than Kleberson. Ryan Giggs has lost his sheen and understandably so but Shinji Kagawa, sadly, has failed to live upto expectations from the United fans, and left many of us red-faced after the comparisons we drew between him and Eden Hazard at the beginning of the season. Unless he puts his foot on the pedal and comes back with fire in his belly and goals on his mind in the next few months, he will have to go down as a flop signing.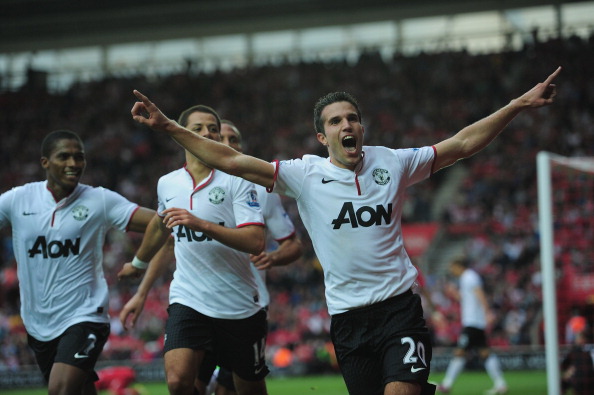 Coming to the attack, it looks almost awkward, and yet frighteningly dangerous to the opposition. Hernandez is identical to Solskjaer and Van Persie to Andy Cole but that's as far as the resemblance goes. There is no Dwight Yorke in the team and the role of Teddy Sheringham who looks and plays much like Solskjaer, too is played by Chicharito.   Danny Welbeck doesn't seem to really understand his position in the team and frankly, he isn't getting enough matches to do so. Wayne Rooney  is playing the roles of David Beckham, Roy Keane and the Scholes of '99 by himself along with, well, being Wayne Rooney the talismanic centre forward. But that is hardly a thing to frown about as he seems to be enjoying himself in that floater role and United are soaring with destructive attacking play from everywhere.
One thing I still don't quite get is, why is Ferguson still so intent on finding his No.1 Goalkeeper when it has already been established long ago that David De Gea is the man, to man the post? All that Anders Lindegaard can boast of being better than De Gea is that he has more of a physical presence and apparently being better at handling set-pieces. Well, we are now quite sure that De Gea is clearly superior in handling free-kicks, and he has also become more adept at staving off the aerial threat from corners. As we saw yesterday, the goal that beat United at Carrow Road came from a cross and went in from a header. As long as we're conceding such goals, we might as well have Dea Gea to do it. Neither of the two are as good as Peter Schmeichel, both in terms of presence or shot-stopping anyway.
The way the team is coming back from precarious positions to secure wins, however, suggests that the team has already discovered the recipe to success. Almost all the ingredients are in the pantry, too. But the one secret ingredient that is absolutely essential to the Secret Ingredient Soup is still not brought out by the gaffer – Youth.
Almost all of our successes have come because of our outstanding youth policy, and Ferguson's willingness to promote graduates of the Academy to the first team. So, with two more inconsequential Champions' League group games remaining, Ferguson would do well to give the likes of Buttner, Powell, the Keanes, Wootton, and even Macheda an opportunity to prove themselves and give Ferguson his favourite headache.
So, have United and Ferguson found the way to conjure up the magic of the '99 season again? I think not. I think we still need another season at least to hit our peak.
But then, I've been wrong almost my entire life, and I desperately hope I'm wrong now too.