"He is staying here": Brendan Rodgers dismisses Suarez' transfer rumor!
886 //
15 Nov 2012, 20:54 IST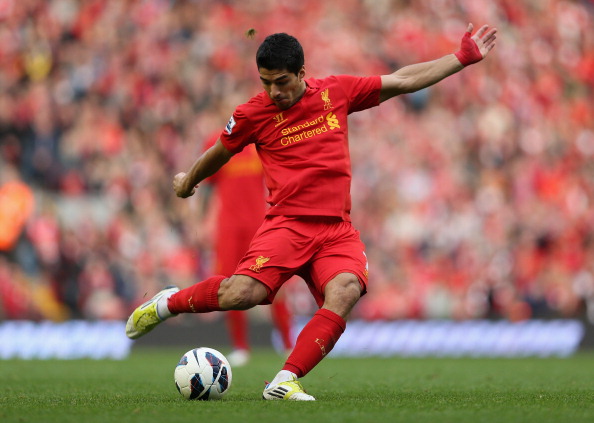 The Daily Post claimed that Manchester City will be submitting a bid of £40 million plus Edin Dzeko in order to bring in Luis Suarez from Liverpool. However, Brendan Rodgers, in his interview to the official website of the club, made it crystal clear that Suarez will not be sold. "There will be no bidding war, Suarez is staying here. He's world class. He's very happy here. He is certainly not a player we will sell. We want to add to the squad. He's staying here." – said the Liverpool Boss.
Suarez had previously shown his commitment to the club by signing a contract extension at the beginning of the season which will now keep him at Anfield till 2017. Brendan Rodgers has always claimed Suarez to be one of the most vital players in his squad. Based on the bench strength, Liverpool cannot afford to lose Luis Suarez at any cost. Luis Suarez can arguably be called the most entertaining and has proven to be one of the best strikers in today's football.  Liverpool are in fact lucky to have him. Brendan admitted, he can't help if Luis decides to leave Liverpool because he definitely deserves more. Luis, on the other hand, has always spoken about his love for the club and the city. He has always praised the supporters as they always stood by him even during his tough days.
Meanwhile, Manchester City has also dismissed reports of Mancini's eagerness to add the South American to a squad which already has Aguero, Tevez, Dzeko and Balotelli in it.
Luis Suarez is currently the joint-leading goalscorer in the EPL this season and has already scored 11 goals in 16 matches for Liverpool. Luis Suarez has been the only senior striker for Liverpool as Fabio Borini has been sidelined due to injury till January. Brendan Rodgers also made it clear, they he would look to add more players into this thin Liverpool squad and letting his star striker leave is not in his plans.
Liverpool had previously been successful in keeping Daniel Agger, who was subjected to a £25 million bid from City at the beginning of the season. Agger later signed a contract extension with the REDS. It's time to see if Liverpool is brave enough to keep Suarez if a "heavy" offer comes in after all.