Higuain's return - The boost Madrid needs in January
977 //
28 Dec 2012, 20:25 IST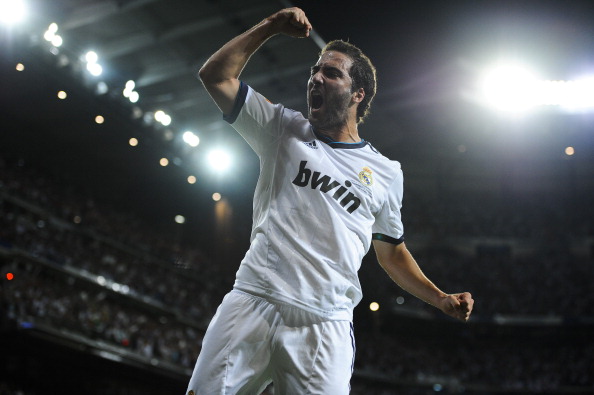 After the successes of the previous season, this was to be the season when the elusive 10th Champions League trophy would finally find its rightful place in the trophy rooms at the Santiago Bernabeu. Real Madrid were finally coming out of the shadows cast by Barcelona's years of success and domination. But, somehow that has all gone awry starting with a draw and 2 losses in the first 5 fixtures of the La Liga. And things turned worse when last season's hero Cristiano Ronaldo declared how he felt "upset and betrayed" at the club.
After a period of stability and a string of positive results, 2 defeats and a draw in the last 3 matches have ensured that by the Christmas break, Real Madrid find themselves in 3rd place, a hopeless 16 points behind their rivals from Catalunya. That's still not all as an internal rift between captain and coach is emerging now, after Mourinho dropped Iker Casillas from the starting line-up in the 3-2 defeat to Malaga.
Clearly, the club is in the midst of a major crisis and it needs to send a strong signal to everyone to get themselves back on track. Logically and by previous instances, you would expect Real Madrid to go out and make a big signing in the January transfer window, in order to get their season going. However, the biggest boost in January for Madrid will be the return of Gonzalo Higuain. He is now close to coming back from a long two-month injury layoff, and may well be the boost the Los Blancos need to kick-start their season.
In a season marred by injuries, Higuain has made 10 appearances in the league so far, scoring seven goals and setting up two. His numbers are better than those of Benzema, Ozil or Di Maria and are 2nd best only to Cristiano Ronaldo. Numerically speaking, his stat of 0.7 goals per game is not that far from the Portuguese captain's stat of 0.82 goals per game. Last season, even though Benzema was the one earning all the plaudits for his performances in front of goal, it was Higuain who scored more goals, had a better scoring ratio and provided more assists than the Frenchman in the league. Despite his unquestionable numbers and commitment, Madrid haven't been magnanimous in their appreciation, when they refused to offer him a better contract during the summer. On top of that, despite the coach's reassurance, Higuain has been, time after time, left out of Madrid's starting 11 in key fixtures, in particular during the Clasico at the Nou Camp in October.
Predictably, other major European power houses have come looking for his services. Italian champions Juventus were the first to enquire, as they are looking for a striker to lead their attack and make the team a truly fierce and world class outfit. Then Chelsea came knocking and were rumoured to be planning to acquire Higuain's signature to replace the repeatedly failing Fernando Torres. Both the clubs (Juve and Chelsea) possess the resources to offer the kind of wages his agents have been asking for. More importantly, at these clubs or any other big European club for that matter, he would be guaranteed a spot in the starting XI and appreciated for his talent and commitment, something which he truly deserves.
Higuain is one of the players that unites Madrid fans as he has been around for a while now and has grown at the club, and the fans have always been highly appreciative of his goal scoring abilities, as well as his phenomenal work ethic and undying commitment to the club. Renewing Higuain's contract and consequently making him a pivotal member of the squad, may just be the step in the right direction that may give a renewed sense of impetus to everyone at the club to rally around and still get something out of this faltering season.