How many Klaas players can Arsenal miss out on?
1.31K //
27 Dec 2012, 12:59 IST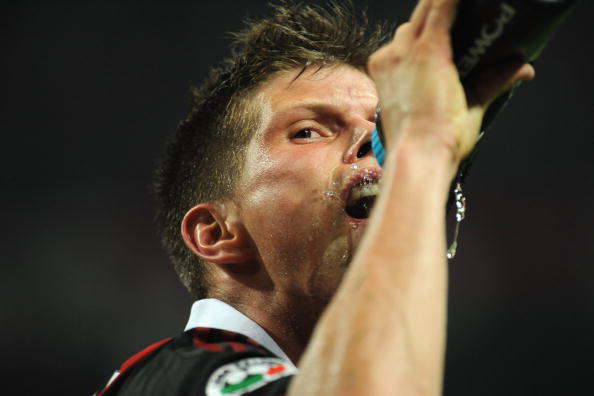 Klaas-Jan Huntelaar has signed a new contract with Schalke, breaking Arsenal hearts yet again. Mr. Arsene Wenger's list of 'exceptional players' he hoped to sign is getting smaller by the hour as the January transfer window approaches. This is not the first time prospective players have chosen another outfit instead, and over the next month, we can only add to the roster.
Chelsea midfielder Juan Mata was on the radar after Wenger's scouts chose him, but the blue side of London proved irresistible for his pen. Even former Ajax defender, Jan Vertonghen seemed certain to join the ranks. He reportedly was coerced by his ex teammate Thomas Vermaelen to give the Gunners a shot, but when Vertonghen spoke to Arsenal legend Dennis Bergkamp, arch rivals Tottenham emerged as the final destination.
Even current players like Mikael Arteta had to wait for over 3 years to shift because Wenger's policy stood in the way. The star signing this year, the German Podolski, was forever on the list before he finally made it across the pond. David Villa has also emerged as a likely target for January, at least on loan from Barcelona for the short term. Critically lacking in a finisher, Olivier Giroud has suffered in the league. Given his apparent talent, the scoring has been there, but not prolific in the least. Fernando Llorente from Atheltic Bilbao looks like a fit, and so does Jermaine Defoe, if Spurs could be tempted to give in.
Of late, the Theo Walcott saga has left the accounts department in tatters, but he has been played in the position he always wanted to play in, probably after a couple of locker-room threats. Wenger isn't known to respond to threats. Look at Robin van Persie, Samir Nasri, even Mathieu Flamini for that matter. Alex Song and Hleb are classic examples of losing quality players to a better team for similar money. Irrespective of how they turned out at the Catalonian side, they did leave, and that is exactly what Wenger has to curb. Buying players will only find results once the players who are an integral part stay. And that will only happen when Arsenal challenge for silverware, any silverware.
At this juncture, we should reiterate how the level of competition doesn't matter, as long as there is a shining piece of glory at the end. Arsenal need to be able to compete, to be able to challenge, to be able to win; day in, day out. Spend is okay, but spend and consolidate. C'mon Mr. Wenger, Gooners deserve better.