(Humour) FIFA Ballon d'Or: Spying into the lives of Messi, Ronaldo and Neuer ahead of the event
8.10K //
12 Jan 2015, 21:18 IST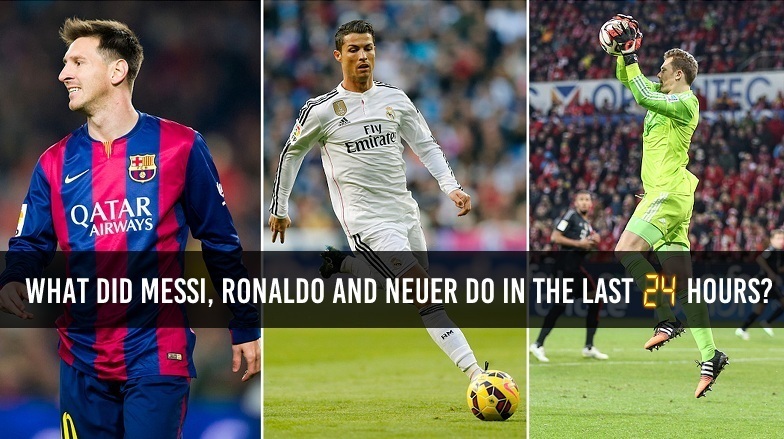 "There is always an insider," Pedro tells me when I ask him if there was a way to spy on all three of the Ballon d'Or nominees just 24 hours to go into the ceremony. I've always had this curiosity to find out what goes behind the scenes.
"What was going on inside the heads of all the three nominees?" I had asked Pedro earlier. Pedro is one of the cooks in Madrid's Eurostars Tower, the hotel where generally players traveling to Madrid stay in. Pedro recalls putting a bug in almost all of their phones – of course for his own profits.
I, on the other hand, had to make some of my own profits too. I had to know what they were talking about. Imagine tweeting a picture of one of their latest conversations. I would be an overnight celebrity.
Pedro was a smart man. Good looking. Charming with his Spanish. In fact, he was friends with all three of them on Facebook. "Want to see their profiles, si amigo?" he asked me confidentially.
Do I want to see them even though that is a violation of someone's privacy? Oh, yes!.
He gets his phone out and shows me Cristiano Ronaldo's latest status update. Mind you, this is his personal account we are talking about, not his facebook page.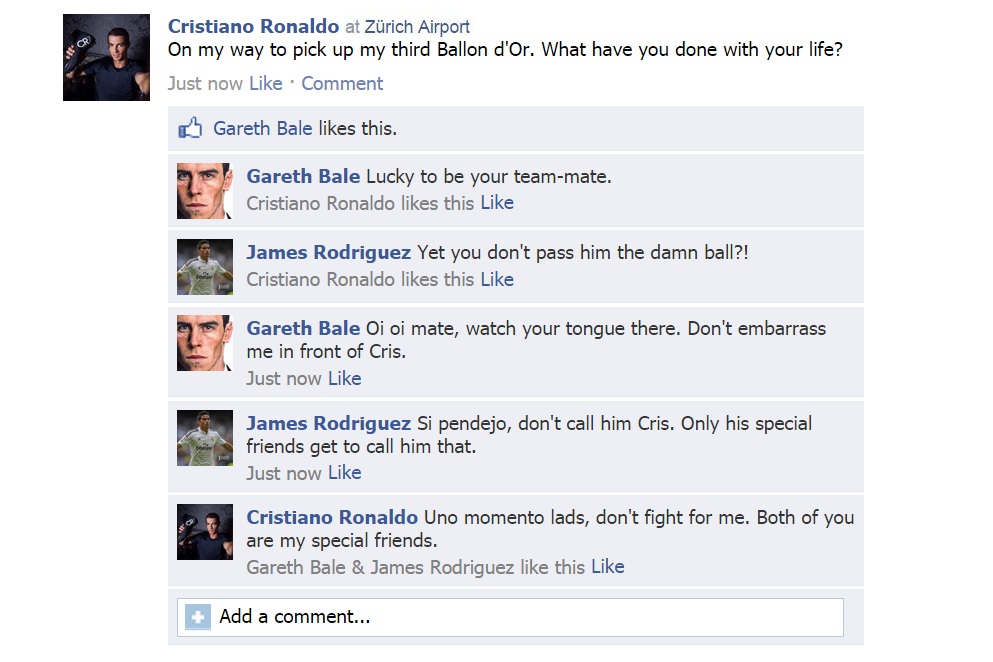 Newsworthy stuff? Sure. Wait, could it mean that there is a rift between Gareth Bale and James Rodriguez? Remembering that Bale cost Madrid €100 million while they paid €80 million for James. Does that mean Manchester United need to pay €100+80 = €180 million for him? I should totally tip off Daily Mail. This is some important news I am coming up with.
"There is more, senor," Pedro said with a smirk on his face. "Do you know how iPhones work?" he asked me. I was curious. I knew exactly where our conversation was going and I liked it.
"Are you not scared, Pedro?" I ask him. We were walking while he was showing me the leaks, and after I ask him this, he stops as if he was held back. Perhaps he was disturbed by my question.
"Scared you ask, huh?" he tells me while puts his arm around me. "This is so much more noble than the leaks of that Hunger Games girl, don't you think?" he said. Pedro was a man with code. Then he proceeds to show me an hour old conversation between Ronaldo and Messi.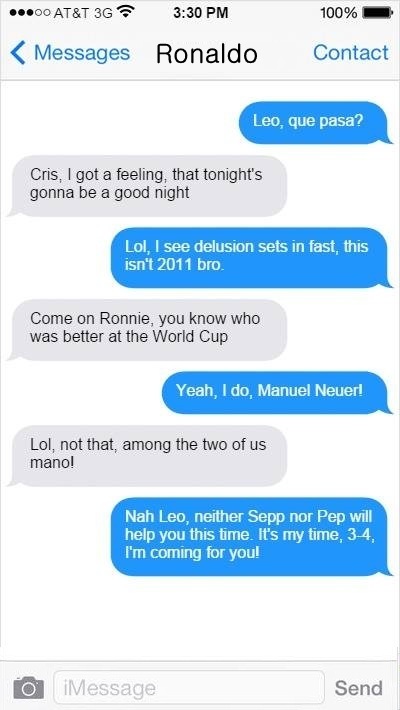 "Pedro, stop," I said. I was feeling guilty about all of this. Stalking someone's Facebook account is one thing but snooping into their text messages – no. Just when I thought I was going to stand my moral ground, that sick man showed me this.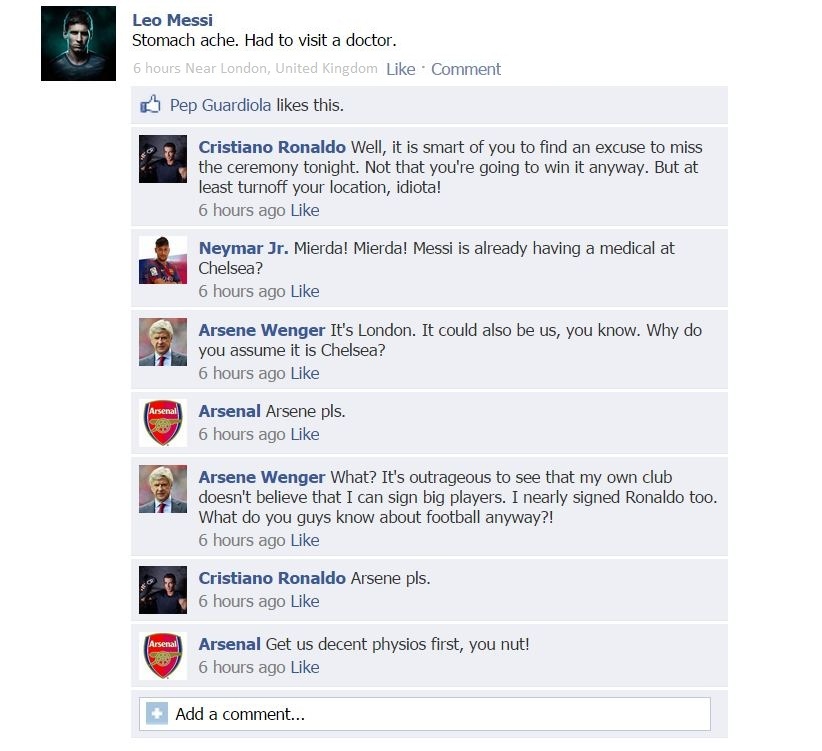 While I was telling my colleague back in the office to run a story on with the headline "Messi in London for Chelsea medical?" as soon as possible, Pedro was getting me more news than I could handle. That was too much.
---
But, then there was no stopping Pedro.
Here is a leak of a conversation between Messi and his teammate Andres Iniesta's help. Too bad the Spanish midfielder has problems of his own.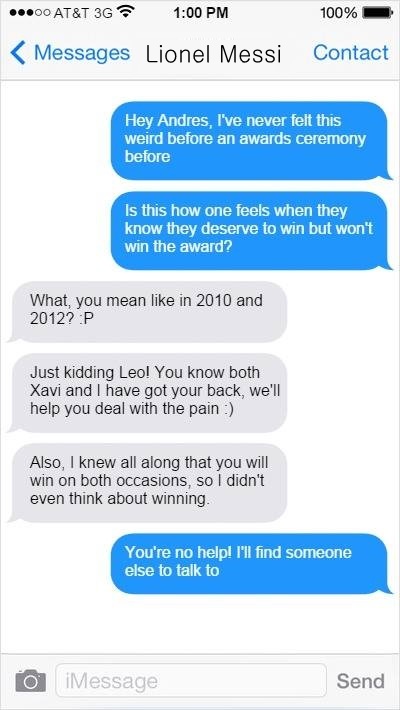 ---
And then there is this conversation that Pedro had managed to hack into which was apparently a quick chat between Ronaldo and his agent Jorge Mendes. Is Ronaldo really going to celebrate like he does while if he is to win and receive the award? I should probably tweet that.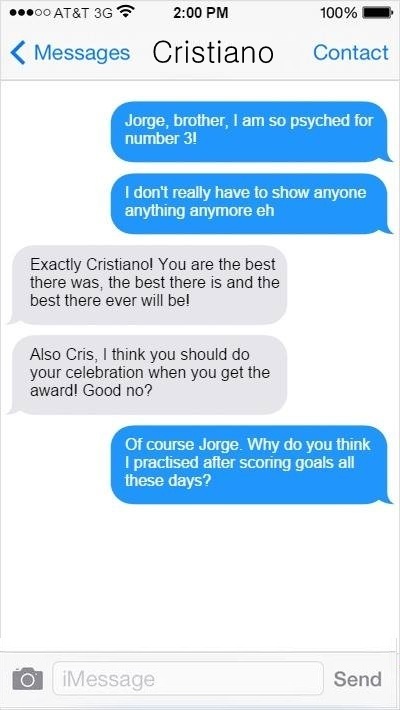 ---
Manuel Neuer wasn't definitely fooling around when he had said that he thought he deserved the Ballon d'Or. The man is deluded more than that Liverpool fan who has been thinking all these years that they can win the league. Here is his conversation with Bayern Munich teammate Franck Ribery that Pedro had managed to hack into.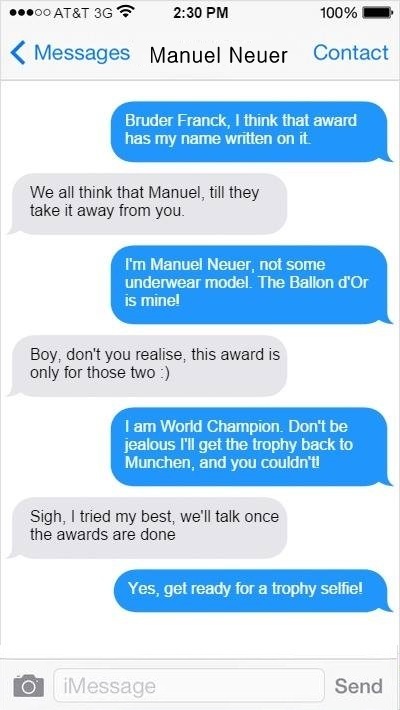 "Enough!" I said as I left.
I couldn't take this anymore. I had to leave. I got on my scooter which was parked right by Pedro's Hotel and just drove away as I saw him chasing me Why was he chasing me I wondered?
Did he feel that we had shared a strong bond – a bond of brotherhood or friendship? Oh no, wait. I didn't pay the man. "Too bad, Pedro!" I screamed looking back at him.
Disclaimer: This is a work of fiction and meant only for humour. On the other hand, we wish all three of the contenders the best ahead of the awards!