If not Suarez, who will score for Liverpool against Chelsea?
933 //
09 Nov 2012, 01:05 IST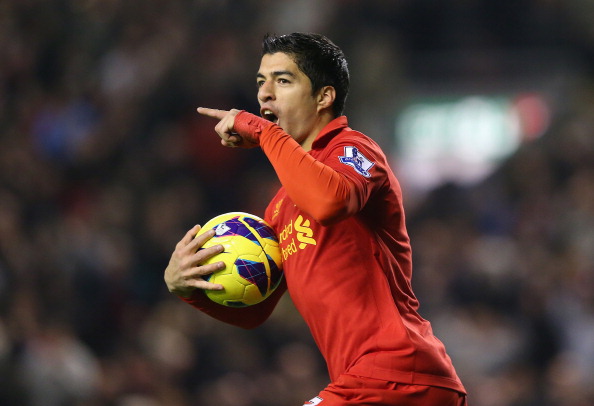 Barring Arsenal, Brendan Rodgers team has put up a splendid display against quality opponents in the EPL, which includes the likes of Tottenham Hotspur, Manchester United and Manchester City, though their results may reflect a different story. They dominated most of the matches, but were only found wanting in the final third. But, when they play their match against Chelsea at Stamford Bridge, they need to be sharp and not let any goal scoring chances go by, as they have been doing in the ongoing 2012/2013 EPL season. So it is their goal scoring form, which has come in for strong criticism from several quarters. They need goals to win the contest and in current form, they don't have many to choose from.
Luis Suarez is the most likely player to find the back of the net and has scored seven goals this season, which is half of the total goals Liverpool has scored in the EPL so far. Had it not been for the class of Suarez, Liverpool might have been struggling in the relegation zone. Liverpool has looked a completely different side without Suarez. They have become a one man team, which is dangerous. Luis Suarez is easily the best striker in the EPL, who makes defenders dance with his splendid footwork. Gary Cahill and David Luiz might have a difficult task of defending the player, so it is Chelsea's midfield that needs to control the game and have more possession – an area in which Liverpool has become one of the best under Brendan Rodgers.
Steven Gerrard is known to come up with his best performances against big teams and how badly do Liverpool fans want their skipper to take control of the game and show his class. We have witnessed Gerrard scoring long range goals, but that has suddenly become a thing of the past for the golden boy of Liverpool, who just completed his 600th game for the club. But he needs to play in a more offensive role for Liverpool to get in the score sheet. It would be best, if Brendan Rodgers play him alongside Suarez as an attacking combination. It might just be Liverpool's solution to the goal scoring crisis.
Raheem Sterling has been the most impressive among all the youngsters who got a chance to play for the senior side. He is just looking good with each and every outing, which augers well for Liverpool's future. Sterling cutting in from right with his pace could catch Ashley Cole, who might be taken by surprise with the trickery the young Englishmen possesses. Sterling, after having opened his account in the EPL, would be eager to make a mark against a team like Chelsea, as it would take his confidence level to another level. On the counter, Sterling can use his pace to full use and pull the trigger – hoping to find the ball passing through Peter Cech's hand.
There are some other contenders to score a goal for Liverpool goal such as Skrtel and Agger, who are good in the air while attacking the ball to score a goal. Liverpool, with their possession in the game, is bound to have many corners, where these defenders can move up the pitch and score a goal, as they hardly get a chance to apart form set pieces. Shelvey has been brought in as a substitute and sometimes also started the match to play just behind Suarez. He has a better chance of scoring a goal when he comes late in the game, as the Chelsea defenders would be tired and exhausted, so Shelvey could make use of his fresh legs when the time is ripe.
In fact, it does not matter who scores, all it matters is three points, even it is from an own goal scored by a Chelsea player.