Inter or Milan: Who got the better of Cassano – Pazzini swap?
1.23K //
21 May 2013, 16:41 IST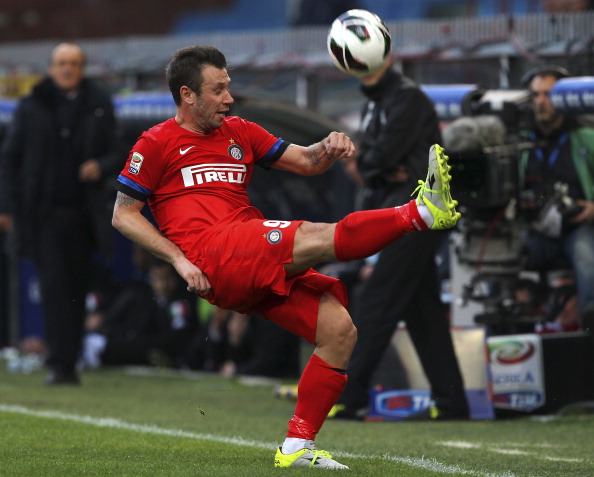 They were once team mates at Sampdoria and this summer they came eye to eye once again, albeit for a very brief moment while moving in opposite directions across the Della Madonnina.
The players completed the deal on 21st August 2012 with Inter getting an extra €7 – €7.5 million. So who has had the better of the swap deal: Inter or Milan?
Looking at the statistics for both the players suggests that there is not too much of a difference. Cassano, in his time at Inter, has played in 39 games and has scored 9 goals and has 12 assists. Pazzini, on the other hand, has played in 38 games, scoring 16 goals and assisting 3 of them. While at Sampdoria too, while they were together they had similar statistics – Cassano made 87 appearances, scoring 30 and assisting 22, while Pazzini scored 45 and assisted only 3.
These statistics do give an idea as to what kind of players they are. However, what these statistics do not tell you is the fact that Cassano was an instant hit at Inter, who made a decent fist of the Scudetto and brought to an end Juventus's 49-match unbeaten run. 6 out of Cassano's 9 goals and 7 out of his 12 assists came in the first half of the 2012-13 season. Take away Pazzini's hat-trick against Bologna in September and he scored only 5 goals from August to December. This included a run of 12 games without a goal in all competitions for a Milan side that spent most of their time in the bottom half of the table. Though Milan's form since then has picked up and they have qualified for Champions League, it has been largely down to the mercurial Mario Balotelli.
Looking at players' history, while you cannot find too much fault with Pazzini's professionalism, the same however cannot be said about his one time teammate. In fact, you could make a full movie out of it. Ever since becoming the world's most expensive teenager, there has been incident after incident of his brashness and arrogance. Incidents include throwing shirts at referees, falling out with coaches and chairmen alike. He had a public falling out with Riccardo Garrone after he refused to attend an award ceremony and that effectively ended his Sampdoria career. No one will ever forget his amazing rant at his former AS Roma boss Luciano Spalletti, showing total disrespect to not only the coach but his fellow professionals as well.
If the news is to be believed, then it was his frosty relationship with the AC Milan manager Massimiliano Allegri that prompted him to hand in a transfer request, and he has already had a public falling out with Inter manager Andrea Stramaccioni which could very well end his career at the Nerazzurri.
The tantrums have not been limited to club level; even at international level he has had his falling outs. That would explain earning only 35 caps for the Azure in almost 10 years; scoring 10 and assisting 3 goals. Pazzini, on the other hand, has been a regular for Italy since 2009, appearing 25 times scoring 6 and assisting a solitary goal.
While there may be very little or no doubt that Cassano is a better football player and has more tools, you can't ignore the other facts of the deal. Cassano is reportedly on €6 million a year plus bonuses whereas Pazzini is close to €2.5 million a year. Cassano would be turning 31 later this year and one could argue his best may now be behind him, where as Pazzini is two years younger. One can't also not emphasize the fact that €7 – €7.5 million were also paid by Milan to Inter. You can counter balance that by saying that Pazzini's goals could bring Champions league to Milan; then again how much will he play with the arrival of Balotelli and Bojan and emergence of players like El Shaarawy and Niang? The only positive being that Milan could recoup some money, should they decide to sell Pazzini. Cassano, as has already been mentioned, is a flawed genius who may be moving on again in the summer.
As to who has had the better deal of the two Milanese giants, taking all the aspects into account I will go with Milan, just about.