What was a highly anticipated preseason fixture ended up turning into a ten-goal whitewash, as Real Madrid continued their poor run of form in the pre-season with Atletico Madrid defeating them by the embarrassing and ridiculous scoreline of 7-3.
Having narrowly edged out Arsenal on penalties in their last match, Zinedine Zidane would have been hoping to see his side build on from that but the reverse seemed to be the case as Real Madrid totally lost the script and found themselves 5-0 down at the break.
A somewhat improved showing in the second half made sure the damage was controlled a little, but over the full 90 minutes, Real Madrid's performance was so bad that on another day Atletico could have made the final result much more disgraceful than it was.
It was the first time either side had ever scored seven in the Madrid derby and in this piece, we shall be highlighting five talking points from the match played at the famous MetLife Stadium in New Jersey:
---
#5 Zinedine Zidane still has a lot of work to do
Even a casual follower of football knows that Real Madrid grossly underperformed last season and it was for this reason that Zinedine Zidane was reappointed.
Under the Frenchman's first term in charge, Los Blancos enjoyed the most successful period of its illustrious history, winning nine major trophies in just two-and-half years including the Champions League three times consecutively.
It was for this reason that the 46-year-old was brought back as it was believed that he could take the club back to the top and Real's forays into the transfer market are indicative of their support for him.
Having started his second tenure when the season was effectively over, it is the next season that will be used as a gauge to test Zizou's legacy in his second spell, but judging by how his pre-season campaign has gone so far, Real Madrid is still very much a work in progress.
They started their pre-season campaign with a defeat to Bayern Munich, while a hard-fought penalty shootout victory over Arsenal was achieved a few days ago.
This reversal against Atletico was, however, the worst of the lot and shows how much work Zidane still has to do. His side were behind after just 30 seconds and that number was quadrupled by the 28th minute.
In their last fixture against Arsenal, Zidane opted to start with Luka Jovic and Karim Benzema upfront, but still had a poor first-half showing and against their city rivals, he played the traditional 4-3-3 system with Eden Hazard and Vinicius flanking their new Serbian recruit.
Despite the change in formation Real Madrid was totally dysfunctional especially in the first half, failing to string basic passes together and looked nothing like a team gearing to challenge for the major titles once the season commences.
To make matters worse, this was not a match executed by some second-string squad of reserve players, as both sides fielded their strongest lineups and it is rather disappointing that with less than three weeks to go until the start of the new campaign, Real Madrid look this shambolic.
They could be excused that this was pre-season and many might argue that pre-season fixtures should not be read too much into, but this would be scant consolation for a Zinedine Zidane who is attempting to guide Los Blancos back to the top.
It's back to the drawing board for Monsieur Zidane.
#4 Joao Felix shows what he is capable of
Despite being only 19, Joao Felix is currently the 4th most expensive player of all time and one of the teenagers upon whom much is expected next season.
The Portuguese international broke out with Benfica last season, catching the eye of all and sundry across Europe and this prompted his mega transfer to Atletico Madrid.
The step-up in exposure at the Wanda Metropolitano means that the eyes of the whole world would be upon the youngster and his first chance to shine came when he made his unofficial debut for Simeone's side in their goalless friendly draw with Numancia.
Felix, however, had his debut cut short by injury but was rearing to go from the get-go against his new team's biggest rivals.
There is arguably no bigger club than Real Madrid in the world and Joao Felix picked the perfect opponent to prove his mettle against (albeit in a friendly match).
It took just eight minutes for him to open his Atleti account, as he was on hand to poke a brilliant cutback from Saul Niguez to put his side 2-0 up.
For the entirety of the first half, he continued to be a nuisance from his position on the right-wing and should have added to his goal tally.
Seven minutes into the second half, he showed his creative side, slipping in Diego Costa with an exquisite through ball down the left channel for the Spanish international to put Atletico 6-0 up.
Felix was substituted after 66 minutes and absolutely gave his all for the entire time he was on the field.
He might be Atletico Madrid's most expensive player ever, but Joao Felix has the ability to live up to expectation and his display against Real Madrid served as proof of this.
#3 Eden Hazard fails to click once again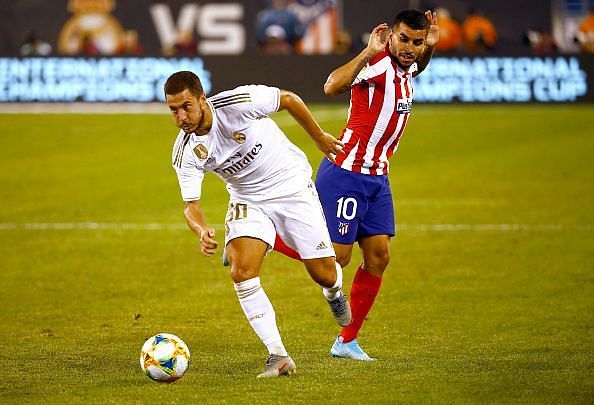 Eden Hazard was made Real Madrid's marquee signing when they completed his long-awaited transfer in the summer for a club-record fee.
The Belgian international is one of the best players in the world and Real Madrid would be banking on him to lead them into the future.
However, so far, it has not really gelled for the former Chelsea man, as he has struggled to impose his will on all three matches he has played in a Real Madrid shirt.
His displays got progressively worse, as he followed a subdued performance against Bayern Munich with a substandard outing against Arsenal.
The match against Atletico was, however, a bit of a step up, as despite struggling as the Los Rojiblancos dictated proceedings for most of the 63 minutes he spent on the field, the Belgian captain still ended the night with an assist.
Eden Hazard, however, remains a world-class player capable of deciding fixtures on his own and a trio of substandard performance in preseason friendlies would not change that but fans of the club would be hoping he gets into gear real quick to help the club achieve their objectives.
#2 Diego Costa still remains an enigma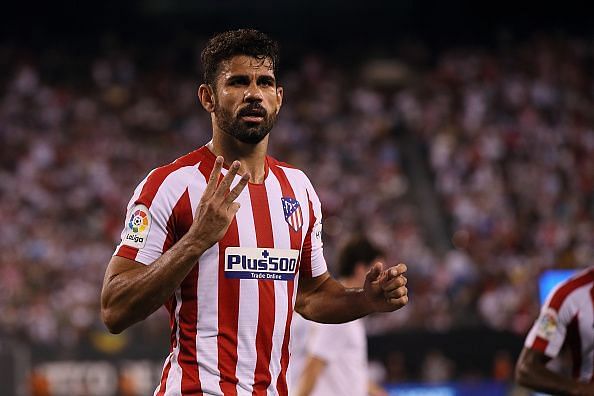 Between 2014 and 2017, Diego Costa was one of the best strikers in the world, helping Atletico Madrid and Chelsea to numerous titles in this time.
His displays led to a public battle for his services on the international scene, as Brazil and Spain wooed him to represent them, but since his final season at Chelsea, the 30-year-old has been a shadow of himself.
However for all of his goalscoring prowess, the Spanish international is very much a classic hothead, ready to blow up at the slightest provocation and this has been a constant issue for him throughout his career and has led to numerous clashes with opposition players as well as managers.
Having spent the majority of last season on the treatment table, Costa found himself horribly off form and the coming campaign was one where it was expected that he would step more so due to the arrivals of Alvaro Morata and Joao Felix.
He issued a perfect response against Real Madrid, opening the scoring inside the first minute in what was to end up being a four-goal haul.
It would not be a complete Costa performance if there was no customary controversial incident and that moment came in the 65th minute from an issue that did not concern him at all.
Dani Carvajal was challenged roughly by Thomas Lemar and the Spanish defender reacted angrily only for Diego Costa to come out from nowhere and took charge of the ensuing scuffle, fancying himself an Avenger to defend his teammate's honor.
Unsurprisingly, both he and Carvajal received their marching orders for their roles in the melee and Diego Simeone would be hoping Costa can keep his temper in check.
#1 Atletico Madrid show seriousness to challenge next season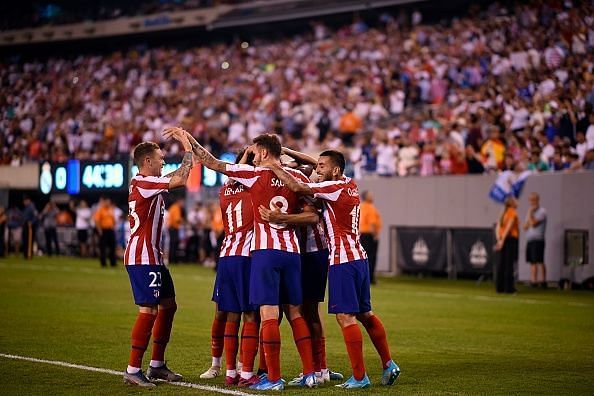 This summer was very much a period of transition at the Wanda Metropolitano, as there was a change in the old guard, with veterans like Diego Godin, Felipe Luis, and Juanfran all departing, while highly-rated players like Antoine Griezmann and Rodri also left for greener pastures.
It was however not all doom and gloom, as Atletico also made headway in the transfer market, bringing in a number of notable signings with Joao Felix's club record capture being the pick of the bunch while solid players like Kieran Trippier and Marcos Llorente also arrived.
Having firmly established themselves among Europe's elite with their surprise performance in the 2013/2014 season, Atletico have found it hard to reach those heights again and it is in light of this that the club revolved their transfer activities around.
Against Real Madrid, Atletico were totally dominant, bossing proceedings from start till finish, with virtually all their new signings including Joao Felix, Mario Hermoso, and Kieran Trippier impressing.
Given the scale of transfers conducted by the club, Diego Simeone would be confident of his side going all the way next season and their total annihilation of one of the best sides in the world serves as proof of this.