Interview With Tim Hankinson : International Football Coach
1.65K //
21 Apr 2010, 21:49 IST
Tim Hankinson is a global as a coach can get in the world of football. He has coached in Iceland, Guatemala, United States and India. Tim was the coach for Salgaocar for a short while but his insight into the way football is run and managed in India is an eye opener.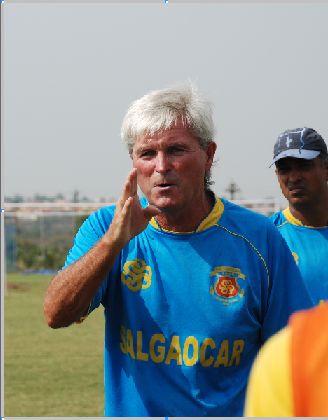 Harmit : Please tell us about yourself? What led you to become a soccer coach? Were you a soccer player at a young age?
Tim : I began to play soccer when I was 5 years old in New York City. A German coach taught us to balance a ball on the top of our instep. I was hooked. When I was 23 there was no professional league so I turned to coaching. I have coached at 5 Universities, 7 professional teams, the U-17 national Team of Guatemala and the US Soccer and MLS combined effort called Project 40 that was the beginning of Project 2010 to win the World Cup. I have coached in Iceland, Guatemala, Brazil and now India. I arrive to begin training Salgaocar in July monsoon weather. The team was signed when I arrived but there were not many players of I-League 1 level. But was able to add Kieta, Ekene, Kalyan, Avneet Shergill PIO, Sia from Iran. We shared a great win over Mohun Bagan and then unlucky against Churchill in the 90th minute. The next day the club made the change. The boys I left I still have warm regard for as in the 7 months together they went from not knowing how to work at football to becoming a formidable team that learned how to fight and win. I hope to return to a new club for the next season.
Harmit : You have seen a remarkable growth in the scale and level of soccer played in the United States? What are the main factors that you attribute this dramatic progress to?
Tim : After the 1994 World Cup we started Major League Soccer, our professional league. Every country that aspires to the World Cup must have a solid pro league to develop players. Also the 2010 vision was a 12 year vision to identify our best youth and prepare them by starting a full time residency program and giving them the physical, mental, technical and tactical training needed to prepare them for the WC in S. Africa. These players played for the U-17 , U-20, U-23 and eventually our full national Team. Players like Landon Donovan, Tim Howard, DeMarcus Beasley, etc…
The investment was made in our youth experiences. Example, when I was preparing Guatemala for U-17 WC qualification we looked at what the USA was doing to prepare. In a three month period the USA team played in two different tournaments in Great Britain, played Canada twice, Guatemala twice, played Brazil, Portugal and U-17 WC Champions Mexico. Then took 30 players to live, train and play games for 30 days in Argentina! All that took place in 3 months. The USA is doing this year round. When Guatemala went to play USA only four players had ever been on a airplane.
You must replicate what the qualifying countries are doing. Then innovate to make up the gap. If you do not replicate then the gap widens and you will never catch up and compete.
Harmit : You have had a chance to youth development systems in the United States, Guatemala, Iceland and India – Your take on how India develops her football talent, if you saw any such thing in your stint in India?
Tim : India has their u-16 and u-19 National teams in residency which is excellent. They are lacking the competitive match experience which they need more often. Players must know how to travel, adapt to food, hotel, differences in all parts of the world, not just Asia. The clubs must replicate the work of the national Teams. There are players in clubs in the I-League that I had that did not want or know what real work is in football. They only played for fun. Fun at the professional level is executing the technical and tactical ideas of the game consistently. Players lack that understanding.
The physical training is all short work. This work is essential in developing agility, explosiveness. But many players are afraid of aerobic endurance work. Without the combination of both it limits how you can play.
Players eat for taste not for athletic fuel. To make demands on the players to reach improved physical conditioning the diet must improve.
Players need to verbalize the game, to communicate more using their voices. The game has a language and many players are quiet and need to be more expressive to solve problems, make correction and show emotion which fuels their motivation to play with fire and consistency
Harmit : What are some of the key differences between the Indian players and the international soccer players (on the skill, diet, dedication and use of modern training tactics?
Tim : Training in many countries early in the week teams may train twice. Then the intensity and duration is less as you get closer to the game. To ensure their legs are fresh. Indian players have not reached a high enough level of fitness to do this because they have not been guided to understand that level of work.
Technically the touch is slow compared. The European already knows where his first touch is going. Too often the India player stops the ball when he should always be taking his first touch away from pressure to keep possession.
Tactically the country is so passionate about the EPL 4-4-2 of man Utd that they struggle to open their vision of the game to consider other ways. Example…Chelsea, Barcelona have played 4-3-3. Brazil plays 4-4-2 but with a box midfield resembling 4-2-2-2. My favorite system is the 4-4-2 but sometimes based on player personnel, home vs away, weaker vs stronger, etc.. the shape needs to be open for change
Harmit : How would you describe the love of the game in India – especially Goa and Kolkatta? Did you feel that there was a real passion for the game across India?
Tim : There is great passion for football in India. The fans are educated and appreciate even an opponent that plays good football. After playing East Bengal in Kolkatta and Shillong the fans applauded our team.
Of course the rocks thrown at our bus on the way out of the stadium were not as much appreciated. But I later realized they were just warming up against us. They were waiting for the home side!
Harmit : Did you ever see Sunil Chhetri play, if so what were your thoughts about him? Do you think he could be successful in the MLS?
Tim : I coached against him a few times with Salgaocar in I-League and Goa Professional League. He is quick, intelligent, technical and attacks the ball in the box. The defenders in the USA are physically big, fit, strong in the tackle and have the same quickness and speed as any striker. It will take time to adjust and know teammates to get the goals he is capable of.
Harmit : What does India have to do, in your opinion, to take itself to a better level as far as soccer is concerned. Investment in a plan at the National level that starts with youth.
Tim : This plan must be a 8-12 year plan very much like Project 2010 in the USA.  The I-League must market itself. Schedules are always changing, very little advertisement and promotion. Though there are some big crowds in Kolkatta, we saw very little fan support in Goa.
The business of football is first the fan base who needs to see a good product, marketed games, merchandising, etc….making game day a special event.
Secondly the business of football is development of players for the first team and national Teams and then for the foreign markets.
Every club in Brazil has dormitories. Four bunk beds in one room housing four players starting at age 14. They train twice a day with a game on Saturday. They are fed properly and schooled.  Ten trainings a week …they are outworking the rest of the world! They find the tallest young Brazilians and grow them into players that can play in Europe because that is where the money is for the clubs.
Harmit : Were there any players that you saw during your stint in India that really impressed you?
Tim : Of the India national team I feel that Sabatra Paul can play overseas and I have arranged a trial for him in Vancouver.
I also feel Steven Dias can as well. I had a very famous playmaker in Carlos Valderama who played in three WC's for Columbia. He was a classic playmaker behind the strikers. BUT my right midfielder became the all-time assist leader in the league history because of the quality and consistency of his cross. Steven has those qualities.
Harmit : Many thanks for taking the time to speak with us.