Is Van Persie in the same league as Messi and Ronaldo?
1.91K //
11 Mar 2012, 23:55 IST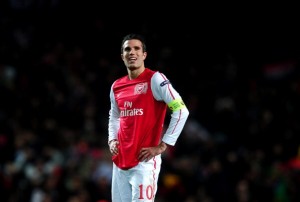 With 32 goals already this season, the talismanic skipper is making heads turn with Real Madrid and
Manchester City
making their interest clear in him. He has displayed his magnificent skills throughout this season and more importantly, remain injury-free. His superb winner against
Liverpool
proved that he is indeed a class apart and is among the top rung footballer in the world. Let's analyze whether he can really be counted in the same rank as Messi and Ronaldo.
This season Messi and Ronaldo are continuously scoring hat-trick at will, but this has simply been possible because they have been thriving on attacking mid fielders like Iniesta and Xavi, who are top notch footballers in their own way. Let's be frank, Arsenal midfield does not have the same quality and with whatever odd ball that comes the Captain Vantastic's  way he indeed makes full utilization of it, as we saw in the game against Liverpool where he got just two opportunities and made the most of them.
Moreover, Messi and Ronaldo have scored against top notch teams consistently, which makes them world-class strikers. Robin Van Persie though, has not been as consistent, mainly due to his niggling injuries. Like in 2009-10 he was sidelined with ankle injury for five months when he was in his prime form. Similar injuries throughout his stay at Arsenal have halted his rise to stardom, but whenever he has got the opportunity, he has made the most of it.
The one thing where he certainly falls short on his compatriots is in major trophy wins. He has won only one FA cup since arriving at Gunners in 2004-05. Again, this may be attributed to the fact that trophies are won when the whole team contributes and cannot be won by one player no matter how good he is.
However, he has not been able to perform as well in European competitions, where he has scored only 20 goals  in 65 appearances. He really needs to work on this aspect as greatness of a player is measured by how well he has performed against top teams, where he is nowhere in competition with the likes of Messi, who has scored 49 goals in 64 appearances. Van Persie sometimes fizzles out when playing against a top-tier team, but he has got the capability and under the tutelage of Arsene Wenger, he can set the record straight.
Messi,Ronaldo also faces the most stubborn defenses in la liga where they are often marked by two-three players, but still they manage to score through their wide variety of skill. Van Persie is yet to be tested under such circumstances, and it will be interesting to see how he copes up with this kind of situation.
To come to the conclusion, Robin Van Persie is surely among the top players in Europe, but he still needs to be more consistent to challenge Messi or Ronaldo. He has the ability, and if he can remain fit for two-three seasons on the trot then he can certainly become the leading striker of the world.