Jaap Stam at Manchester United: Briefly glorious but disastrously cut short
2.67K //
26 Jul 2013, 21:44 IST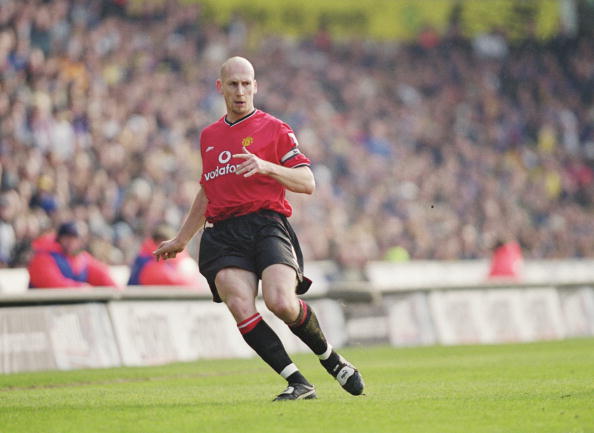 Throughout his time at Manchester United, one of the things that Sir Alex Ferguson built his legacy on was impeccable judgement of players. This manifested itself with quality signings like Cantona, Schmeichel, Ronaldo, Keane and Van Nistelrooy and just as importantly, with his ability to blood youngsters at the right time and when they were of the right quality as shown by the famous crop of Giggs, Scholes, Beckham and the Neville brothers.
He was always quick to spot weaknesses in his team and make correct decisions on whether to go to the market or to look internally to correct them. This was added to by his incredible ability to sell players at the right time. Using the same judgement skills as with incoming players, the likes of Keane, van Nistelrooy, Beckham, Yorke and Cole were all cast aside with a ready replacement in mind and the club didn't miss a step.
The one instance where these skills seemed to hit the rocks was with the now infamous sale of defensive rock Jaap Stam in 2001. The Dutchman's departure saw United go from three league titles in his three years at the club, to just one title in the next five years. When United finally found a replacement worthy of Stam in Nemanja Vidic, they immediately won the league. So what were the circumstances of Stam's departure and why did it have such a catastrophic result on an otherwise fabulously talented United side?
Jaap Stam arrived at Manchester United in the summer of 1998, having just starred for a Holland side which only just missed out on the World Cup final. Stam was absolutely outstanding on that Dutch run and attracted the attention of every major European club.
In the 1997/98 season Man United had the tightest defence in the league but 33-year-old Gary Pallister and 29-year-old Henning Berg were showing signs of vulnerability. Despite only conceding 26 goals in the league there were worrying signs against better opposition. The pace and movement of Overmars and Anelka at Arsenal beat United in both league encounters and ultimately cost them the title.
In Europe, it was a young combination of Henry and Trezeguet at Monaco that put United out which came after Juventus' Inzaghi, Del Piero and Zidane had scored 3 times against them in the group phase. Sir Alex wanted to upgrade his central defence, both for the long term and in the immediate future in the Champions League. A talented attacking unit needed a reliable defence and Stam was to be the final piece in the jigsaw, giving United the intelligence, speed, strength, toughness and leadership at the back which took the defence from good to elite in one swoop.
The impact was instantaneous. Stam's first season at the club, 1998/99 was the famous treble season. After costing a then club record, and world record for a defender of £10.75m. Stam had a wobbly first few months, but as he settled in he helped United on their way to an extraordinary season as they overcame a Champions League group which included Bayern and Barcelona, before knocking off Ronaldo's Inter and Zidane's Juventus on their way to winning the competition.
In his three years the club Stam was twice voted the best defender in Europe and United made it three titles in a row in the Premier League with victory in 1999/2000 and 2000/01. But then it all went wrong with Stam, and United went through their leanest period of the last 20 years.