Newcastle United fans have a wonderful song for Joelinton. It can be heard sung from the terraces at St. James' Park.
"He's Brazilian. He only cost £40 million. We think he's f***ing brilliant. It's Joelinton'.
The player has come a long way from his early days in England when the size of his transfer fee hung like a millstone around his neck. Today, he is now widely revered by the Newcastle United faithful. After a stunning transformation under the management and guidance of Eddie Howe, the transfer fee no longer looks like the waste of money that it once did.
He has come a long way since his initial struggles adjusting to life in England. Signed for £40 million, after an impressive season at Hoffenheim under Julian Nagelsmann, he was thrust into an unfamiliar central striking role by then Newcastle boss Steve Bruce.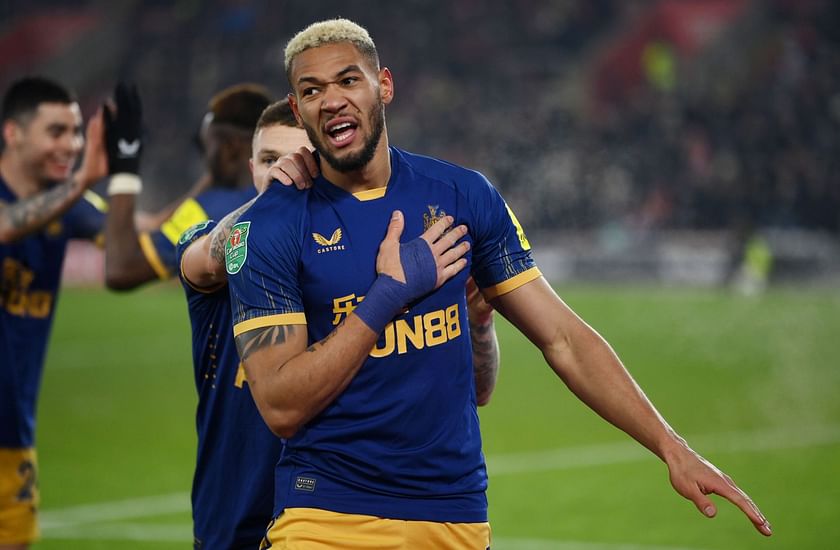 Although it didn't take the powerful Brazilian long to get off the mark, registering an impressive finish in a surprise 1-0 victory away at Tottenham Hotspur, he struggled.
The expectations were unfair. He had never played as a central striker regularly and had most often impressed when playing off the left hand side. However, even during his difficult first couple of seasons, Joelinton never hid from his responsibilities.
In the 2019-20 season, the Brazilian played 44 matches in all competitions, featuring in every single one of the club's Premier League games. He didn't hit the heights many expected him to as he contributed four goals and the same number of assists for Bruce's struggling team.
The following season, there were 36 appearances, six goals and three assists. His third season was a make-or-break for Joelinton's Newcastle career and it appeared to be going much the same way as the previous two. The Brazilian was struggling in an attacking role under Bruce.
Joelinton's resurgence
Once Bruce was removed and replaced by Howe, the fortunes of the struggling player started to change. Ciaran Clark was sent off early in the club's must-win 14th league match of the 2021-22 season against Norwich City. This necessitated a swift change in tactics from Howe, with Joelinton dropping into a deeper midfield role, where he found his feet.
As Newcastle pulled away from the bottom of the table, he continued to excel. He would play 37 matches in all competitions, scoring four goals and getting one assist. His performances were recognized by giving him the 'Newcastle United Player of the Year' award.
He had genuinely been transformed into a top-class midfielder and the improvements have continued into the 2022-23 season. Joelinton has played 24 matches this season, scoring four goals and has three assists. Two of those goals have come in the team's run to the brink of a first League Cup final since 1976.
Along with his contributions going forward, he has also continued his development as an all-round midfielder and played a key role in Newcastle's defensive solidity. The Brazilian ranks ninth in the Premier League for the number of tackles made (46). He is ranked first in interceptions and clearances, while he has also made three blocks amongst attacking players.
These are excellent numbers and highlight how crucial he has been and show that the money invested in the Brazilian has eventually been money well spent for Newcastle United.
Poll : Has Joelinton been value for money for Newcastle United
7 votes