Jonny Evans: The most underrated defender in the Premier League
1.16K //
24 Dec 2012, 10:28 IST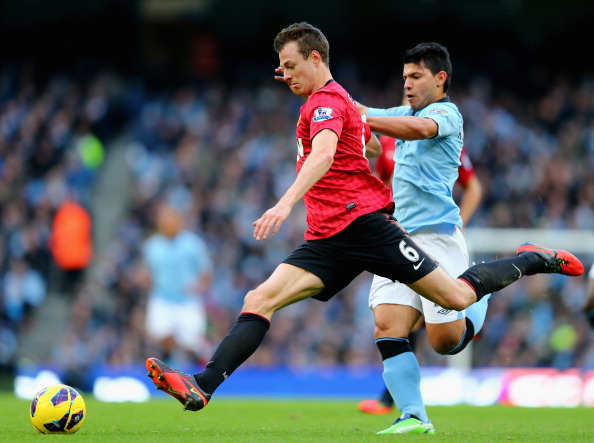 I was driving home from work on Friday evening listening to a certain radio station, the presenter of which has somehow managed to be afforded the opportunity as a columnist in one of our nation's leading newspapers.
In the wake of Jonny Evans recent contract renewal, the question of whether Evans would get in any of the other top four clubs arose. To be fair, the presenter appeared to be asking the question from a position of not knowing.
Sitting behind the wheel, I couldn't help but listen to the subsequent calls and the opinions of the presenter and find myself shocked at the response.
Is it just me, and I know it isn't, who thinks that he has been one of the most consistent defenders in the Premier League over the last 18 months or so?
Before I address the question of whether he would or wouldn't, let's for a moment consider his role within his own squad.
There are five recognised centre backs at the club. The four others, Vidic, Ferdinand, Smalling and Jones have all had their injury problems over the last 18 months.
Unfortunately, Vidic has suffered the most serious of these. Undoubtedly one of the finest defenders to have played for the club, though he hasn't reached the same level during his short lived return, he must still be considered first choice.
Ferdinand can also lay claim to being first choice, and one of the greatest defenders the club has ever had. However it is clear that Ferdinand, while still capable of putting in top-class performances, is a fading force.
So that leaves us with the young pretenders – Evans, Smalling and Jones. I order them in that way for good reason. There is no question that Smalling and Jones are comfortable with the ball at their feet and are emerging talents.
Can they organise and lead a back four like Evans? Not for me. Are they as accomplished at man marking, or in the art of defending as Evans? Again, not for me. Are they as good in the air? Again…..well you get the idea.
Evans' acceleration into the first team picture surprised me. I was, at one time, a dissenting voice. I was of the belief that he 'isnt good enough'. Even after a successful spell on loan at Sunderland, I was never of the view he would make it at one of the biggest clubs in the world. How wrong I feel now!
Evans has become one of the most crucial players on the team sheet these days. His ability to play with any of the other of the back four with almost seamless understanding is compelling. It's no mystery that he instils far more confidence than Smalling and Jones. He has been schooled well, from the ground up.
One of the most difficult things in football is the ability for centre halves to link the defence with the midfield with clever use of the ball. Evans is exceptional at this. He does it with ease in a way that should be revered and appreciated.
Perhaps the greatest compliment I can give him is that I always feel more comfortable when he's in the team.
He is far from the finished article. He has had his moments. He has bad days, the Everton 4-4 last year is a case in point. Nevertheless he has been, for one reason or another, United's most consistent defender over the last year and a half, including the fullbacks and the keepers.
All things being equal, when they are all fit, he is alongside Vidic for me, and even if Rio can produce his best week in week out, he is at worst 3rd choice.
So would he get in the other 'top four teams'? Taking my allegiances out of the picture for a moment, it goes without saying that Kompany was the best defender in the league last season by a distance.
Kompany aside, is Evans better than Lescott, Luiz, Cahill, Dawson, Gallas, Vermaelen, Koscielny etc? Well there may be a debate to be had, but there is no doubt he is as good as those players and in my view better than most. Vermaelen, for example, has had an inconsistent season despite a glowing reputation.
Rarely does he give the ball away and his positional play is so good that he has hardly ever been guilty of giving a foul away this year. As a consequence, he is rarely booked. He has even become a goal threat at corners. He has watched and learned from two of the best and I am convinced that Manchester United will reap the rewards for many years to come.
More importantly, United fans, in general, share the view that he is becoming more and more important to the side.
As compelled as I was to ring the radio station I would have only been able to ask questions- Have you been paying attention? Why do you not see or appreciate what he has to offer?
Maybe it's because he goes about his business with minimal fuss. He isn't glamorous or, in fairness, easy on the eye, but frankly, a man who can contain the talent Portugal has at its disposal for Northern Ireland in the manner he did, doesn't need to be easy on the eye or glamorous.
When I was asked to write this article, I was asked to express my view on the impact of Jonny Evans contract renewal. All I can say is that I am delighted and I'm sure Sir Alex agrees. He deserves every penny.
I would implore you to take the time to watch his performances; he is the most underrated defender in the league.