Jordi Roura to be Barcelona's interim coach
2.73K //
21 Dec 2012, 12:00 IST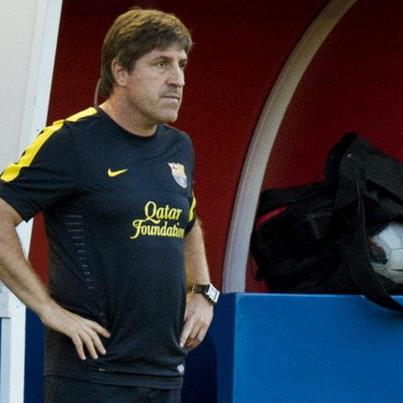 With Barcelona boss Tito Vilanova recovering from Thursday's operation to remove a tumour in his parotid gland, assistant coach Jordi Roura will take over the reins of the club, starting from their visit to Real Valladolid on Saturday.
Barca sporting director Andoni Zubizarreta said that the club never considered Pep Guardiola or Roma manager Luis Enrique as interim managers in Tito's absence.
Roura, along with physical coach Aureli Altimira, oversaw the training on Wednesday evening and Zubizarreta said he was confident that Roura could lead the club in continuing its routine.
He said: "With Jordi, Aureli and all the staff we are in extraordinary hands. With them we will continue down this path and show up in Valladolid [with them]. Tito is not here [but] we have Jordi and the coaching staff."
Jordi Roura came through Barcelona's famous La Masia Academy, along with Guardiola and Vilanova, where he was reportedly named 'greedy-guts' due to his big appetite. Roura was a centre-forward, who was given his debut by Johan Cruyff, and his playing career was terminated by a knee injury that he suffered against AC Milan in the 1989 European Super Cup. He played just 10 games for Barcelona and he was forced to retire at an early age of 25.
Guardiola brought him back to Barca in 2009 and he was involved in tactical analysis of opponents. When Vilanova took over the job, he chose Jordi from a number of candidates to be his deputy. Tito was suspended for two games earlier this season, and Roura took over to see the team register wins over Valencia and Getafe.
Zubizarreta said that their priority today was in Tito's recovery more than winning matches as he added: "We want to win in Valladolid, of course, and Tito has said that in the dressing-room. We are a football team, who play football, but today that is not so important. Today we are not thinking about the sporting side, among other things as we cannot win Saturday's game today. Today our priority is Tito."
He made it clear saying Tito will be their coach once he recovers from his illness. "Jordi will sit on the bench, but the coach is still Tito," he said.