Jose Mourinho's thoughts on Chelsea's loss and Fabregas' red card
3.93K //
19 May 2015, 10:54 IST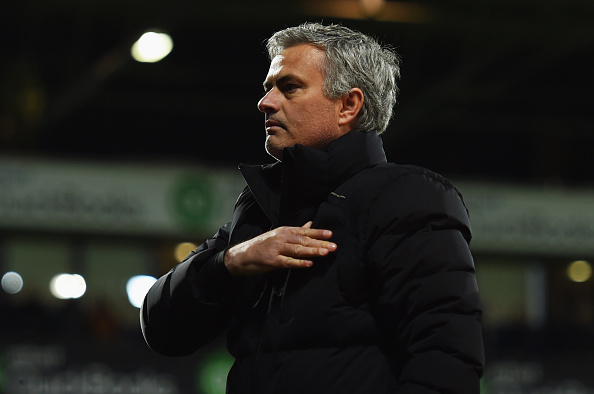 Jose Mourinho says things you simply cannot ignore. He did just the same as he spoke after Chelsea's 3-0 away loss to Tony Pulis' West Brom. The Blues were on a 16-match unbeaten run prior to the loss. This result means that Chelsea have lost four times this season in all competitions.
As usual, Jose Mourinho had some interesting stuff to say following the loss. He gave his thoughts on the match saying he was not surprised by the result.
He said: "I know my players, I know myself and I know the nature of the game, I know what normally happens when a team is champion with matches in hand to play.
"This is just an example. When we're the champions early it's difficult to keep the motivation high.
"We've got lots of injuries, we've also players that we are protecting. For not to have any risk, the motivation is not so high and the intensity is not so high and when you lose that intensity of competition, it's difficult to complete at the highest level."
But Mourinho felt that he and his players were not the sole responsible party for their lack of motivation.
"The ideal scenario is to be champions and don't play again, go home have holidays and don't play again," he added. "When you have three more matches to play it can happen what happened to Bayern Munich, lose three in three. It can happen to us, one point in two matches.
"I don't blame the players, to blame the players I have to blame myself because I am not different than them.
"Let's blame the players a little bit, let's blame myself, let's blame the top contenders for the title because they were not good enough to fight with us until the end.
"If today we need this game to be champions, I'm not saying we'll win but I'm saying we would compete at a higher level to win."
On Cesc Fabregas' sending off
The Premier League's leading assist maker will not beat the all-time highest assists in a season set by Thierry Henry (20 assists) thanks to the red card he received in the 28th minute against the Baggies.
When Mourinho was informed that the Spaniard is likely to receive a three-game ban for "violent conduct", he said, "Three-game ban for this? Jesus Christ. That's harsh to get three games for this."
"Where is the danger of the situation, where is the aggression in the situation to get the red card in a friendly game?
"I really don't understand. I think Fletcher was aggressive, he pushed him in the chest because he is experienced and knows where he can push for a yellow card. He is much more aggressive than Fabregas.
"For me a top referee, a stable, big personality and in control of the game, goes there, two or three words and it's done. It's a bizarre red card.
"A three-game ban for this? Harsh? Of course it's harsh. Why does he have to explain? He doesn't need to explain.
The Portuguese manager added that Chelsea would be unlikely to appeal any ban "because we lose every time." He also added, "We have a great record with appealing."
Tony Pulis on Mourinho
Mourinho and Tony Pulis share a good relationship and were seen hugging and embracing before and after the game. Speaking to media after the game, Pulis said, "I've managed against him twice now and have managed to beat him twice - once at Crystal Palace and now once at West Brom.
"He's been very, very gracious in defeat. For all we've done tonight, they've been worthy champions, a fantastic football club and they have some wonderful players.
"I've seen some people criticise them and it's just unbelievable. They've been, by a country mile, the best team in England this year."