Jose Mourinho is often misunderstood as one of the controversial personalities in world football, an individual who thrives on the hate he receives and seems to cherish to get one over his fiercest doubters and critics.
Mourinho is famous for winding up his opponents, using all the techniques in the book to get in the opponents head. The Portuguese is always painted as the pantomime villain in football, a man who is loved and loathed equally. Jose commands respect and is a serial winner having conquered the three of the top leagues - Serie A, Premier League and LaLiga. He also won two Primeira Liga titles with FC Porto and guided them to a historic UEFA Champions League title in the 2003-04 season.
This is a man who introduced himself to the big stage by knocking Manchester United out of the Champions League in 2004, the match in which he infamously ran the length of the touchline celebrating with his arms outstretched basking in glory.
Then 6 years later, his Inter Milan side defeated the best team since the turn of the century - Pep Guardiola's Barcelona who had won the treble the previous year. With Xavi, Iniesta and Messi at their zenith under Pep, it looked like an impossible task to stop the defending champions. But no one informed Mourinho that as he rallied his troops, inspiring them to fight like warriors and doing the unthinkable.
Inter had only 29% of possession but they didn't care as they put three past Victor Valdes to cement their place in the Champions League final for the first time in 38 years. Mourinho joined in the celebrations with his finger pointing to the sky in the process irking Valdes who was certainly not impressed by his actions.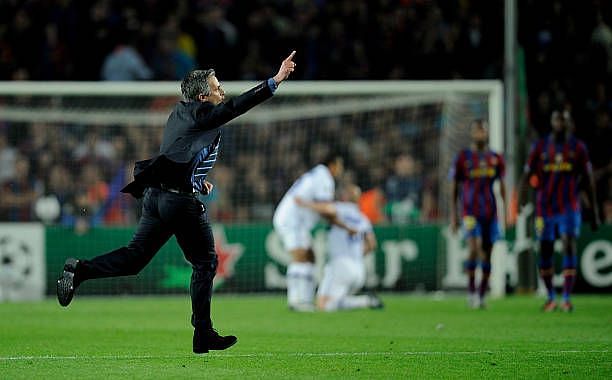 This was the Mourinho most fans adored, a man who walked around exuding supreme confidence and an unbeatable mentality. A man who could make his players walk on fire for him. A man who could conjure up a win in the most difficult situations imaginable. A man who could rise from the ashes and fight back when most people would love to see him fail.
The match against Juventus two nights ago was a classic demonstration of that. This was a United team who had struggled to live up to expectations in recent years with also doubts lingering whether Jose has lost the magical touch which once made him 'The Special One'.
The board's failed attempts in buying a top quality centre-back has not helped his case either as his team has been un-Mourinho like and has leaked goals keeping only 1 clean sheet in 11 games. But in the face of adversity, Mourinho's men have developed a siege mentality with comeback wins against Newcastle United and Bournemouth in recent weeks indicating their newfound never give up attitude. Against Juventus, it was no different.
The game followed a similar script as the Italians had majority of possession and were threatening to get on the scoresheet with each passing minute. The United defence stood tall with birthday boy David de Gea pulling off some impressive saves to keep Juventus at bay.
However, their resilience was broken inevitably by once United darling Ronaldo who volleyed home a 50-yard pass by Leonardo Bonucci which was followed by tumultuous applause. All the signs were suggesting to another 1-0 win to Juventus with their Leonardo Bonucci and Georgio Chiellini expected to showcase another defensive masterclass.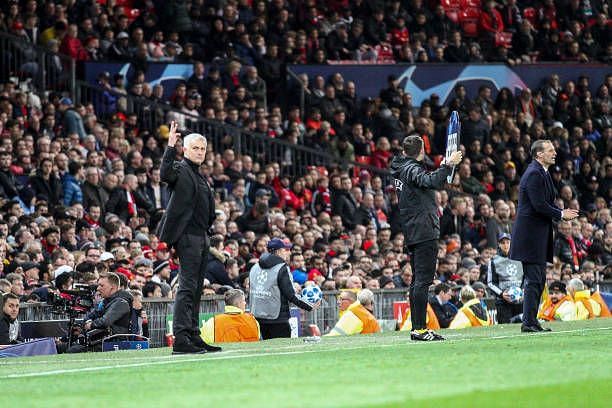 But Mourinho's side had other ideas as he made two game-changing substitutions bringing on Juan Mata and Marouane Fellaini. Mata scored a beautiful free kick and Fellaini's huge aerial presence helped United to be more direct.
The winner came in stoppage time when Ashley Young whipped in a teasing free-kick which created chaos in the box and ultimately the ball struck Juventus defender Alex Sandro to roll in the net. The stadium was stunned. United had done it. Jose had stopped the Juventus juggernaut and the Red Devils had become the first English team to beat them in Turin in this century.
Mourinho who had got abuse from the Juventus fans throughout the game cupped his ear to the crowd, a gesture not well taken by Leonardo Bonucci and Paulo Dybala. This was vintage Jose and he once again proved that he cannot be underestimated. This was Jose at his lethal best, not playing around to impress anyone, not being pretty but rather getting the job done.