King Kenny: Yet to earn his colours
1.17K //
31 Mar 2012, 23:03 IST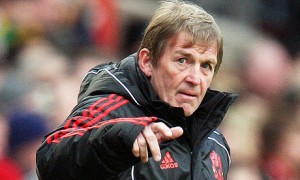 8th January, 2011; The Kop's prayers had been answered, and "King Kenny" was ushered in to replace Roy Hodgson, who was viewed as a failure by everyone in the Liverpool fraternity after he had brought the club in flirting distance with relegation. Kenny Dalglish was thought to be a magician by the Liverpool fans, one who's mere presence had the capability to lift the club out of it's misery and propel them to great heights, which they had incurred in his spells as player and manager.
31st March 2012; Liverpool stand in a precarious position, though not in a position of great peril. Or peril it may be for a club which has won 18 English League titles, second only to the other Reds, Manchester United. Under The King, Liverpool have won all of ONE and lost just five of their last seven Barclays Premier League fixtures, four of which were played out Anfield. They now stand in 7th place, with forty-two points under their belts and are now closer to the bottom of the table than the top. Kenny is under pressure but in a far milder dose than Roy Hodgson ever was, which is the entire point. Dalglish's time in Liverpool has always revolved entirely around the aura that surrounds arguably their greatest ever player and manager. Roy Hodgson, Rafa Benitez or any other manager would not have been given the same luxury as Dalglish. The fan and media outrage against Hodgson was shocking and ignominious for him and eventually had to leave by "mutual consent" after the new owners came in.
But Dalglish's Liverpool have been very poor this season and his signings have by and large been failures. Their home form has been the worst since the 1953-54 season when they were relegated. The brief, and the expectation from fans and owners alike, was a realistic one – a top four finish. The team still needed time, stability and investment to present a credible title challenge. But in the summer, Liverpool delved into the transfer market. And how. They spent £20 million each on Sunderland midfielder Jordan Henderson and Aston Villa winger Stewart Downing, and £6 million each on Charlie Adam and Jose Enrique. In hindsight, only the latter has seemed a potent signing. The rest have been awful and aeons away from being good value of their transfer price. But the best bargain seems to be the returning Craig Bellamy, who arrived on a free transfer from Manchester City, but has again returned to his preferred treatment table. Unanimously, they bring Dalglish's transfer prudence into question in this day of inflated market prices.
A common argument has been to hide their woeful league campaign by masking it with the success of their cup runs, with a victory in the League Cup, in which they toppled EPL hopefuls Chelsea and City on the way, and a semi-final berth in the FA Cup against fellow Merseysiders, Everton. And take nothing away from Liverpool, an earned cup it was. But again, is Liverpool in such muddy waters that a sole Carling Cup in the cabinet is the sign of a successful season? Birmingham won it last year and their season still qualified as a disaster after they were relegated on the last day. The issue remains that the Carling Cup remains of negligible importance to most of the EPL teams and is the least important of all to the big ones. Arsenal were distraught on their failure to win it merely because they had to win something to end their trophy drought. Dalglish needs to move his team out of their misery and put in less toothless, more ruthless performances.
Luis Suarez has been their best attacker and yet has scored a miserly seven goals, which pales in comparison to the exploits of Robin van Persie, Sergio Aguero, Demba Ba, and more recently Papiss Cisse. I didn't want to mention Andy Caroll, but I have to because he hardly plays like a striker or a top-flight league footballer at all. The trio of Gerrard, Caroll, and Suarez is a dream one, and coupled with Downing and Henderson/Kuyt on the wings, the team should, on paper, demolish any opposition. But as Andy Gray once said, the game isn't played on paper, but "out on that green thing", and on that green thing Liverpool have been decently attractive but highly ineffective and only proper coaching can drive the fear of goal out of the players.
Come the next season, Kenny Dalglish will in all probability remain the manager of Liverpool FC, because I doubt John W. Henry would dare irk the fans and replace him. And he may still believe Dalglish has that magic in him. But on recent evidence, he doesn't.