Let 'Lamps' burn strong
899 //
05 Mar 2013, 16:59 IST
'The ball falls to Rooney who touches it into Lampard's path, and he hits it, oh my god! That's amazing! Frank Lampard has given England the lead', that was against Brazil in a recent friendly.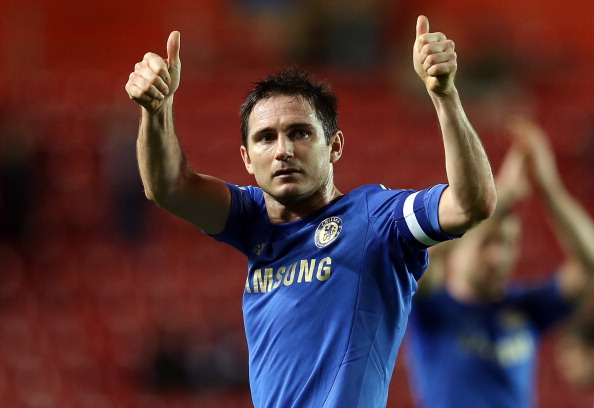 As the midfielder celebrated his goal I was left to ponder the way in which he had hit it, in a single kick he had made the ball rise, dip, swerve and that too, from a horrible body position, he was neither stable nor steady; he threw away the copybook on that one. All in a day's work for Super Frankie Lampard.
Few players epitomize their club as well as Lampard does. He is everything that Chelsea are (apart from the riches). He is a force of nature – tireless, driven, motivated and scores more goals than half the strikers in the league.
But Lampard is not your usual English player, he has a public school education and an IQ of over 150, he could have played rugby for Great Britain or may even have opened for the England team, but Chelsea in particular and football fans in general should thank their stars that he is a footballer.
Another one of West Ham's products, Lampard left the club after the boardroom decided to sack his father and his uncle, Harry Redknapp. Lampard is a player who always does the basics well, no fancy stepovers and nutmegs, he is a box-to-box man, and I feel one of the best midfielders in his generation superseded only by Paul Scholes.
"Frank Lampard is an exceptional player – a huge asset to Chelsea, You pay attention to players who can get goals from midfield and he's been averaging 20 a season.You don't see him getting into stupid tackles or making a habit of becoming involved in silly rows. He remained restrained after Chelsea were knocked out of the Champions League by Barcelona and even made a point of swapping shirts with Andres Iniesta. - Sir Alex Ferguson. 
In 2008, his mother passed away and the pundits were shocked when they saw his name in the starting lineup. He gave a majestic performance, capped the night off with a superbly taken penalty and fought tears, but that evening really showed how mentally strong he is.
Apart from Chelsea fans, Lampard doesn't get enough credit. He has always been overshadowed by Liverpool's Steven Gerrard, though he has more goals, more assists and is better defensively. He finished second only to Ronaldinho in 2005, in the world player of he year awards.
Being the only player to score 10 goals in the league for 11 consecutive season, Lampard has single handedly redefined the boundaries of what a midfielder can do. He has scored spectacular goals, volleys, tap ins, headers, free kicks and of course penalties; you name it and he has done it. His penalty conversion is legendary, in his own words he says, 'I never look at the goal, I know where it is, I focus on hitting the ball hard and hit it with all the power I can.'
His tracking of runners is constant and he does not shirk away from the hard-work either, as he demonstrated in last season's semifinal against Barca, when he dispossessed Messi and put out an exquisite ball for Ramires, who assisted Drogba in giving them the lead. Again in the second leg, he chipped a beautiful ball to put in Ramires who scored. But earlier he had been the architect of the now famous win against Napoli. Trailing 3-1, Lampard took it unto himself to take the Blues forward and he did it. He supplied Terry with the ball on he corner and then scored a penalty.
He has so far won 4 FA cups, an UCL, 4 BPL's and two league cups and in many cases it was he who was carrying them forward as in 2010, when he scored against Liverpool to give them the crucial lead in May. I still remember the first time I had seen him playing ,it was the first leg of the 2005-06 season, against Bayern, it had been a good game, with lots of goals, but it was the second match from which I remember a goal, Makelele put in a great cross, Lampard controlled it on his chest and hit it with a sweet left footed volley.
He credits his ability to his family, Chelsea fans and unsurprisingly to Jose Mourinho, who had once told Lampard, 'I know you are the best player in the world, but that is not enough we need to win trophies and I need you for it.' As calmly as if discussing the day's weather, by his own admission he became a different player after that.
The current contract wrangles may have a variety of endings, but I hope it ends happily because as a football fan I would like to see 'Lamps' keep the Bridge alight.