Legends of Club Football: Billy Liddell
1.43K //
13 Dec 2012, 18:05 IST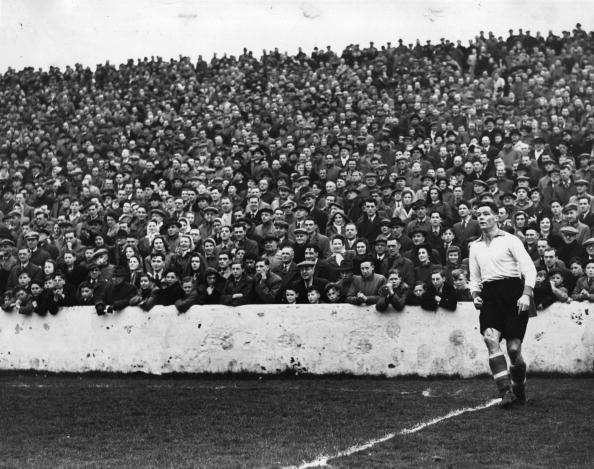 This is the story of an individual, who was so synonymous with a club that the club had a nickname after him. Someone whose memorial plaque rests in the entrance to the club's museum, someone who refused to desert his club even when it was relegated, someone who rejected a transfer contract worth a few hundred times his club wages and someone who played football on a part time basis; yet retired as the top goalscorer of the club.
This is the story of one of the earliest legends of a club with a history of producing legends; this is the story of William Beveridge "Billy" Liddell and Liverpool FC.
Liddell was born on 10th January, 1922 in the Scottish town of Townhill. From a very early age, he had an active interest in football though his family condition meant that football was never considered a viable profession. His first contract was with Lochgelly Violet football club in Scotland. Liddell was scouted by Manchester United legend Matt Busby who was then a professional footballer for Liverpool. He signed for Liverpool in the summer of 1938 but his parents insisted that he would have to work part-time in an accountancy company.
"I used to run messages for my grandmother who lived in the village. I always had a ball with me, a tennis ball or a sponge ball, and when she asked me to go to the grocers I always ran there on the left hand side of the road, pushing the ball against the wall and stopping it before it went into the road. I did that all the way to the grocers which was a quarter or half a mile away from my grandmothers. Then on the way back I would run on the same pavement so that I had to use my other foot to stop the ball going into the road."- Billy reveals how he came to be so accomplished with both his left and right foot
Liddell was initially a part of the youth squad of Liverpool. In 1940, he suffered a career threatening injury when his knee crashed against the concrete near the corner flag in a youth match against Blackburn Rovers. His official debut for Liverpool would have to wait a while because of the Second World War and the subsequent suspension of competitive football by the Football Association. Meanwhile he played in the various regional leagues and competed as a guest player for various sides like Chelsea, Cambridge Town, Linfield and Dunfermline Athletic. During the war, he trained as a pilot officer navigator for the Royal Air Force.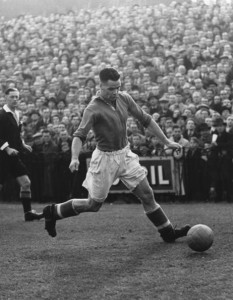 Liddell debuted for Liverpool in a third round FA Cup tie versus Chester City in January, 1946 in which he featured on the scoresheet. He established himself in the starting lineup and forged an excellent chemistry with Bob Paisley on the left wing and with Albert Stubbins and Jack Balmer as strikers. Liddell would score seven goals and notch up numerous assists on the way as Liverpool would go on to secure their first championship since 1923.
"Bill was aggressive. He took opponents on and had the shooting power to finish things off. There wasn't a weakness in Billy's game. He was as strong as a bull on the ball. Defenders found him a real handful, but always respected him." – Matt Busby
From the next season onwards, Liverpool would struggle to re-enact their championship winning run.  Liddell however would continue to remain a bright spot in Liverpool's otherwise underwhelming displays.  He would make his first appearance in the Wembley Stadium in the final of the FA Cup in 1950. Liddell would be shackled by some malicious man-marking by Alex Forbes and Arsenal would run away 2-0 winners.
Billy Liddell went on to receive a reported contract offer of £12,000 for a transfer to Columbia (to put things in perspective, the weekly wage cap for a footballer was £12). Many players like Alfredo di Stefano and Hector Rial would take up the bait, but club loyalty and the recent birth of his twins would mean Liddell turning down the lucrative deal.
The 1950's would represent a dark era for Liverpool FC. Problem was there were very few players of the calibre of Billy Liddell. Uninspiring displays in the League and ignominious Cup exits meant there was very little to cheer for the Liverpool faithful. There were times when Liddell was forced to carry the club on his own shoulders. So much so that the term 'Liddlepool' would be coined for the side. Despite playing as a winger, he returned double digit hauls in ten seasons and would be Liverpool's leading scorer in eight seasons from 1949-1958.
"Bill was so strong it was unbelievable. You couldn't shake him off the ball. It didn't matter where he was playing, though I suppose his best position was outside-left. He could go round you, or past you, or even straight through you sometimes!" – Bob Paisley
So awful was Liverpool's display in the League that relegation was always looking inevitable. It was narrowly avoided in the 1952-53 season when Liverpool defeated Chelsea in the club's final fixture. Liddell's poor personal form next season meant Liverpool was relegated to the second division with the lowest points tally. Many players would have jumped ship at the prospect of playing in the lower leagues – but not Liddell. He carried on in hope that his performances would spur on the club to challenge for promotion. Though it is a hypothetical situation, it was very possible that without Liddell, the club would have been lost in oblivion in the murky depths of lower division leagues – incapable of ever producing a turnaround in fortunes. Liddell was a ray of hope for the Kop in these bleak times. Always a team-man, he would occupy all ten outfield roles at different points in his career – mainly covering up for injured teammates.
Despite the brilliance of Liddell, Liverpool would not gain promotion during his time. They would come tantalisingly close in 1956-57 when promotion eluded them by just a single point. Liddell would continue with his goalscoring exploits. Liddell would be known as a fast, direct two-footed winger who possessed a thunderbolt of a shot. A pile driver from Liddell once fractured the arm of a Nottingham Forest goalkeeper. There are reported instances when goalkeepers deliberately ducked or dived the wrong way in order to avoid being hit by a Liddell rocket. A match reporter quotes:
"I know I have written many things over the years watching football, but never have I seen a ball burst with the power of a header. Liddell was known for bursting balls with both his right and left feet, but with his head? I guess that's just another bit of footballing history from Liddell, that will eventually have people in the future doubting the power of this man."
Liddell would break Elisha Scott's record of most club appearances in the 1957-58 season. When Bill Shankly took over the reins at Anfield, Liddell was in the twilight of his career and was slowly fading from the first team lineup. Recurring injuries meant that his participation in the 1959-60 season was erratic. His place in the middle of the park was taken over by Ian Callaghan (who would go on to be an excellent successor to the legend and would eventually break his record of club appearances). He played his final league game in a 1-0 defeat to Southampton before ending his career in the Liverpool Reserves, holding the proud record for the most goals scored for the club. He still remains the fourth-highest all-time scorer, his record overhauled by only Ian Rush, Roger Hunt and Gordon Hodgson. His testimonial match at Anfield versus an International XI witnessed a record crowd of around 40,000 fans.
 "Liddell was some player… He had everything. He was fast, powerful, shot with either foot and his headers were like blasts from a gun. On top of all that he was as hard as granite. What a player! He was so strong – and he took a nineteen-inch collar shirt!" – Bill Shankly
For a man of such enormous footballing ability, a trophy haul of a solitary League title seems hopelessly inadequate. 'Give it to Billy' would be a chant frequently echoed around Anfield while urging teammates to pass the ball to Liddell. He competed in a largely barren era – of which there are few proud references in the history of Liverpool FC. A better marker of his stature would be the fact that he was the one of only two players (the other being the legendary Blackpool defender Sir Stanley Matthews, winner of the inaugural Ballon d'Or) who represented Great Britain against Rest of Europe sides both in 1947 and 1955. An exemplary gentleman on and off the pitch, Liddell was never booked during his entire career. After his retirement he was associated with voluntary work and was appointed Justice of the Peace for Liverpool. His contribution was recognised with a commemorative plaque at Anfield inside the Kop by the entrance to the club's museum. He was inducted into the Scottish Hall of Fame in 2008. He passed away on 3rd July, 2001 afflicted by Alzheimer's disease.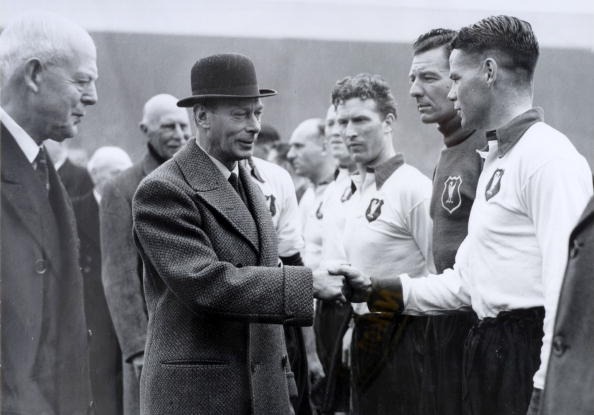 The emotions associated with Billy Liddell can be succinctly summed up in this poem by Wooltonian:
"When your maker calls your name, 
He will not ask if you won or lost,
But how you played the game.
and believe me when I say
 "Boy, did Billy play the game"
 It is difficult to imagine what would have transpired if the Shankly Era had coincided with the heyday of Billy Liddell. Dewy-eyed Kopites can only sit back and romanticize.