Legends of Club Football: John Arne Riise
3.52K //
07 Nov 2012, 16:57 IST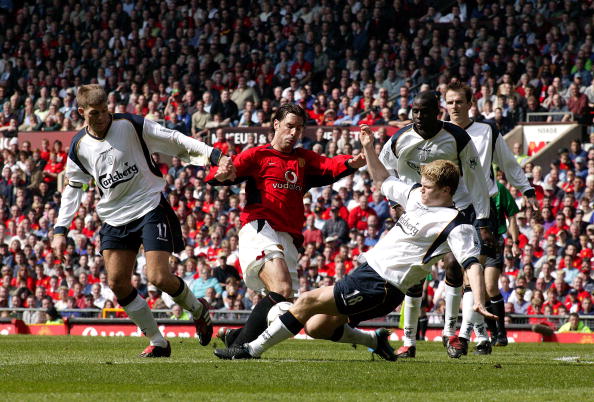 John Arne Riise forever will be remembered outside Anfield as the guy who destroyed Fabian Barthez's goal with a thunderous shot that almost ripped the net apart as it went! For me, Riise was one of those players I always imagined would remain at Liverpool for the remainder of his career and join the ranks of the greats who have graced Anfield. But even though he left after just 7 years at the club, he had already earned himself a special place in the memory of fans.
Riise's start to Premier League life was impressive, with goals against the likes of Arsenal, Everton, Newcastle and Manchester United in his 1st season, that too as a fullback. It isn't too hard to see why Liverpool fans loved him so much. It wasn't long before he was a favorite with the Anfield faithful and they were chanting:
"Johhhhnnnnnn Arne Riise
Ooooh Ahhhh 
I wanna knoo-ooo-oow 
How you scored that goal"
Riise started his career in his homeland with Aalesund  but after just one season as a senior player, he moved to AS Monaco in 1998. After 3 years at the French club, Riise moved to Liverpool in the summer of 2001 for £4 million. Riise had fallen out with team boss Claude Puel for publicly stating his desire to leave the club and Monaco were trying to offload Riise for over a season before Liverpool met their asking price. During his stint in the Ligue 1, he had won the league title in the 1999-2000 season.
In his 7 years at Liverpool, Riise won over the Kop with his sensational goals and his dedicated performances. You could never fault Riise's commitment in a game. He was the last person one could expect on the pitch to go easy on you. He was true to his Norse heritage, always ready for battle!
Riise was a very modern fullback, one who loved to attack and get forward as much as possible. Defensively solid, Riise's strength was  his blistering runs from defense that would catch teams off-guard. His biggest weapon though was the thunderbolt of a shot that manifested in his left foot. It was almost as if his left foot was actually Thor's (The Norse god of Thunder) legendary Hammer!
The brutality and sheer force behind his shots were something to behold, and the fact that he used to execute the shots so well made it just that much more more impressive!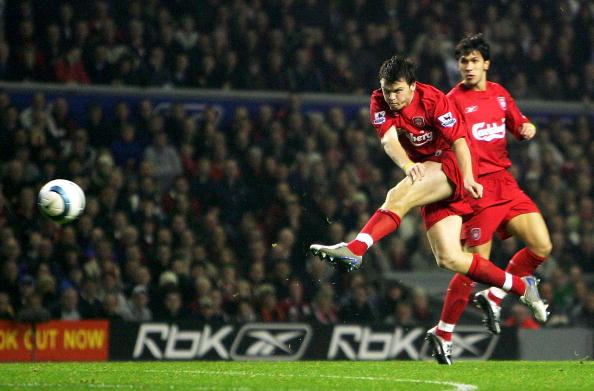 He played a pivotal role in helping Liverpool win the Champions League in 2005, as he provided the crucial assist for Steven Gerrard's headed goal that started the miraculous comeback. Scoring vital goals was always a forte of Riise's, like the one he scored in the semi-final against Chelsea in the 2005-06 FA Cup.
Riise played with a never say die attitude, which was exemplified with his statement "We never give up. Cowards give up", at a time when club stalwarts like Carragher and Reina had given up on the title (in 2006). It was this attitude and love for the fans and the club that made Riise such a big hero with the Kop.
Riise's departure from Liverpool was surprising to an extent because the Norwegian was just 27 at the time and entering his prime, but Benitez let him go, bringing in Andrea Dossena to replace him. Riise did came out and speak about his rather reluctant exit from Anfield and why he felt he was to blame for it too:
"When I left I was sad, I was disappointed – not only at Rafa, at that time, but also with myself because I didn't do as much as I could have done to stay longer,"

"I was too settled, I didn't think I had to work that hard. I regret that now – hopefully I won't regret it too much. I didn't want to go. I had a chat with Benitez. He said to me straight out that next year he was going to buy another left-back and my future was not there. He spent so much money on Andrea Dossena and I knew he was going to give him a lot of chances, even though I thought I was a better player than him."
I know there are many other players who have done so much more for the club over a longer period of time but Riise was probably one of the few who has so many fans who love him even though he was at the club for a relatively shorter period of time. In his 7 years at the club, he helped Liverpool to 1 Champions League, 1 FA Cup, 2 European Super Cups and a League Cup title. Riise's contributions in all those successes was vital, as every successful team is built on a solid defense and Liverpool had a very solid one in Riise, Carragher, Hyppia and Finnan.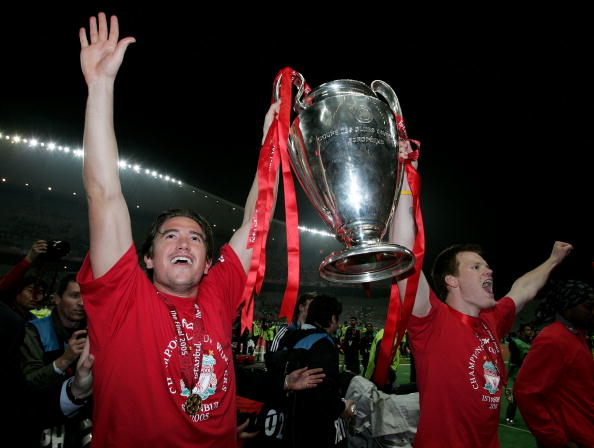 Now, we see Riise playing in the Premier League with Fulham, whom he joined last year after 3 seasons at Roma. Though Riise has played for the likes of Monaco, Roma and currently Fulham, he will always go down in my memory and those of many fans of my generation for his love to Liverpool Football Club, for his thunderous shots, fiesty spirit and the desire to win every game! A true Scouser!!
Here's a compilation of some of his goals to bring back some memories:
Read about more such Club Legends here.