Legends of Club Football: Sandro Mazzola
When Internazionale beat Bayern Munchen to lift the 2010 UEFA Champions League trophy, the commentator (who had been blatantly supporting Inter throughout the match) announced enthusiastically on air that the club had now joined a select group of European clubs to have won the famous trophy three times. Three times? When did the previous two arrive? Now for someone (that's me here) who prides himself on his encyclopaedic knowledge of the game and the fabled tales of its past, this was a surprise, as I clearly thought this was the Nerazzurri's first ever continental triumph. I now found myself in a fix and quickly fired up my laptop to excavate these new found facts, which had surprised me enough to make all the grogginess of the ensuing sleep go away. It wasn't long before I stumbled upon Il Grande Inter of the 1960's and the legend of Sandro Mazzola, the man who has only ever played and cared for one club all his life.
Mazzola's story began well before his birth. His father Valentino Mazzola was considered by many as the greatest Italian footballer of his time and was the heart of the Il Grande Torino team of the late 1940's, winning five straight Italian football championships between 1942/43 and 1948/49. But tragedy struck in May, 1949. The team was returning from Lisbon after playing a farewell match for Xico Ferreira against Benfica, and the plane crashed into the Superga Hill near Turin and all those aboard, including Valentino, died on the spot. Sandro was six when this happened and was living with his brother and mother in Milan after their parents had divorced soon after his birth.
I was only six at the time of Superga and so most of my memories regarding what happened have been erased. However, I remember when I used to go to Turin to watch the games and I used to hold onto my father's hand. I don't remember much, but I do recollect when I was told that my father was dead many years later. I was told many things about what happened, but I tended to forget about it."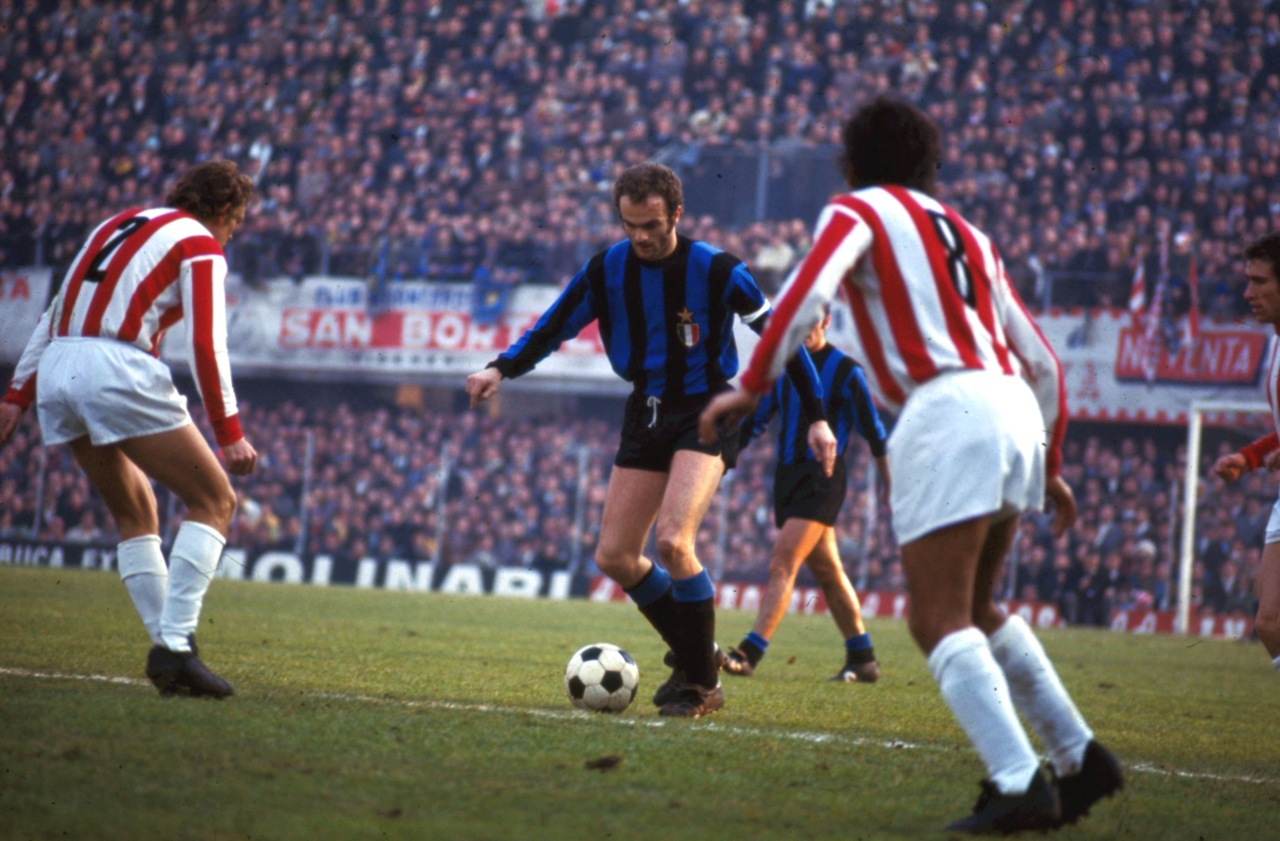 Life was tough growing up without a father and the prevailing financial conditions only made things tough. Sandro, who had been born with a silver spoon in his mouth, went from being the son of the best footballer in the country to barely being able to make ends meets. He might not have been blessed with luck, but he was certainly bestowed with the best of talents to play football. Still, growing up in the footsteps of his father was tough and it was Valentino's former team-mate Benito Lorenzi who stepped in to help the Mazzolas.
"One day, Benito Lorenzi, the Inter forward who played with my father in the Italy team and was a very close friend of his, came to my house. He asked my mother to let me to go to Milan to become the team's mascot. Giuseppe Meazza was also greatly affected by the Superga disaster and went out of his way to help my brother and I. The two of us would put on the full Inter kit, walk out with the players and stay by the side of the pitch during the matches. Even as mascots, we were on bonuses and we used to get 10,000 lire for a win and 5,000 for a draw. It was a lot of money for our family."
Sandro, along with his brother Ferrucio, was enrolled into the Inter Milan youth academy and with glowing tributes from Lorenzi, Mazzola finally made his Inter debut ( a decision which infuriated a lot of Torino fans)  in 1960 at the age of 18, scoring his team's only goal in a humiliating 1-9 loss to Turin giants Juventus. The following season saw him slowly stake a claim in the team and over time he cemented a spot for himself playing as a classic trequartista for the Nerazzurris. His first silverware arrived in the form of the 1963 Seria A title, in which he played a vital role and contributed with ten goals in the season.
"It was very difficult when I was young because everyone expected me to be as talented as my father. But I didn't have the same qualities as him. The fans sometimes made very negative comments about me and that was hard to take, and it got so bad I was even thinking about giving up football at one stage."
Mazzola was soon catching the eye and imagination of the footballing world and on the back of a great title-winning season in '63, he earned himself a call-up to the national team. Things were looking up as the young Mazzola set off to create a legacy of his own and become an Inter legend in the process. His name was etched in the history books after a superb performance in the European Cup final against the mighty Real Madrid in which he scored two goals in a 3-1 win over the ageing Los Blancos and helped his club lift the trophy for the first time in their entire history. He then scored in the Intercontinental Cup to help Inter to victory.
I played against your father. You did him proud and I want to give you my shirt." – Ferenc Puskas after the game.
Sandro was no one-season wonder and he proved this when he became the Capocannoniere next season, scoring 17 goals in total and leading Internazionale to another Seria A title. They remained dominant as ever in Europe and won  back to back European cups, this time at the expense of Eusebio's Benfica. By now, Mazzola was one of the most feared and sought after players in Europe and was the driving force in Heleno Herreira's Inter team, one which had mastered Catenaccio. They reached the finals of the European for the third time in 1967 but fell prey to Jock Stein's Celtic in a 2-1 defeat, with Mazzola scoring Inter's only goal of the game.
Sandro had by now experienced all the glory there was to club football, but was yet to achieve anything on the national front. This jinx was to end when he won the 1968 European Championship with Italy, beating Yugoslavia in the final. Mazzola was named in the UEFA team of the tournament. He was also a part of the famous  "staffetta" scheme of coach  Feruccio Valcareggi during the 1970 World Cup. Under this scheme, Valcareggi deployed Mazzola and Rivera for only one half a match as both played in the same positions. Mazzola would play in the first half and Rivera in the second. In the final however, he abandoned this and played Mazzola till the 82nd minute as the Azzuri put on a shambolic performance to go down 4-1 to what is considered by many as the best Brazilian side ever. Mazzola represented his country a total of 70 times, scoring 22 goals in the process, and retired after the team's dismal performance in the 1974 World Cup in West Germany, which saw them exit at the group stage.
He won his last major trophy with Inter in 1971, winning the Scudetto for the fourth time in his career and though his last years as a footballer were not as trophy laden as the earlier ones, he never left Inter. All he ever wanted to do was to play for Inter, and that was all he ever did. Mazzola retired in 1977 after 17 seasons with the club. In all, he amassed 417 league appearances for Inter scoring 116 goals. Mazzola continued to serve the club after retirement and held various management positions between 1977 and '84. He again returned as Director of football in 1995 and made many key signings, most notably those of Javier Zanetti and Andrea Pirlo.
Sandro Mazzola was always the player who stepped up his game an extra notch in those tension filled nail-biting finals. He always found that motivation and drive others seemed to lack when most required and he scored in almost every big final Inter played during his time at the club. Growing up as the son of the legendary Valentino, it was never easy being him but he carved out a niche of his own and went about fulfilling his dreams. Inter was there for him when he needed them the most and over the years he repaid the debt in full, never once leaving the club during his playing days. To this date, Mazzola remains one of the few 'one club man' in modern football.