Legends of International Football - Andriy Shevchenko
5.64K //
11 Jul 2013, 00:32 IST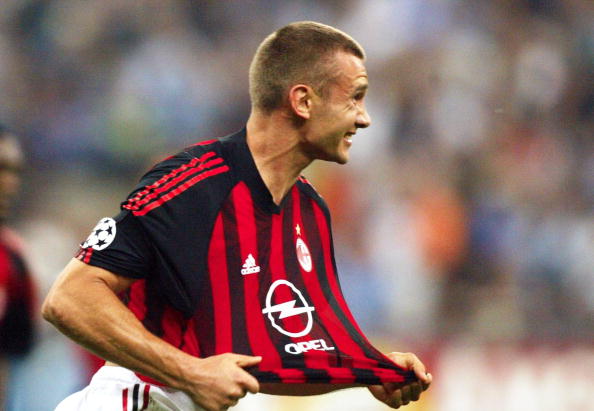 The astronomical sums being stumped up for world class goal scorers speak volumes about the importance of having a prolific centre forward in a top European side. 50 million GBP for Fernando Torres, 43 million for Falcao, a 54 million GBP release cause for Edinson Cavani – all of this underlines just how highly goal getters are regarded in the modern game, irrespective of whether that centre forward justifies the price tag.
But what is indisputable is that players demanding such hefty sums are players in a class of their own, with extraordinary levels of finesse, intelligence, technique and skill. One such player is the focus of this article, a Ukrainian sniper by the name of Andriy Shevchenko.
Andriy Shevchenko began his road to greatness as a 9-year-old, enrolling in the 216th City School's (Kiev) footballing division. He had an early interest in boxing too, but chose to pursue football. At the nimble age of 9, Shevchenko and his family moved to the Eastern coast after the Chernobyl nuclear tragedy struck just 180 kilometres from his village.
Just 4 weeks after moving, he was spotted by Dynamo Kyiv scout Alexander Shpakov while playing in a youth tournament. Impressed by what he saw from the young 10-year-old, Shpakov invited Shevchenko to enroll in Dynamo Kyiv's youth program. He travelled across Europe as a part of Dynamo's U-14 team, winning the Ian Rush Cup in 1990.
As a reward for finishing as top scorer, Shevchenko received a pair of football shoes from the legend himself. 'Funnily enough, the boots were too small for me but I still tried to play in them – until my big toes poked through,' Shevchenko said about the coveted shoes. To this day, he has kept those shoes with him.
At the age of 16, Shevchenko failed a crucial dribbling test for entry into a specialist sports university in Kiev. Forced to reconsider his options, Shevchenko decided to play on, a move which eventually paid dividends as he broke into Dynamo's second team a few weeks later.
About a year later, as an 18-year-old, Shevchenko had made it to Dynamo's first team. It was here that Shevchenko's fame saw an exponential increase. His statistics in Kyiv speak for themselves; he won five consecutive league titles in five seasons, scoring an incredible 60 goals in 118 appearances.
He also notched up an extremely impressive 20 goals in the Champions League, scoring 10 in one season alone (1998/1999). It was this season that proved to be the highlight of Shevchenko's career, where he caught the eye of scouts everywhere with his displays.
Shevchenko began Kyiv's European campaign by scoring a goal against Lens in both matches and a penalty against Arsenal which helped Kyiv finish first in their group. He then became the first Ukrainian player to score a hat-trick in a European competition; he did this against FC Barcelona, in the first half alone.
"In Kiev we had beaten Barcelona 3-0, and a friend said, 'Let's see how you do in the return,' and bet me I wouldn't score three goals. He ended up buying that dinner," he said about his feat. (Sheva, Godfrey Deeny).
He then continued his blistering vein of form by scoring a hat-trick over two legs against Real Madrid, and then rifled in a brace against Bayern Munich in the semifinals, where they were eventually knocked out after conceding a 3-1 lead initially.
Shevchenko attributes his early rise to prominence to Valeri Lobanovsky, Dynamo Kyiv's youth coach, who helped Shevchenko get over his addiction of smoking, as well as trained him resolutely at the military-esque Kontcha Zaspa training camp.
Lobanovsky's admiration for Sheva was mutual, which was evident in the fact that he fondly called him "The White Ronaldo", a title which stuck with him.
In 1999, after ending with a blistering 28 goals all season, AC Milan came calling for his services, snapping him up for a then record fee of 18 million GBP. Shevchenko did not disappoint as he hit the ground running, scoring in his debut game for the Rossoneri. He finished the season with a remarkable 24 goals in 32 appearances, bagging the capocannonieri (top scorer) award in his debut season.
The White Ronaldo had now broken out of the mould of the iconic Brazilian hitman, and he was rewarded with the title of "Super Sheva", which was bestowed upon him by the Milan faithful. He carried on his excellent form into the next season, scoring 24 goals in 34 games in the 2000/2001 season, including 9 in 14 in the Champions League.
Although he struck only 5 times in 24 games in an injury-stricken 2002/2003 campaign, Shevchenko became the only Ukrainian player to win the UEFA Champions League, as he scored the winning penalty against Juventus. After the victory, Sheva flew down to Kyiv, and placed his winner's medal on Valeri Lobanovsky's grave, who passed away in 2002.
The 2003/04 season turned out to be a charmed one for Shevchenko as he bagged his second top scorer award, finishing with 24 goals from 32 appearances. His telling contribution also helped Milan to their first Scudetto in five seasons. He scored the winner against FC Porto (managed then by his future boss Jose Mourinho), as Milan also won the UEFA Super Cup.
Shevchenko also put three past Lazio, as Milan added the Italian Super Cup to their trophy cabinet. He finished a fantastic season by being inducted into the FIFA 100, and by winning the prestigious Ballon D'Or. In November 2005/06, Shevchenko became the only player to score 4 goals in a Champions League away game (5th overall), in a 4-0 thrashing of Fenerbahce. That season ended painfully for him though, as he missed the crucial spot kick in the famous "Miracle of Istanbul" game against Liverpool.