Liverpool's last chance in Europe: Udinese vs Liverpool
785 //
05 Dec 2012, 12:47 IST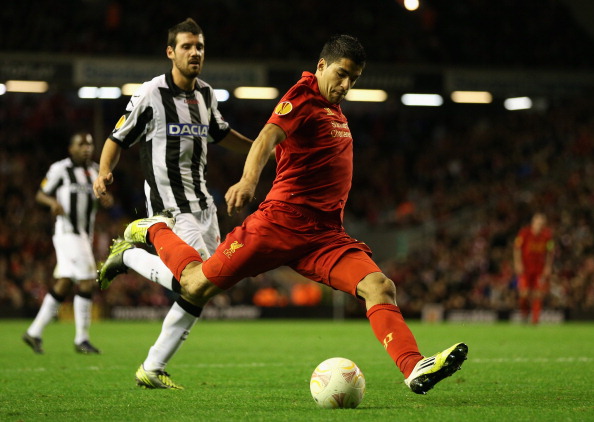 "Whatever happens, happens for the best" is an old adage often used depending on the circumstances. While the yellow card against Southampton earned Suarez an automatic suspension for the West Ham United game the coming Sunday, it was a silver lining in reference to the European prospects of Liverpool FC.
For the first time in Europe, Suarez will be travelling with the squad and is a certain starter, especially with a weekend off in the Premier League. Rodgers will welcome the addition and it is for certain to boost Liverpool's chance of progress in Europe, where Liverpool has blown hot and cold throughout the campaign. They have to go for the win against an Udinese side that is already out of Europe but have a chance to finish their campaign on a high.
Over the weekend, both teams racked up wins. While Udinese thumped 4 goals past their opponents Cagiliari, Liverpool also took the honours in their fixture against Southampton. Liverpool, though, would like to score more than once and would prefer to be ahead in the game. All the talk about possession play and dominance has been belittled by defensive errors over this campaign. In the game against Young Boys, even when Liverpool took the lead towards the end, their inability to defend is what has left them feeling the pressure in this game.
Although there has been some insistence by Steven Gerrard to play some role in this important game, it is unlikely that he will start. Brendan Rodgers would be rather keen to get the job done without the captain having to make an impact as an important fixture against West Ham lies over the weekend, where the captain's guile will be necessary to overcome an outstanding West Ham side who hammered the Champions League holders last weekend.
Lucas Leiva may not start the game but, as has been pointed out by Rodgers, he does bring the balance to Liverpool which makes Liverpool a formidable threat. Udinese, though, will be wary of all this and they will believe that they can contain Liverpool. As was seen at Anfield, Udinese have the firepower and have the attacking mindset as well. But it is unlikely that they will start Di Natale, instead a run for the other not-so-regulars is expected.
With the hectic schedule for Christmas Period in mind, Rodgers would do well to achieve a balance of good football and results and keep his fingers crosses for injuries. Already he has implied that he has used Sterling for more games than necessary, but the squad is very thin and with the second eleven putting up underwhelming performances, there has been little respite for Rodgers. Cole, Downing and Henderson still are finding their feet under Rodger's regime and it's unlikely that Liverpool will persist with them till the January transfer window. Only Henderson has time on his side so that gives him breathing space.
There has been no shortage of inspiration within the Liverpool squad itself and you only have to look as far as Enrique and Lucas, the latter returning from consecutive injuries and the former who after the initial differences with Rodgers has suddenly become a livewire and also one of the most consistent performers since his return into the first team squad, be it in attack or defense. For the moment though, Liverpool will hope to keep their European campaign alive with a positive result.