Will make sure Luis Suarez feels me on the pitch in Champions League final: Patrice Evra
5.20K //
14 May 2015, 05:04 IST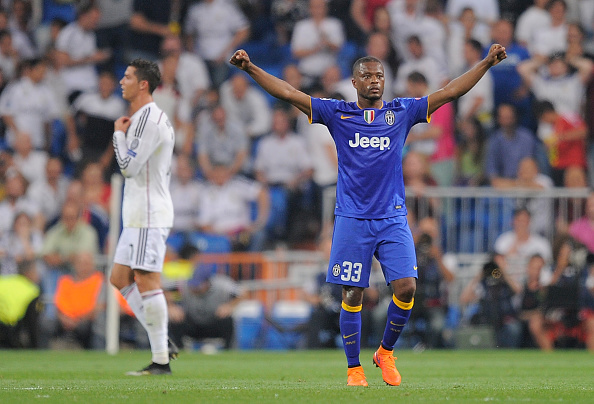 Patrice Evra, who had famously refused to shake Luis Suarez's hand in their Premier League days, has said that he has no problem taking the Barcelona striker's hand before the Champions League final on June 6, but that he will make sure to trouble the Uruguayan on the pitch.
Evra said, "It doesn't matter; the most important thing is that I play in the final. I am proud to be what I am, I am proud about my colour, and I will shake his hand, it is no problem. But I will make sure he will feel me on the pitch."
Suarez was banned for eight games for racially abusing the former Manchester United defender while playing for Liverpool, when the teams met in the Premier League in October 2011. In a subsequent meeting, Evra refused to shake Suarez's hand, but he insists that the Champions League battle will be restricted to the pitch.
As a result of Juventus' 3-2 aggregate win over Real Madrid, Evra's will be playing in his fifth Champions League final, having previously featured in the occasion for Monaco and Manchester United.
Suarez will meet another old nemesis in the final in the form of defender Giorgio Chiellini, who was the other involved party in the biting row in the 2014 World Cup, the incident which threatened to derail the striker's career.
David versus Goliath battle: Evra
"Of course we can beat Barcelona," Evra said. "They are human beings. People forget that Juventus have a lot of players who have already won the Champions League. There are players who have played in other finals, like myself. This is my fifth final. You never know.
Juventus boast of star power with the likes of Gianluigi Buffon, Arturo Vidal, Paul Pogba, Anrea Pirlo and Carlos Tevez in their ranks, but it has been young striker Alvaro Morata who has gone from strength to strength over the course of this season – his meteoric rise not completely co-incidental with the success garnered this season at the Old Lady – the Italian club will be playing in an UCL final after a gap of 12 years, and are in line to winning the treble.
"It's going to be a tough game, David versus Goliath. But in football anything can happen. In Monaco we had our most difficult game, and against Madrid everyone thought they would win. That is where you see the great character and personality of the Juventus players."
Evra also pointed out the massive threat Barca's strike trio will pose to the Juventus defence, saying that earlier Barcelona teams might have been more complete but did not have the attacking bite of the current team.
"Barcelona is still Barcelona. I think against Manchester United (in 2009 and 2011), they were more a team, a very strong team. Now they have three players in the front, Messi, Neymar and Suárez, that can make the difference. You can be strong like in the last five, 10 minutes against a team like Madrid, but these three players can score any time. You have to be ready."