Man Utd vs Newcastle: On the goal that stood
1.72K //
27 Dec 2012, 13:38 IST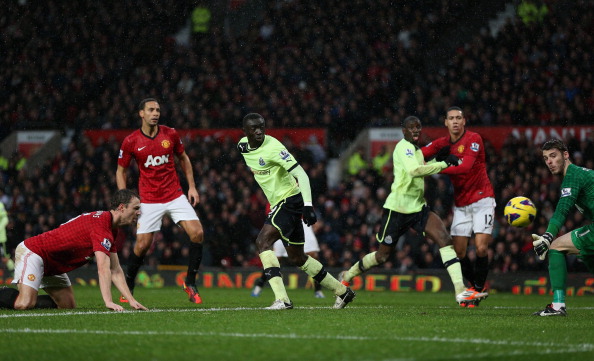 Boxing day. Old Trafford. The premier league. Manchester United. Newcastle United. Action is guaranteed. Controversy, more or less so, too.
Action, there was plenty of. Controversy? Indeed.
Newcastle took the lead. United hit back. The game was heading into the break all level. Anita got the ball 30 yards from goal. He passed it onto the onrushing Danny Simpson. Evra was woefully out of position. Simpson accepted the invitation. He shot, more in hope than anticipation. The ball took a deflection. It ended up in the back of the net. The ref blew his whistle to signal the goal. Newcastle celebrated. The linesman raised his flag. Suddenly, there was some confusion. Would the goal stand? The ref, Mike Dean, consulted with the linesman. He did give the goal. United, the Newcastle variety that is, celebrated. United, the Manchester variety that is, seethed in fury.
The linesman raised his flag for he felt that Papis Cisse got the final touch, and when the final call was made, he was indeed offside. Of that, there can be no question. However, it was subsequently shown that it was indeed Evans who got the final touch and not Cisse. In that vein, the goal stood and Evans, who only minutes before was United's hero, was now the villain. The larger question is, however, if the goal should have stood.
I think not. Allow me to explain.
The law states that the player who is flagged offside can be flagged offside on the basis of him interfering with play. Note that he does not really have to touch the ball. He only needs to be in a position influencing play. No one, not even the more ardent Newcastle fan can argue that Cisse was indeed in a position influencing play. Quite simply put, if there was no Cisse on that position, there would have been nothing harrying Jonny and hence, the chances of the own goal would've been remarkably lesser. Hence, Cisse was indeed interfering with play.
To the argument that Cisse never actually touched the ball, well, riddle me this. If only touching the call amounts to being in a position to influence play, how come offsides are given and whistles blown when a player in an offside position just runs towards the ball even before he touches it? Isn't he in a position capable of influencing play? Or better still, say Simpson had taken the shot as he did. Say Evans touched the ball as he did. Say the ball did not end up in the back of the net but if it had deflected to Cisse instead. Would Cisse have not been given offside? Food for thought, what?
In the end, Manchester United did indeed pick up the points and this decision would not be played up as much as it might have been done otherwise. However, the relative insignificance of the decision in retrospect cannot possibly take away from the fact that it was indeed a poor one.