Manchester City fan denies abusing Barcelona's Neymar, labels the Brazilian a diver
4.12K //
26 Feb 2015, 12:06 IST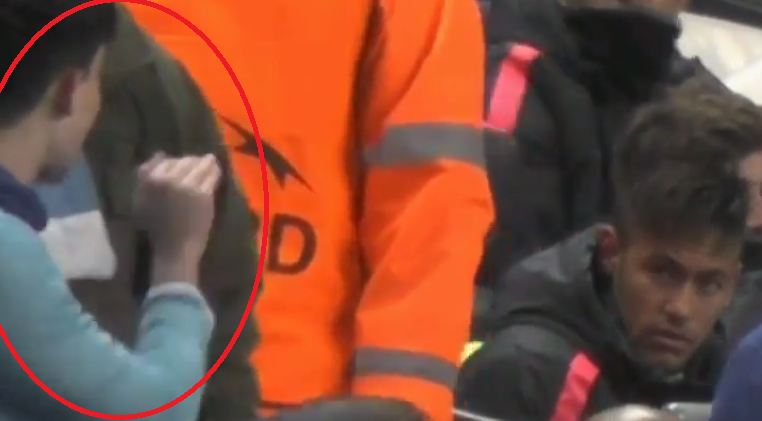 Neymar's spat with the Manchester City fan, after Barcelona's Champions League win against City at the Etihad, has taken another turn with the fan in question deciding to speak up. The City supporter, identified as Aziz Hammad, has hit out and accused the Brazilian international of unprofessional conduct.
In a video of the incident, Neymar could be seen staring at Aziz from the visiting dugout before approaching him after the final whistle. The 19-year-old fan admitted to having tried to provoke the attacker by suggesting he was a diver but feels the former Santos man acted excessively to his jibes. The stewards had to intervene to diffuse the situation.
Aziz said, "He stared at me for a few seconds and looked to see if his manager was watching. Then he gestured for me to come over but straight away the whistle went. Then he came over and put his face right in my face. I didn't know whether he was going to push me or what he was going to do."
"He was saying something to me in either Portuguese or Spanish but I couldn't understand him. I kept doing the diving gesture to annoy him. Then the stewards pulled me away and he went down the tunnel."
Aziz insists he didn't do anything wrong
In a post-match interview, Neymar claimed that Aziz had verbally abused him during the incident. Neymar said, "He began to curse me and I ended up mocking him. I can't repeat [what was said]. My mother gave me an education."
But Aziz, who is a student at the Manchester University, denied speaking to Neymar and maintains he only stuck to the diving gestures.
He said, "I didn't do anything wrong, I just did what all the other fans were doing. I don't speak Portuguese. That came from the upper tier when he was substituted in the 80th minute. All I did was make the diving gesture straight after the penalty."
"Throughout football he is known for being a diver and half of the stadium were probably doing the same thing. And that's normal. If you are a professional, you expect to expect to be goaded by the home fans. That's football. But he has singled me out because I was stood up."
"I think he was angry about the other incident and has taken it out on me. He was very unprofessional. But I don't want to be in danger of losing my season ticket and want to make it clear I did nothing wrong.