Manchester City vs Tottenham Hotspur: Match preview
795 //
11 Nov 2012, 10:54 IST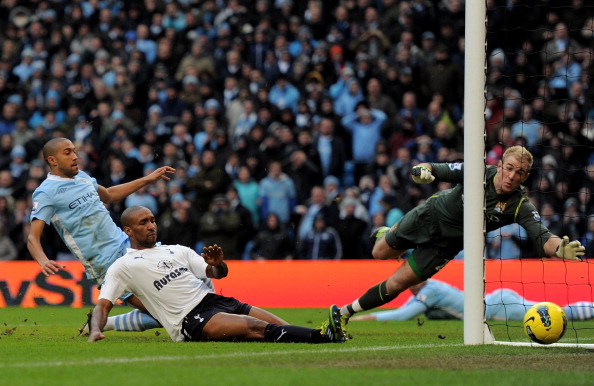 Stadium: Etihad Stadium
Referee: Michael Oliver
Kick-off: 7:00 PM IST, Sunday, 10th of November
After a frustrating 0 – 0 draw last weekend, Manchester City find themselves sitting 5 points behind league leaders, Manchester United ahead of a visit from London club Tottenham. It has been an abject week for City already, with a 2 – 2 draw against Ajax in the Champions League virtually guaranteeing an early exit from Europe's elite club competition, for the second year running. Mancini's men will be keen to bounce back as soon as possible, and keep up their unbeaten start to the Premier League this season.
Tottenham, under their new manager Andre Villas Boas, have been good on the road this season, with three wins, including one at Old Trafford, and only a single loss. They have, however, relied wholesomely on their midfield a whole lot, and with some key players likely to miss this game, they might have to rethink their strategy for taking on City. With Arsenal's 3 – 3 draw against Fulham yesterday, City now have the best defensive record in the league, and the cockerels will certainly have their work cut out if they wish to score.
Manchester City: W L W D D
Over the past few weeks in the league, Manchester City have been slowly descending from the formidable performances of last season, including one on the final day, that made them champions for the first time in the modern era. A series of dull, lucky victories have kept them on track, but their struggle to find the back of the net has already cost them 2 vital points at West Ham. Top scorer Edin Dzeko has only started 3 games for the sky blues thus far, and will be feeling bemused as to why he doesn't have more opportunities in the starting line-up.
With only 3 goals in their last 3 Premier League games, while United have an average of 2.9 per game, City have also fallen off track on the goal difference column, which held them in good stead last year. The defence, however, has been top notch, with Nastasic stepping up well, and Joe Hart only getting better and better as the season progresses. With the numerous options that Tottenham possess in attack, this may be key to achieving success in front of home fans.
Tottenham Hotspur: D W L L W
After a flying start to the season, Tottenham have had a slight dip in form, with 2 losses in their last 3 league games, and an exit from the League Cup. This has coincided with injury struggles for some of their key players, mainly in midfield and attack. Dembele has been particularly good since his arrival from Fulham, but is set to miss this match, with Sandro likely to step in, albeit with fitness concerns of his own.
They have had their fair share of problems going forward as well, with Jermain Defoe the only goal scorer of note, apart from Gareth Bale, who has done his bit as a midfielder. Defensively, Tottenham have the third worst record of the top 10, behind Fulham and Manchester United, who have both scored plenty more goals than the Spurs. Thus, it will be up to Brad Friedel and co. to shut shop, and try to keep only their second clean sheet of the season.
Injuries, Concerns & Suspensions
Manchester City: Jack Rodwell, Micah Richards, David Silva, Joleon Lescott, James Milner.
Tottenham Hotspur: Mousa Dembele, Benoit Assou Ekotto, Younes Kaboul, Scott Parker, Sandro, Jake Livermore.
Yaya Toure vs Sandro
If there's one thing AVB would have learnt from watching tapes of City's game last weekend, it would be that keeping Yaya Toure quiet is the key to stopping City driving forward at will. Diame and Noble were top notch against Toure last weekend, hurrying him off the ball, and putting in snappy tackles to stop him from going forward, and were rewarded for their efforts with a point against the Champions of England. Similarly, it will be up to Sandro, if he starts, and Huddlestone to try and keep the Cote de'Ivorian beast quiet, and earn their defence some breathing space. Sandro himself is a great threat going forward, with great ability to shoot from range, and should make for a riveting match-up in midfield.
Gareth Bale vs Pablo Zabaleta
Playing in front of Vertonghen, on the left side of the Spurs' lineup, Bale has continued to impress fans of the footballing world with his ever-improving performances. With two assists in the comprehensive midweek win over Maribor, and a goal against Southampton the weekend before last, Bale is in good form, and will be relishing the opportunity to have a go at one of the best defences in the world. Seeing as Vertonghen likes to drive forward as well, and Nasri's defensive side isn't particularly impressive, right back Zabaleta might have his hands full. However, as the veteran Argentinian has shown this season, he is quite capable of taking his game to the next level, although whether that will suffice remains to be seen.
A compact, well organised Manchester City to weather the Tottenham attack, and emerge with the 3 points. City have turned the Etihad into an absolute fortress, and in spite of one or two recent breaches, have been dominant in front of home fans. The difference in tactics between the Italian Mancini, and the Portuguese Villas Boas is easy to spot, and the contrasting styles promise an interesting game of football indeed.