Manchester derby: Things that went unnoticed
2.20K //
11 Dec 2012, 00:34 IST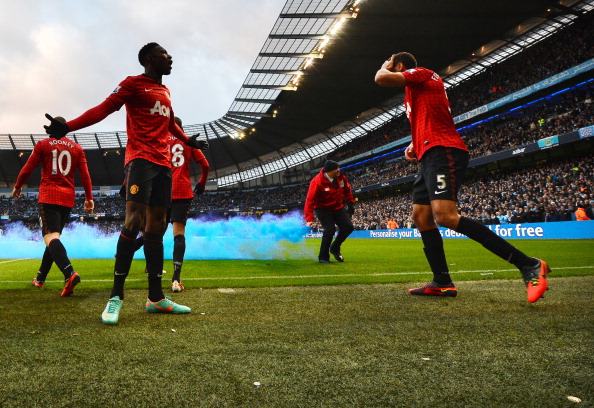 The much-anticipated Manchester derby is over, and while everyone is busy with the Manchester City fans' reactions and Samir Nasri's late deflection, here are some of the things that went unnoticed. Of course they are not special, but these little things made a lot of difference.
Rooney needs to play as a second striker not as a midfielder
In recent times, with the unavailability of a proper playmaker, Rooney had to play deeper, receiving the ball from defence and then trying to create something. It worked for few matches I have to say, but Rooney is a natural goal scorer and it's scoring that defines a world class player. There were some arguments I read before the match which said that Torres and Suarez had more goals then Rooney. Some United fans would say that that was not a valid comparison, as he had to play in midfield. But the point is that he belongs in the league of big strikers like Ronaldo, Messi, Falcao and Ibrahimovic, and it's the number of goals they score which defines them. So if Rooney starts to play in his natural position like yesterday, not only will he score more goals but he'll also take the burden off van Persie's shoulders.
Welbeck's introduction changed it all
This should go down as a master stroke from Sir Alex Ferguson. I mean, who would have brought on a striker for a midfielder at the time when the opposition were going forward with all guns blazing and with only a few minutes left on the clock. But what makes Sir Alex Ferguson great is his ability to anticipate. He would have thought of using Welbeck to break on the counter while City were attacking, keeping in mind that City were without their power houses Toure and Kompany. And the same happened exactly. Welbeck dispossessed Clichy, and a few moments later, what happened was history. Maybe some fans were thinking, 'Why not Chicharito?' I hope they got an answer over there.
Ashley Young had his best game of the season so far
I remember so many Manchester United fans complaining that Ashley Young is not fit at the club, dives a lot and can't cross the ball with his left foot. However, one has to give credit to Ashley Young for raising his game for the occasion. First his interplay with van Persie which led to the first goal, and then poaching in the box to score a goal which was ruled out wrongly. He was also tracking back well to help Patrice Evra. I remember his days at Villa Park when he used to go into box regularly and got himself many goals. Let's hope he continues to play like that. Consistency will be a key factor.
Rio Ferdinand and De Gea are big game players
Not saying that they don't play up to potential against mid-table teams. But they both have a tendency to put in a great performance in big games rather than those against mid-table teams. Two instances from yesterday's match: first, Rio Ferdinand's timely interception to Silva's pass which was sure to go into the back of net had the pass been completed to Aguero. Talking about De Gea, there's no doubt about his shot-stopping ability, but it's aerial crosses in the six-yard box that causes him problems . But on this occasion, the Spaniard looked more confident and came out on numerous occasions to punch the ball and clear his lines. The signs of confidence that were lacking during the first season seem to have come back, not to mention the save he made from David Silva's close range effort. Most people thought that it was a fluke, but in truth it was a brave save. The other saves he made looked easy, but were nonetheless great saves.