Manchester United legend, and one of the few players to have featured for both Manchester clubs, Denis Law believes that the blue moon is indeed rising after 30 odd years of bewilderedness. The 71 year old hails the rivalry between the two clubs and thinks that its good for Manchester that they have two really good teams.
"It's lovely for the city of Manchester to have two good teams, as they had in the Sixties. It brings the city of Manchester to the world. City had a really good team in the Sixties – Francis Lee, Mike Summerbee and Colin Bell. They were winning everything. I'm excited by City now. One of my children is a City fan so he's delighted because he hasn't had a real good life these last few years"
Law added that its good to see City playing attacking football after their defensive approach throughout the last season was severely criticized. City are currently on the second place in the premier league table, behind United only by goal difference. City have scored 12 goals in their opening three fixtures (4 vs. Swansea, 3 vs. Bolton, 5 vs. Tottenham). Law also remembered his playing days under Sir Matt Busby who always urged the players to entertain the fans and play attractive football.
"City went for it against Bolton recently and it's nice to see teams like City and United scoring goals. United have always been famous for attacking football.

"Sir Matt wasn't greatly into tactics. He just wanted you to entertain the people if you can, try your best. It was lovely to play under Matt with Bestie [George Best], Bobby [Charlton], Pat Crerand, Nobby Stiles."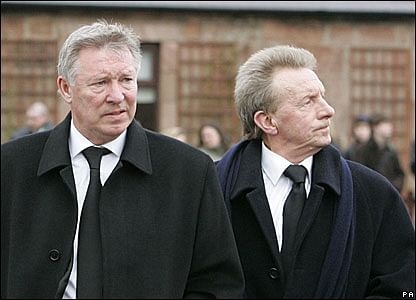 Comparing Sir Alex with Matt Busby, Law added:
"As a manager, Sir Alex [Ferguson] is the spitting image of [Sir Matt] Busby really. He doesn't have the same temperament by any stretch of the imagination – Busby was calmer — but he also wants to play attacking, entertaining football."
Law, who scored the infamous backheel goal against Manchester United – that led to the current premier league champions' relegation to second division- remembered his own playing days with a smile.
"It was the Swinging Sixties. I listened to The Beatles, Stones, Elvis. I tell my grandchildren that Sixties music was the best period ever. Roy Orbison! Fantastic. I saw Neil Diamond a few times, Manchester, Birmingham, London. He's still going.

"I saw Rod Stewart in the Seventies. Rod's not a bad player. He's got a pitch in his back garden. Unbelievable pitch. Wembley would die for it. I was down there last year and this band was playing Rod's team. It was one of those heavy metal bands I'm not into. Iron something."
Law believes that the 'Holy Trinity' would have done reasonably well against the current Barcelona team, before swinging his thoughts to the time he spent with George Best.
"We [the Best, Law, Charlton team] would have done reasonably well against Barcelona but they played some lovely football [in Wembley final]. When I watched Barcelona play United at Wembley last season they reminded of the old days. Lionel Messi got knocked down, got back up. He didn't roll around like Arjen Robben, the Dutch guy who was at Chelsea, who could roll back to Amsterdam.

"George had courage too. What a good player George was. But we didn't see the best of George. He went on the decline from 27 when you don't hit your peak until 28. I couldn't give him a great deal of advice. I enjoy a beer and a glass of wine at night-time, when the curtains are drawn, but not in the morning. It was sad to see with George.

"He had all the qualities a great player has — doesn't give up, gets kicked, whacked, doesn't stay out of the fray, scores goals."
Speaking about the current Manchester United team, Law reckons that this is the best team United have had in recent times. The striker however admits that the Red Devils will miss the services of Paul Scholes, who retired after the last season.
"They'll miss Paul Scholes; you wouldn't have a better player: lovely passer, didn't roll about, maybe got a bit stuck in too much at times. I enjoy watching Wayne Rooney. When I saw Rooney as a young lad, I knew he's got something special. He's a goalscorer."
Paul Merson predicts the result of Man City vs Inter UEFA Champions League final! Click here