Manchester United seek to seal Champions League progress
692 //
07 Nov 2012, 08:29 IST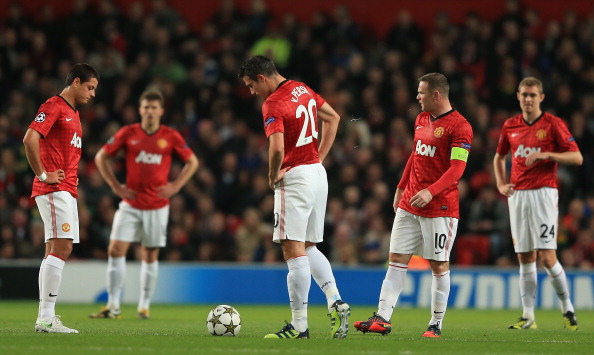 With a return to the well known wide style of play, Manchester United have yet again displayed their flair for adaptability, in their quest for silverware. The new table-toppers of the Premier League take on Portugese club Braga tonight, for the first game of the second round of group fixtures, and Sir Alex Ferguson will hope to have sealed qualification, and top spot in the group by the end of the 90 minutes of action.
Braga, who exploited United's vulnerable diamond formation to take an early 2 – 0 lead in the reverse fixture before conceding 3 goals themselves, will be hoping to run United close again, and perhaps record a victory in front of their home fans. With an average of 19 shots per game in the Champions League this season, Braga have certainly made an attempt to make European progress, but will be hoping for some inspiration from their home fans, and a bit of luck.
SC Braga: D W L W W
After their disappointing loss to United at Old Trafford, Braga have bounced back quite well to win both their subsequent league games, and now sit third in the Portuguese league. And with 5 goals scored in those two games, one can rest assured that Braga certainly know where the net is. The club have often relied on their Brazilian captain, Alan, this season, and he has stepped up to the challenge every single time; something that will be crucial to Braga's chances of success. If the reverse fixture, and United's frail defence is anything to go by, one can expect Braga to try and dominate on the flanks yet again, making life difficult for their English visitors.
Manchester United: W W W L W
A convincing weekend victory against formidable rivals, Arsenal, would certainly have buoyed spirits in the United camp, especially after previous week's League Cup loss to Chelsea. Apart from that one blip though, United have been in splendid form lately, especially in the Champions League, where they have scored victories in all 3 of their games, in spite of not fully hitting their stride. A return to wing-play from the experimental diamond formation has played out well, with Valencia and Young performing admirably at the weekend. With qualification just a point away, United will hope to get the job done as soon as possible so that they may focus on keeping the vicious competition at bay, in the Premier League.
SC Braga: Paulo Vinicius, Paulo Cesar.
Manchester United
: 
Shinji Kagawa
, Nemanja Vidic, Phil Jones, Danny Welbeck.
Alan Silva vs Rafael da Silva
The veteran Brazilian scored both of Braga's goals in the fixture at Old Trafford with well timed runs into the box, and had a good game overall. He has been in good nick this season, with a total of 4 goals from 8 appearances, with 3 in the Champions League, and 1 in the previous weekend fixture. Rafael, on the other hand, has been having an equally good season, personally, for United. Having established himself at right-back, Rafael has seen out many a danger with a growing sense of maturity, in a back-line which has been hit by injury. If he can keep his compatriot quiet for most of the game, it could be a very comfortable evening for United, indeed.
Javier Hernandez vs Douglao
The other player to score a brace in the Old Trafford fixture, Hernandez has been in good goal-scoring form lately, with a total of 6 goals thus far in the season. The speedy Mexican, who likes to play off the shoulders of defenders will be looking to do some decisive damage again, against the likes of Douglao who may struggle with his pace. With a starting spot in the United attack hard to come by, there will be no shortage of inspiration for the man they call El Chicharito. Douglao, who is a great threat from corners himself, will have to keep an eye on Hernandez for the full 90 minutes, as a single lapse in concentration might see his team punished; something they can ill afford.
A tight, cagey  affair, with a possible return to action for Chris Smalling, who has travelled with the squad, to Portugal. Braga have already lost at home to Cluj in the Champions League this season, but have been solid otherwise. Yet, with the amount of quality that United have, even with an experimental lineup, one would tip them to get the job done, with some tight defending, and a professional display. However, with a below-season-average 2 goals per game in the Champions League thus far, it might be a little too optimistic to expect a heavy United victory.