EPL 2016/17: Manchester United set to pay Monaco another £8m when Anthony Martial scores four more goals
The Frenchman became the most expensive teenager when he signed for United from Monaco.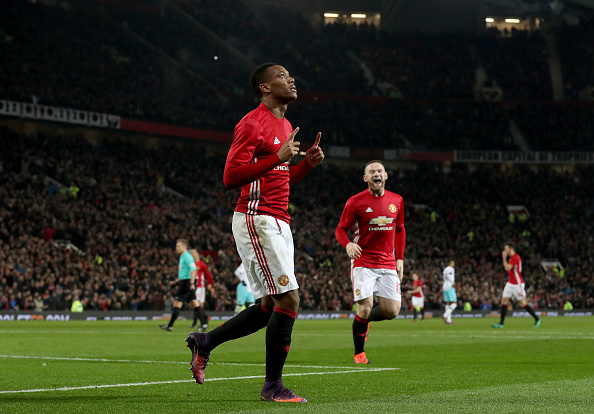 Manchester United winger Anthony Martial scored a brace for the Red Devils against West Ham United in the EFL Cup a couple of nights ago and those were his 3rd and 4th goals this season. The player had impressed considerably last season after a number of good performances and goals under Louis van Gaal, however, under Jose Mourinho he has found fewer opportunities and has failed to establish himself in the starting eleven.
These two goals now mean that Martial is just 4 goals away from triggering a clause in his contract which entails Manchester United to pay his old club Monaco with a huge fee. The clause in Martial's contract states that United will have to pay Monaco a sum of €10m (£8.4m) when the striker reaches 25 goals for the club, according to his contract details that were leaked online.
It includes goals scored by Martial in all competitions like the Europa League and EFL Cup in which he has scored three of his four goals this season. Apart from this, United will also have to pay Monaco another €10m when the player reaches 25 appearances for the French national side, although this only includes the games in which he starts in or in which he comes on a substitute on or before half time.
Also read: Anthony Martial told to make better use of his chances by Jose Mourinho
Martial's transfer fee, when he just arrived was €50m (£36m at the time) but with the pound collapsing in value against the Euro, the further upcoming payments look to be heavier on United.

Currently, the Frenchman has only 15 caps for France out of which only 9 games have met the criteria but it is likely that he will reach the milestone at some point or the other with a number of International fixtures coming up in the build-up to the World Cup.
This means that the 20-year-old could cost the Red Devils another £16m in add-ons even if he does not meet the final clause in his contract i.e a nomination for the Ballon d'Or. If the youngster does qualify for the Ballon d'Or at some point then that would add another €10m fee, thus making the total value of his transfer £61m at current exchange rates.
The attacker is already the most expensive teenage signing ever even without these clauses and once they are triggered he will surely hold that record for a long time.
However, Martial is rumoured to be on his way to PSG according to a number of reports. The forward has scored 4 goals and bagged 2 assists in 14 appearances(including appearances as a substitute) so far this season and has failed to cement a spot in the first team under Jose Mourinho.


More Football news, transfer rumours, analysis and features at Sportskeeda.com. Also if you are attending a football game anywhere in the world and/or have a news tip for us drop us an email at football (at)sportskeeda (dot) com