Van Persie could be Manchester United's next legend
1.02K //
22 Dec 2012, 00:59 IST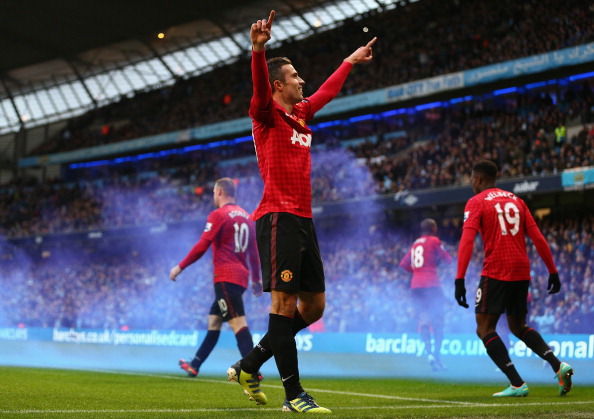 Robin Van Persie was in attendance alongside Ole Gunnar Solskjaer, Dwight Yorke, Ruud Van Nistelrooy and Eric Cantona as the Manchester United honour role of strikers witnessed the unveiling of the Sir Alex Ferguson statue at Old Trafford last month. It was a fitting tribute to a man who, in 26 years at the helm of England's most successful club, had been at close quarters with such attacking greatness.
It is Ferguson who is best placed to pass judgment on Cantona, the eternal enigma who produced his best years under the Scotsman in four title winning years between 1992 and 1997.
Cantona still possess an aura of effortless brilliance and is still regarded as the man who bridged the gap between Ferguson's also-rans of the old Division One to the Premier League behemoth it continues to be. Therefore, it is no modest achievement to be compared to the Frenchman by Ferguson, a man who is now, fifteen years after Cantona's passing, reaping the benefits of a Dutchman who is having the same effect of galvanization.
"A similar profile to Eric" was the manager's verdict when describing Van Persie to Eurosport last week, testament enough to his immediate impact in Salford.
Manchester City's first title win, secured in dramatic fashion on the last day of the season to United's expense, riled the 71-year-old whose will to win rages inside like no other. He promised his side would be back and he turned to the purse strings to ensure it, spending £16 million on Shinji Kagawa and £24 million on Van Persie to give his attack line the same fearsome look it did back in the treble winning year of 1999; for Cole, Yorke, Sheringham and Solskjaer, read Van Persie, Rooney, Welbeck and Hernandez.
It was a move borne out of Arsenal's failure to tie him down to a new contract at the end of a year in which he demonstrated the scintillating form of 44 goals from 57 appearances for club and country.
For a striker approaching 30 years of age with an admittedly poor track-record with injuries, an outlay in excess of £20 million may have represented a gamble but with Manchester City also in the hunt, a claim that since been certified, it was one Ferguson had no problem fast-tracking in order to steal a march on his neighbors.
Five months later, a period in which Van Persie has played 24 games, 17 goals have been scored as Manchester United sit 6 points clear of City in top spot and are also in the last 16 of the Champions League, a feat they did not manage last term.
It is an achievement in itself how the 29-year-old has kept the injuries at bay, there was a suspicion that his prolific year in north London was an anomaly amongst several years of misfortune dogged by ankle and foot injuries that saw him fail to make over 30 league appearances in a single season before last year. This season, he has already made 17 and it is not yet Christmas. His last forced absence was of March 2011 as he finally begins to shake the "injury prone" tag.
Van Persie goals, 12 in total in the league, have provided United with the same catalyst for success Cantona's had done. The defense is still ropey, but Van Persie's goals have earned wins over Liverpool, Arsenal, Southampton, West Ham and Manchester City whereas Cantona famously did the same back in 1996-97 upon his return from his karate-kick induced suspension.
Then, the Frenchman hit winners against Tottenham, West Ham, Arsenal, Coventry, Liverpool in the FA Cup final and most vitally, Newcastle at St James's Park which ultimately decided the fate of the league title.
His goals were a figurehead of the team's success just as Van Persie's are now, there was a feeling that his last gasp free-kick winner in the recent Manchester derby roller-coaster, or his hat-trick at St Mary's to rescue a 2-0 deficit, was an instance of him dragging an imperfect squad from the slipstream to out in-front, it is a huge difference and Van Persie makes it.
His effect not only on the goal scoring charts but on his team-mates has also not gone unnoticed by his manager who was glowing in his reference to the quality summoned in the likes of strike-partners Wayne Rooney, who has tallied eight goals and Javier Hernandez, who has nine.
43 goals have been amassed as a team in total, ten more than closest challengers Manchester City, as they have won 14 of their 17 games. Such a potency has seriously outweighed the vulnerable back-line which has shipped 24 goals as a philosophy of "we'll score one more than you" has seemingly been adopted; Van Persie also scored in the near-ridiculous 3-4 win over relegation threatened Reading.
There is no doubting that Van Persie's impact can be likened to Cantona's but there is an opportunity for the Dutchman to build a comparable legacy, just like the stars he joined to tribute his manager at the end of November. There is a chance for Van Persie to score the goals needed for United to be a consistent force both in domestic competition and on the continent, marking his name in Manchester United's history like the series of greats before him as he does it.
That explains why he listened to the little boy inside when he made his decision between Manchester clubs in the summer, leaving Arsenal behind after seven barren years without a trophy and one glance at the further malaise occurring at the Emirates, minus his 37 goals, suggests the quality he brings to a team.
However, Arsenal is the past for Van Persie and Manchester United promises an extremely bright future.