Manchester United vs Arsenal: Battlelines Drawn as Winner Takes it All
1.32K //
11 Mar 2011, 22:24 IST
Football is a funny, funny sport, you may lay down your life fighting, on that inviting green pasture, but it will treat you as just another casualty in a world dominated by vampires, ready to pounce on that solitary drop of blood that may appear on your skin for a split second. In a game dominated by your ultimate achievements, winners will always be glorified and losers crucified. In a game dominated by 'gold', 'Silver' has always been the official currency. So please as you may, the final applause is always for the Last Man Standing.
Well, Professor Wenger's Arsenal has always learnt their lessons the cruel way. How could the beautiful game be a mere victim when the villains rejoice?  It's still referred to as the beautiful game, right?? Well digress as you may my Gunner friends, there will be no love lost when Arsenal travel to Old Trafford for their epic FA Cup quarterfinal tie against Manchester United. This is not your ordinary Jack tie with a few billions attached to it, this is precious. It's been 15 long years of celebration, agony, ecstasy, and pure hatred (since Wenger joined Arsenal) whenever these sides have drawn swords against each-other. Fiercely fought matches, stoppage-time winners, tunnel incidents (Who can forget that one!), unceremonious sending offs, well it's a chef's special for all you devourers. What was Ryan Giggs thinking when he left Arsenal high and dry on that fateful night with a piece of sheer excellence or that heart wrenching penalty shootout in the final when the Gunners held their nerves to snatch it from United's jaws?? Memories are innumerable and words so few.
So promising you that this encounter would be another treat for a football freak is saying Justin Bieber is gay. For heaven's sake, even a cuckoo knows that!! So my endeavour is to portray this tie as a blessing from Cupid, yes Cupid, as Arsenal and Manchester United are, well, a couple made in Heaven! On a much serious note, this match holds epic proportions for both teams as they are logged in a pulsating title race that may well get decided on the final day of the season. So, drawing first blood can give a significant psychological edge to the winner of this tie. On yet another level (if there's any left), this match assumes astronomic importance as Manchester United and Arsenal are the front runners in FA Cup title tally, with the former taking home 11 titles to the latter's 10. The tie could not have been better placed as both teams are on an indifferent run lately and would like to resurrect their title campaign, more sooner than later. If you are still in a confrontation with your grey cells as to the enormity of this tie, well get high and jump from the nearest cliff.  So with the doubters gone, lets kick-start the preview.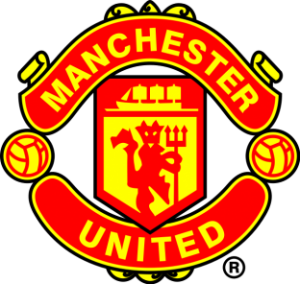 Manchester United
One of the most decorated clubs in English Football, Manchester United are in the search for that elusive n.n.n.n.n.n.n.n.19th Premier League title to break Liverpool's long-standing record of 18 titles, and as irony may have it, they again have to outsmart a certain Mr. Wenger for this one. And how about knocking them out of FA Cup to start with sounds, Sir Alex?
But for that to happen, the league leaders will have to strike their form soon as they have seen a downslide of sorts in the recent run-in with successive away defeats to Chelsea and their most bitter rivals, Liverpool. The defeats proved too much to swallow as Fergie imposed a media blackout on the club.
With Wayne Rooney finding it tough to replicate his Midas touch of last season, the offensive responsibilities have fallen on the shoulders of Berbatov and the promising, young Mexican Javier Hernandez. Though they have risen up to the challenge with much aplomb, it has been United's defensive pairing of Vidic and Ferdinand that has salvaged their title aspirations so far. With Ferdinand out to a calf injury, it will be the assured Smalling who takes his place. Despite the return leg tie with Olympique Marseille looming large, Ferguson is sure to pick up his best soldiers for the tie, due to its magnitude. And as with Ferguson, you can always expect a trick up his sleeve and who better than old foe Wenger, to pull it off against.
Team news
With the talismanic winger Nani out for over a month (courtesy : Jamie Carragher),  Fergie faces a selection dilemma with Valencia still a few weeks from return. Rio Ferdinand sits out with a calf injury as does the big match player, Ji Sung Park.
With the marauding wingers being their supreme threat, Sir Alex maybe inclined to play Obertan on the right with the ever-reliable Giggs on the left. Darren Fletcher can also be deployed in right midfield……but knowing Ferguson, he would like to sit deep with 3 midfielders coping up with the runs of Wilshere and Nasri.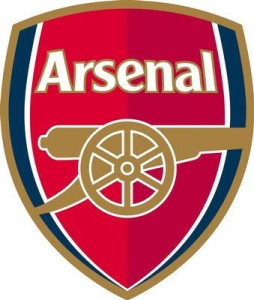 Arsenal
Arsenal's aesthetic style of play, though soothing to the eye, is yet to repay significant dividends as they have been on a barren run since 2005. And the critics have had happy wagging days since eternity with some labeling the Gunners as 'bunny boys', 'chokers' and 'schoolboys' to name a few. They have even been referred to as a 'Football Center' by a certain Mr. Patrice Evra . Arsenal, on the other hand, have supplied fuel to the fire, let alone extinguish it, by committing suicidal errors and by peeing in their pants with the mere mention of a Cup Final.  Wenger's young guns have been a bunch of nerves every time they have vied for top honours.
Within the past 2 weeks, they have gone on from contending for 4 titles to 2 and if they are not able to overcome their mental block, Arsene Wenger's side is looking at another trophyless campaign. They missed a golden opportunity to lift silverware as Koscielny committed a 'schoolboy' error and Birmingham made them pay in the Carling Cup final and they were completely knocked out by the more illustrious opponent in Barcelona at Camp Nou in the Champions League, though they may feel a bit undone by the harsh sending off of RVP at a crucial stage. Gunners' inspirational skipper, Cesc Fabregas, has been an injury-magnet as he suffered a hamstring injury, yet again against Barcelona.
Arsene Wenger will have to be at his tactical best if he has to better a wounded United, hungry for blood. If he does cast his spell at Old Trafford, it would be a night to remember for the Gunners and may well prove to be the catalyst in their title campaign.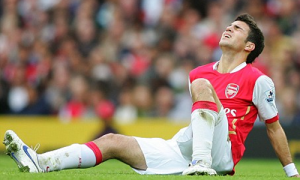 Team News
Arsenal have always been at the receiving end of injuries, call it fitness issues or sheer bad luck. With Fabregas and their sprinter Walcott sidelined due to injury, Wenger is in dire straits to put up a competitive side against United. Manuel Almunia will guard the goal as Szczesny dislocated a finger at Nou Camp. With Alex Song warming the bench owing to a knee injury, the responsibility of carrying the team forward rests with the phenomenal Jack Wilshere and the man of the moment Samir Nasri. Denilson may get the nod alongside Wilshere to disrupt United's link-up play.
Robin Van Persie will have to be at his scintillating best so as to cope up with the defensive wall of Vidic and Smalling. With Bendtner finding his scoring boots recently, the Dane might just be the X-factor due to his aerial ability.
Players to Watch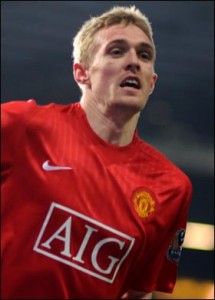 Manchester United – Darren Fletcher
The Scotsman has become indispensable to Fergie's current squad and his importance was reiterated when Liverpool toyed with United's midfield with Carrick no more than a spectator. With Fergie an admirer of a strong midfield in big matches, he's sure to get the nod alongside Scholes and Carrick to mark the runs of Wilshere and Nasri. Fletcher is a constant threat to the opposition due to his clever positioning and shooting ability and his marauding runs, with Scholes sitting deep, can wreak the mightiest of defences. His ability to disrupt play and tackle aggressively may be a source of anathema to Arsenal.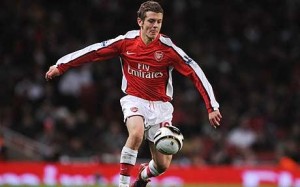 Arsenal – Jack Wilshere
If you are 19, you just maybe entered into a college and are trying to sort out your life with volumes and volumes of books or are just tee-totalling with dreams of becoming the next Warren Buffet. Well this lad decided to play for Arsenal and what an impact the diminutive Englishman has made!! With a midfield comprising of Fabregas,  Nasri and Song, the best you can hope for is a reserves place but he has already shimmied his way past midfielders of the stature of Xavi and Iniesta at Camp Nou in Champions League, let alone play in the Premier League. His attacking and defensive credentials and his battle with Scholes and Fletcher will decide the course of the match.
Probable Line-ups
Manchester United
Van Der Sar, Rafael, Smalling, Vidic, Evra, Scholes, Fletcher, Carrick, Giggs, Obertan, Rooney
Arsenal
Almunia, Sagna, Djourou, Koscielny, Gibbs, Wilshere, Denilson, Nasri, Bendtner, Arshavin, Van Persie
Head-to-Head
This is the 14th meeting between the two sides in the competition, with the first quarterfinal clash. There have been some fierce clashes between the titans with United narrowly edging Arsenal with 6 wins to the latter's 5.
United are unbeaten in the semi-finals against Arsenal with the Gunners returning the favour in the finals. The 2005 final which Arsenal won 5-4 through penalties is a vivid memory for any Emirates faithful and a sense of déjà vu would be riding high on Fergie's mind.
Total Meetings : 13
United Wins : 6
Arsenal Wins : 5
Drawn : 2
Note :  The draw includes the penalty win for Arsenal.
Predictions
The electric atmosphere of Old Trafford along with the return of skipper Vidic may just be the spark that reignites the title campaign of United and aids in a narrow win against their arch rivals, who are devoid of the services of their talismanic skipper, Fabregas.
Manchester United – Arsenal : 1-0
PS : I am counting on the tactical genius of Wenger to prove me wrong, and shut the critics up once and for all.
Telecast (IST)
Sony Pix : 10:45pm
Gear up for what maybe one of the greatest FA Cup clashes of all time!